Tues. Aug. 10th
FIRST, I want to THANK ALL THE PEOPLE WHO TOOK THE TIME TO LEAVE COMMENTS about my previous pics. I REALLY DO APPRECIATE you all taking the time to do that. I spend a good amount of time on both taking the pics and posting them up and it really does me good to know that the effort is appreciated. Thank you!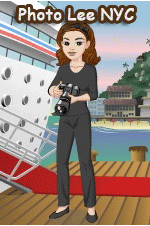 Part One of this post can be found HERE.




When I got home I searched for front facing pictures of the ship and that is when I discovered

Epic's

website and all the wonderful renderings of its interior. Here is a sampling of what it has to offer:



1.) The Accommodations:

(listed from most expensive ~$4,000 dollars to least expensive ~ $700 for a 7 day Caribbean cruise, room descriptions from norwegianepiccruises.com)



Suites & Villas
* Deluxe Owner's Suite
(852 square foot room, including a 121 square foot balcony)
Categories A5, A2
(Listed from least to most premium)
This suite for four boasts all around floor to ceiling windows and allows you to experience it all. Whether you want to lounge around all morning and have breakfast in your king-size bed or enjoy a slightly more formal setting in your own dining area. Of course, you could also take in the sea breeze on your private balcony and dine under the stars. The choice is yours. And so is the assistance of a butler and concierge service, as well as exclusive access to the Courtyard area and the Concierge Lounge. Category A2 suites feature an open-air balcony while Category A5 balconies are closed.
* Courtyard Villa
(506 square foot room, including a 54 square foot balcony)
Categories A6, A3
(Listed from least to most premium)
With a living room, dining area, separate bedroom and private balcony, this Villa has a maximum capacity of five. There's even a separate children's bedroom so the butler can bring the kids a pizza while your clients dine out on the balcony, or the concierge could make dinner reservations instead. This Villa also features two bathrooms and exclusive access to the Courtyard area and the Concierge Lounge. Category A3 suites feature an open-air balcony while Category A6 balconies are closed.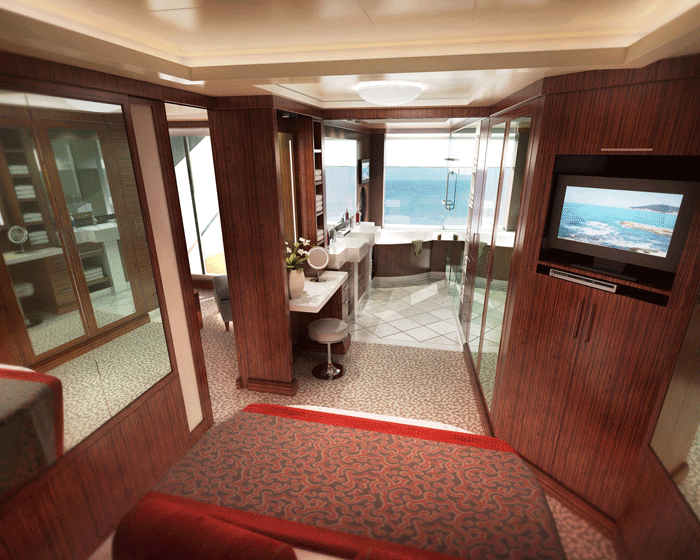 * Courtyard Penthouse
(322 square foot room, including a 84 square foot balcony)
Categories A7, A4
(Listed from least to most premium)
After a good night's sleep, you'll be ready to start your day. Whether it's a light breakfast in your queen-size bed, a full meal in the dining area or just a cup of coffee on the private balcony, the choice is yours. This Penthouse with a maximum capacity of two also boasts a luxury bath, separate shower, butler and concierge service and, of course, exclusive access to the Courtyard area and Concierge Lounge. Category A4 suites feature an open-air balcony while Category A7 balconies are closed.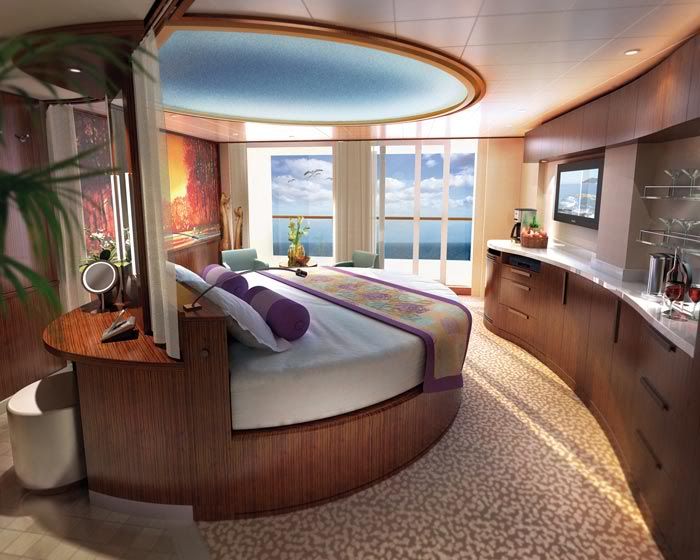 * Spa Suite
(322 square foot room, including a 84 square foot balcony)
Category SA
You can go on a total spa vacation as these two-guest suites feature spa décor, private key card entry to the Mandara Spa experience and fitness center, as well as complimentary 24-hour access to the Thermal Spa Suites. Sound relaxing? Wait until the butler brings you a glass of champagne in your stateroom hot tub or as you watch the stars from the privacy of your own balcony. Of course, the concierge would be happy to make dinner reservations for you, as well.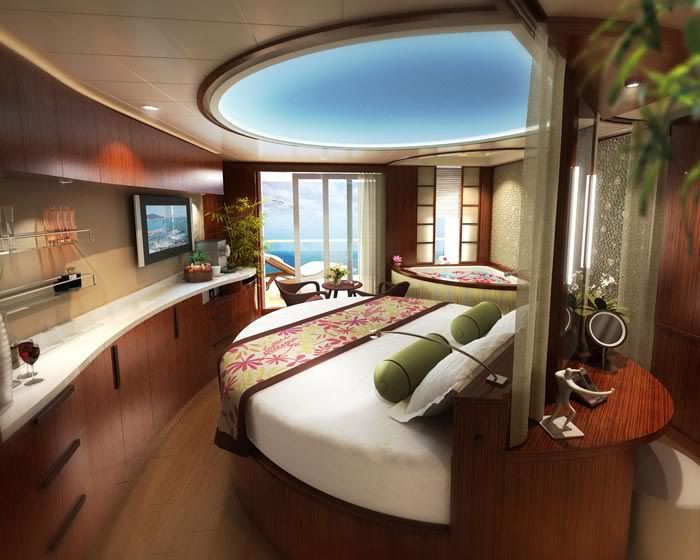 A unique feature on board the Norwegian Epic are two special areas that are available just for select guests:... the Courtyard is only for guests staying in one of Norwegian Epic's 60 suites and villas.
Balcony Staterooms
* Balcony Stateroom
(216 square foot room, including a 65 square foot balcony)
Categories BK, BI, BH, BG, BF, BE, BD, BC, BB, BA
(Listed from least to most premium)
You can wake up to gorgeous views coming from the floor-to-ceiling glass doors that open to your private balcony. All staterooms feature a completely unique bathroom treatment where every area is separate, including the shower and a modern vanity sink. Additionally, the walls are curved, helping to create a modern and chic living experience. There are also two lower beds and a sitting area in this stateroom with a capacity of four. You can order room service and step outside to enjoy a hot cup of coffee and the cool ocean breeze.
Interior Staterooms
* Inside Stateroom
(128 square feet)
Categories N, M, L, K, KK, J, JJ, I, II
(Listed from least to most premium)
This stateroom with two lower beds and a maximum capacity of four is beautifully appointed and surprisingly roomy. All staterooms feature curved walls and lines creating a modern and chic experience, as well as a maximized living space with a completely unique bathroom treatment where every area is separate, including the shower and a modern vanity sink.
* Studio Stateroom
(100 square feet)
Category TS
Built with single cruisers in mind, NCL does not charge a single supplement for singles that book these accommodations...what a value! Cool and hip, right down to the funky new lighting and flat screen TV, this completely new exclusive key card access-only category is unlike anything your clients have ever experienced before. This stateroom has two lower beds with a maximum capacity of two and a window view to the corridor. Also included is the Studio Lounge, a shared private lounge that boasts a bar, two large TV screens and comfy seating for hanging out, reading a book or just enjoying a drink before dinner.
A unique feature on board Norwegian Epic are two special areas that are available just for select guests: the Studio Lounge is an area of the ship exclusively for Studio guests...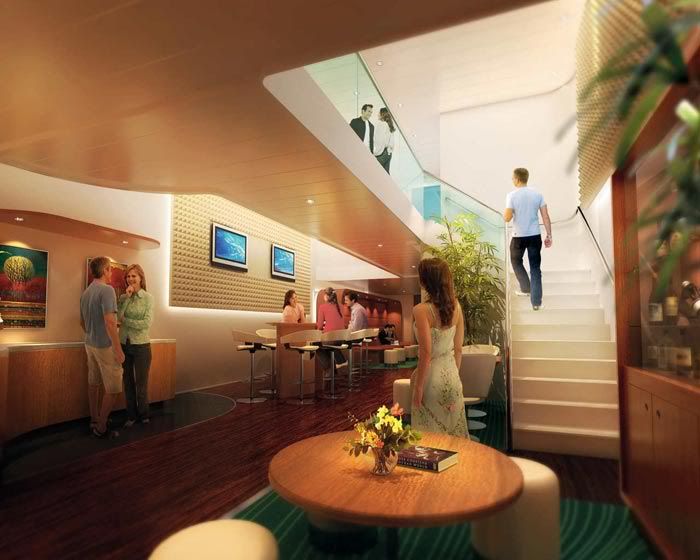 2.) The Cuisines:
You're sure to find whatever you're craving with 20 different dining options.

Yes, we have two main dining rooms. No, you won't recognize them as such. Their dramatic design and delectable dishes were all inspired by the world's leading culinary capitals. These, of course, are merely two of 20 dining options on board the ship. There's an upscale steakhouse featuring both, tempting steaks and chops as well as a traditional Argentinean-inspired Churrascaria. There's also our signature French Restaurant, authentic Teppanyaki, casual Italian, tempting Chinese, sensational sushi, freshly prepared pasta dishes at our action-stations and an absolutely amazing salad bar. You can even dine on eclectic world-cuisine poolside if you so desire. And for our Villa guests who desire a much more intimate and upscale dining experience, we offer our very exclusive Epic Club and Courtyard Grill.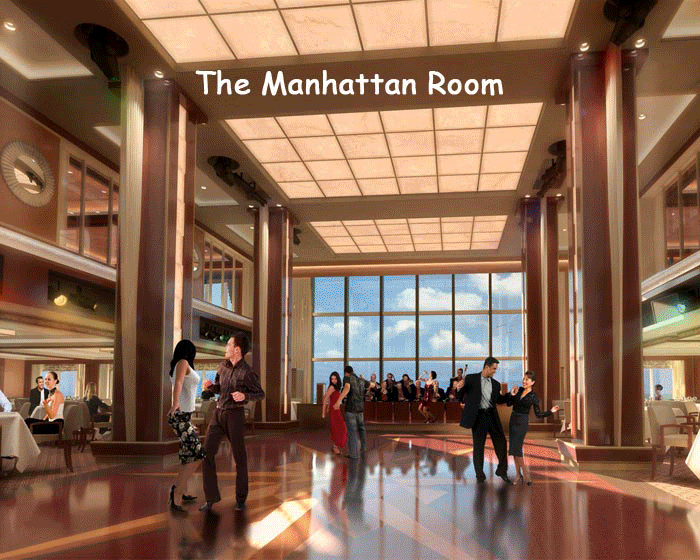 3.) The Night Life:
The liveliest nightlife at sea, rivaling the hippest places on earth.

You'd have to travel the world to experience all of the unique hotspots aboard Norwegian Epic. Sip vodka in one of only 14 ice bars in the world. Enjoy exclusive bottle service and dancing under the stars at an open-air nightclub. Party alongside the pool on white-cushioned daybeds. From French Riviera chic and Ibiza style to Miami trendy and Vegas flair, the nightlife aboard Norwegian Epic has it all.



Spice H20 - What an aft-pool never dared to be.



As the sun sets, Spice H2O transforms into an adults-only, sultry, steamy, Ibiza-inspired beach club. The entertainment is non-stop as the pool floor rises to become a dance floor. A giant screen projects hypnotic visuals under a starry sky. Aerial performers mix dance moves with acrobatic choreography. And you find yourself in the center of it all, delighted that you're old enough not to have a curfew.





Bliss Ultra Lounge and Nightclub - Arouse your senses, day or night.



A light mist welcomes you as you enter into Bliss, as if to say, "You've just entered another realm. Welcome to the party." Then suddenly the electrifying aura of this hip, high-energy ultra lounge literally surrounds you. Music videos playing on multiple plasma screens create a magical mood. High-voltage tunes make everyone want to get their groove on, where else, but on the dance floor. And, cozy, custom loungers are the perfect spot to cap off the evening with a cocktail.





SVEDKA Ice Bar - The ultimate chill.



Now this truly is as cool as it gets. Inspired by the original ice hotels in Scandinavia, The Ice Bar is one of only 14 in the world and the only true ice bar at sea. Enter a glistening, frozen, fantasyland where the bar, the walls, the tables, the stools, even the life-size sculptures are made out of ice. Let us help you slip into a faux fur coat to keep you warm in the chilly 17 degrees. Of course, the vodka helps, too.





Norwegian Epic Posh Beach Club



Villa guests onboard the Norwegian Epic will have exclusive access to the Posh Beach Club. Posh offers guests of The Villas the sizzle of South Beach and the ritz of the Riviera in an exclusive, adults-only atmosphere. During the day, villa guests can lounge on white-cushioned day beds and in private cabanas poolside. In the eveningt, Posh becomes an open-air nightclub with exclusive bottle service, gaming tables and a DJ providing non-stop party music.





O'Sheehan's Neighborhood Bar & Grill



This place is so inviting, everyone here really may eventually know your name. Dine on
American classics as well as your favorite comfort foods, served 24 hours a day. Watch sporting events on multiple flat screen televisions. Up for something more than mere spectator sports? O'Sheehan's also has three lanes of bowling, dart boards, pool tables, foosball and arcade games.





Entourage - The Hottest Under 21 Nightclub Ever.



Guaranteed to attract all teens, Entourage is designed like an adult lounge minus the adults. Filled with all things important to the 13- to 17-year-old crowd including self-serve food and soda stations. During the day, it's all play with PlayStation®3, air hockey, pinball, foosball, a video jukebox and nine large flat-screen televisions. In the evening, Entourage turns into a teens-only nightclub with a space for dancing to a video jukebox and trendy seating arrangements for just hanging out.


4.) The Entertainment:
Cirque Dreams and Dinner



You are cordially invited to a one of a kind theatrical dining experience. The evening's special is…opulent eccentricity alà entertainment extravaganza presented with an array of world class talent, Broadway acrobatics, a touch of whimsy and tasteful participation. Enter a world where personality and presentation are served with spectacle and celebration in an unforgettable dining sensation…"Cirque Dreams™ & Dinner".





Blue Man Group goes Freestyle.



There's entertainment, and then there's the kind of entertainment where people leave saying something like, "That was AWESOME!" There's never been anything like them, at least on this planet. Think vibrating techno music, light shows, comedy, lots of paint and outrageously talented Blue Men creating a wildly fun party atmosphere. The Blue Man Group is so amazing, they could easily be reason enough to choose Norwegian Epic. But, of course, this party's just getting started. We've got award-winning live entertainment all over the ship that will rock your world.



Legends In Concert



The longest running tribute show in entertainment history joins the ship that is making cruise history. See the world's greatest celebrity impersonators live, as they pay homage to such legendary stars as Elvis Presley, Tina Turner, Garth Brooks, Madonna, Rod Stewart, Cher, Barry White, Shania Twain, Tim McGraw, Marilyn Monroe, and many more.





Headliners with The Second City Comedy Troupe



If you love to laugh, you're going to love the goings-on at Headliners. Spend an evening with The Second City Comedy Troupe and their unique form of sketch comedy. But be on your toes, for this includes lots of spontaneous entertainment and audience involvement.





Fat Cats



Take five at this happening place with a split personality. Rock out with your favorite guitar riffs on a Gibson® guitar. Or jam to some serious jazz and blues into the wee hours.





Casino



Our largest, most elegant full-action casino offers high-roller ambiance, no matter what your game. Choose from poker, black jack, roulette, craps and hundreds of more-exciting-than-ever slot machines. And with the most rewarding Players Club Program at sea, there's something for everyone, whether you're a first-timer (don't worry, we offer free gaming lessons) or a Vegas regular.


5.) The Family Fun:
Aqua Park



Suit up and splash down at our first ever Aqua Park. Choose from three multi-story water slides of varying thrill factors. The first one is specifically designed for the not-so-adventurous and zips straight through the rock-climbing wall. The second slide is for the slightly more adventurous, because it twists and turns down three stories. Then there's The Epic Plunge, the only tube slide at sea that puts the blast of inner-tubing into the core of a bowl slide, with a thrilling drop through a 200-foot long tube. The Aqua Park also includes two main pools with arching water effects that illuminate at night, five hot tubs, a wading pool and a kid's pool that features whimsical sculptures, water sprays and a slide. Finally, when you are looking to dry off, there's plenty of room to soak up some rays on one of our expansive sun decks.





Sports Complex



The Sports Complex has not one, but two decks to play on. Join a game of pickup on a full-sized basketball court or relive those school days playing dodge ball. Practice your swing in our batting cage. Even the climbing wall is incredible. Part rock and part vertical building, our new climbing wall is accessible on two levels with varying degrees of difficulty, rated according to official U.S. climbing grades. At 33 feet high and 64 feet wide, the extreme climbing wall includes a water tube weaving right through the middle and the first-ever rappelling wall at sea. There's also a 24-foot tall enclosed climbing cage we call the Spider Web.





Bowling



Norwegian Epic features not one, but two of our signature, industry-first bowling alleys at sea. There's O'Sheehan's Neighborhood Bar & Grill where the whole gang can head on over to the lanes and test their skills. Then there's the three lanes at Bliss Ultra Lounge where during the day all ages are welcome and, at night, Bliss becomes an adults-only lounge where the game takes on a whole new look with special effects and lighting and illuminated neon-colored balls.





Nickelodeon™ at Sea, exclusively on Norwegian Cruise Line



Get ready to set sail alongside SpongeBob SquarePants, Dora the Explorer and the rest of the Nickelodeon gang for an ideal family cruise vacation with Nickelodeon™ at Sea, exclusively on Norwegian Cruise Line.

Nickelodeon at Sea launches year-round aboard Norwegian Epic with her debut in July 2010. It's sure to be an unforgettable vacation experience where parents relax, kids play and families connect.

Nickelodeon All Access cruises, exclusively on Norwegian Cruise Line

If you're looking for excitement all day everyday, then you need to book a Nickelodeon All Access Cruise. It's all Nickelodeon, all the time aboard this special sailing on Norwegian Epic on 7/24/11.

Visit www.ncl.com/nickelodeon to learn more.





Recess



We've pulled out all the stops for the young ones with a gigantic kid's area and a special area just for tweens, known as Recess. Kids can blast off at the space station and enjoy age-appropriate and structured games. There's even an interactive light up dance floor, Wii™ and PlayStation®3 gaming areas and a private karaoke performance stage that doubles a state-of-the-art surround sound cinema. Plus, the expanded hours let mom and dad have time for their own fun. It's a great time to be a kid on Norwegian Epic.




My partner wants to go on a cruise and after I did the research for this post and saw all that this ship has to offer (and it has a lot more than what I posted about here), I actually started to consider going on

The Epic.

Then we went out for a walk and this was the first billboard I saw ...




... and of course my partner had to watch some of the shark shows, during which they kept replaying the commercials that show the following footage.



Needless to say seeing that Completely cured me of even thinking about going on a cruise!



Finally, I will leave you with this satirical take on

The Epic

that I got from Zimbio.