SUN. Aug 15th
FIRST, I want to say

TO ALL THE PEOPLE WHO TOOK THE TIME TO LEAVE COMMENTS about my previous pics. I REALLY DO APPRECIATE you all taking the time to do that. I spend a good amount of time on both taking the pics and posting them up and it really does me good to know that the effort is appreciated. Thank you!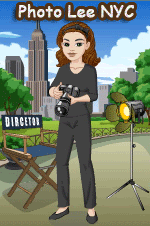 Part One (The Good Wife part) of this post can be found HERE.



Once again

Law & Order: SVU

came Uptown to film and on the very same day that

The Good Wife

and

White Collar

also came up to

Harlem

to film.

(Photo from Pitaara.)




While I was looking for an official photo like the one above, I came across this artistic rendering and to me it is

FABULOUS

. It is by

*seangordonmurphy

and you should check out his

Deviant Art

gallery

HERE

. But don't go check it out right this moment because you might never come back. I don't know about you, but I can spend hours looking at all the

EXCELLENT

art work at

Deviant Art

. I

REALLY

wish I was talented like that!! :D A larger resolution of his rendering is available for download

HERE

.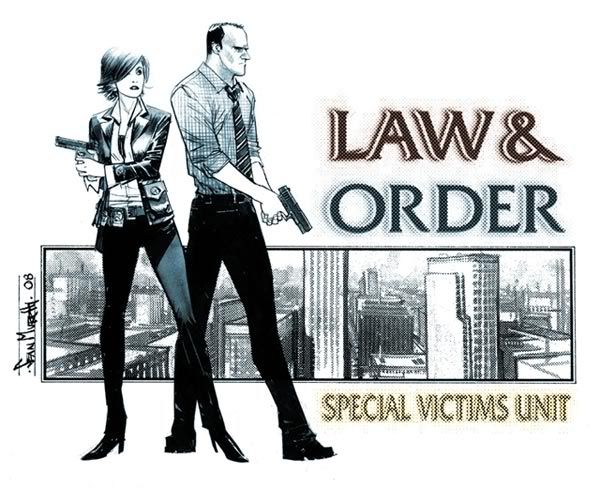 When I got there I saw a sign that said that the set was down the block of 112th Street so I walked over towards Riverside Drive and found them filming by the

Samuel J. Tilden Monument.

In case you don't know who

Samuel J. Tilden

is, you should click on his name and go to his Wiki page. His political story is very interesting and sounds quite familiar to a modern day occurrence.

(Photos from MuseumPlanet.com.)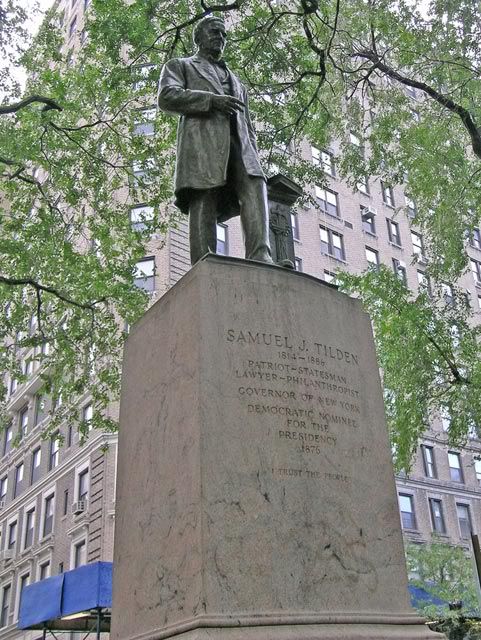 It seemed that they were filming a scene where these two dogs were fighting with/barking at each other.




Right after I took that shot they stopped filming so I walked back up to Broadway to see if I saw any more sets. As I got to the corner of Broadway and 111th Street I saw

Mariska's

and

Chris'

trailers and before I had a chance to position myself,

Mariska

came out of her trailer and walked to one of the sets that was on 111th Street between Broadway and Riverside Drive.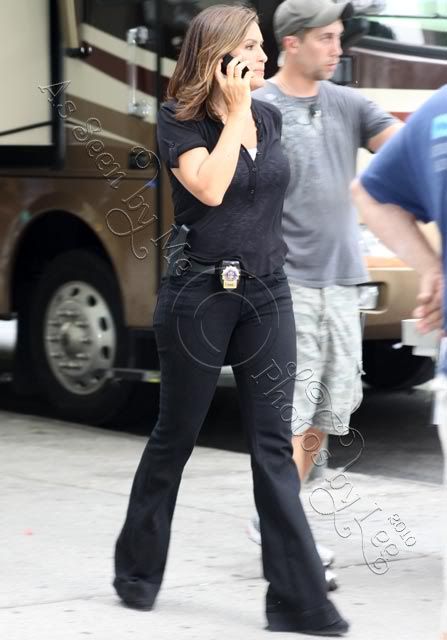 They were filming a crime scene scene.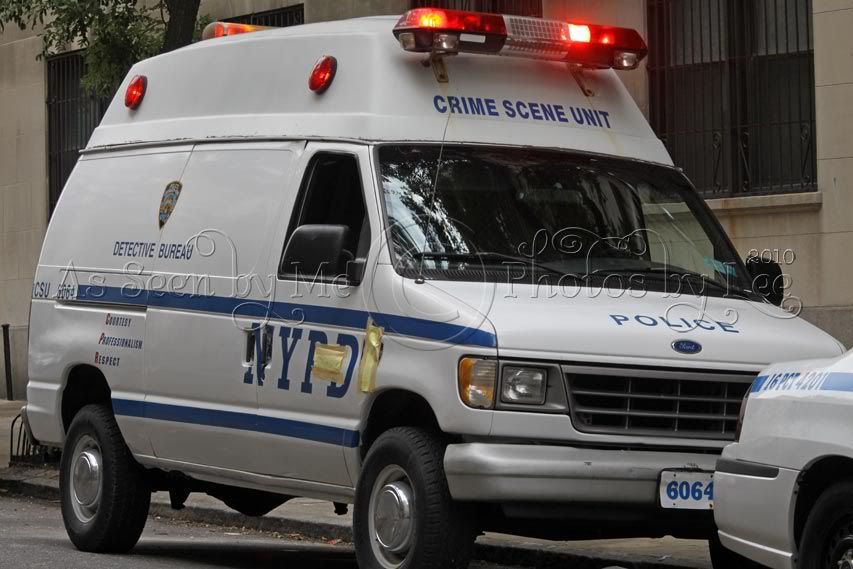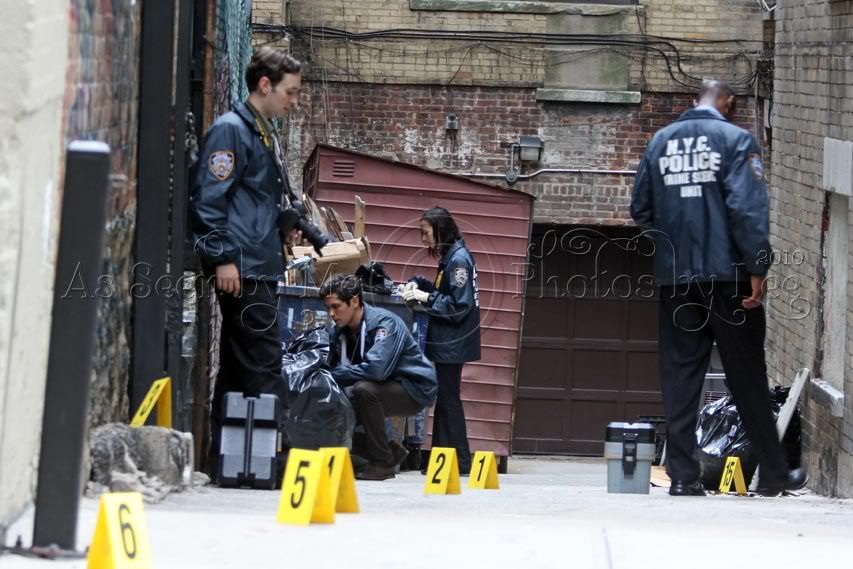 The next person I saw was

Ice-T

. He was doing something and then he turned around, smiled, and said, "Okay, now for you all." and then he proceeded to take pictures with a bunch of people. I am telling you this cast has got to be the most fan-friendly cast around. They really do take the time out to show appreciation to their fans. Such appreciation really does go a long way in my book!



Next

Chris

came walking down the street. I wish my camera could also record video because his walk is something to see. It is really macho.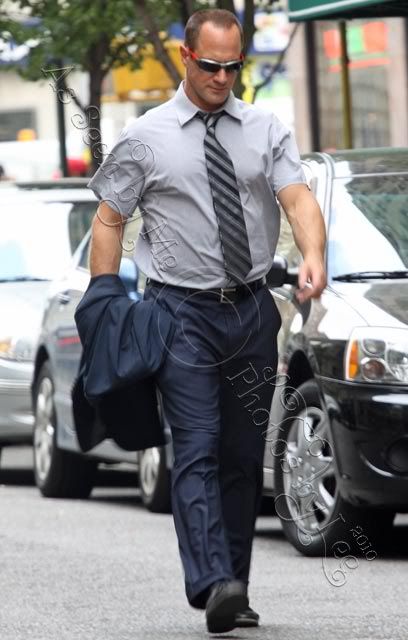 His stance is also macho! Lol! I would think he was only standing that way because he was getting miked up, but I have seen him stand like that many times before. Those shades are something else! Is it me though, or is he loosing some weight? It was more obvious in person than in these pictures, but his clothes seemed too big for him. Either the clothes were the wrong size or he is loosing weight. Does anyone know if he is doing a side role for which he has to be smaller?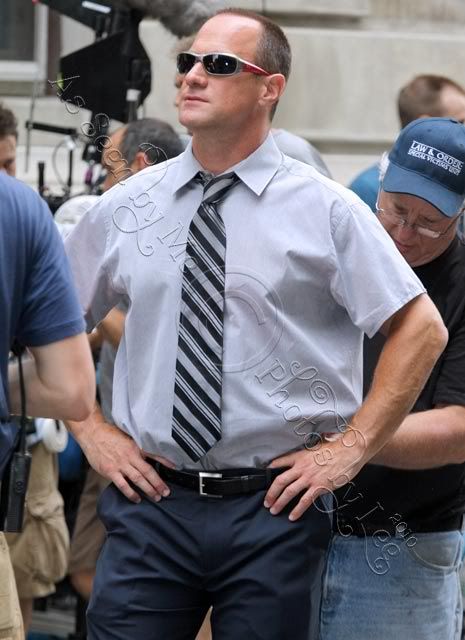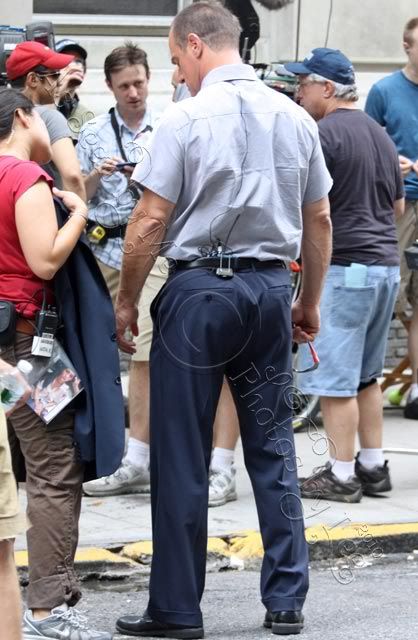 While he was getting miked up,

Mariska

was still on her cell phone.




And then she took a fan break.




They then got in position to shoot their scene, while still speaking to themselves and with the extras.




The scene consisted of them arriving on the scene, crossing under the crime scene tape, speaking about the blood pattern on the ground and following the blood splatter trail down into the alley.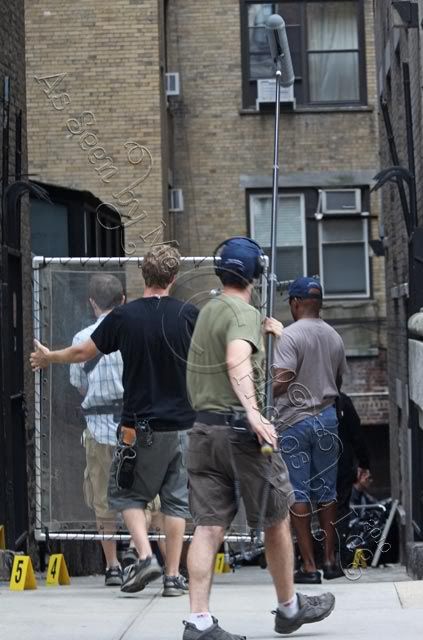 After a few takes they took a mini-break.

Mariska

then stood up against the fence and was pouting a bit. Chris then walked up to her and cheered her up.

I REALLY wish I had been able to get this sequence of shots full on, but I wasn't able to go over to that side of the street because that is where all the crew and filming equipment was. I wonder what their spouses think about all of this hugging!



Then it was makeup touch up time. It takes a man who is really secure in his masculinity to allow make up to be put on him out in public while his fans are watching.




Then they both started hugging their assistants and then they all joined in one big huge group hug. There truly was a Hugfest going on on set that day!
I REALLY wish these pictures weren't blurry. Slow lens, plus low light situation, plus forbidden to use flahes while on set, plus forgotten at home monopod equal blurry photos. Sorry.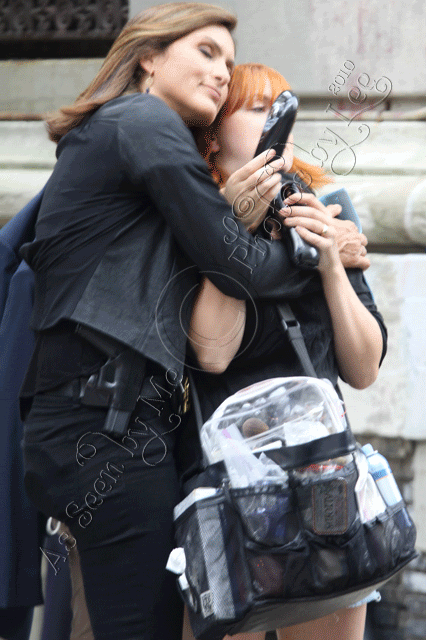 You know

Chris

really is an animated guy. I have never seen him in a comedy, but the way he moves his body and dramatically tells a story reminds me of physical comedians like

Dick Van Dyke

,

John Ritter

, and

Jim Carrey.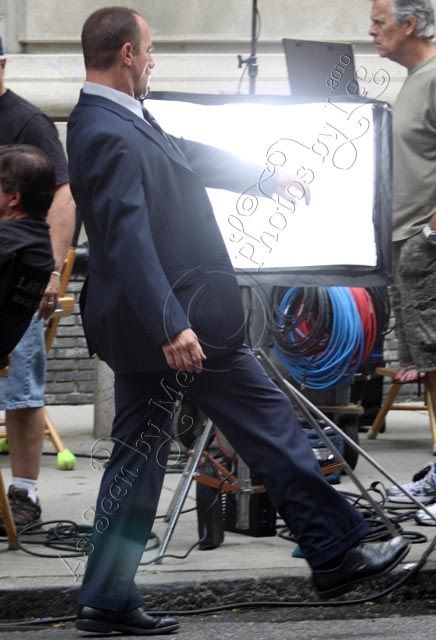 During one of their breaks they were all sitting around just chatting.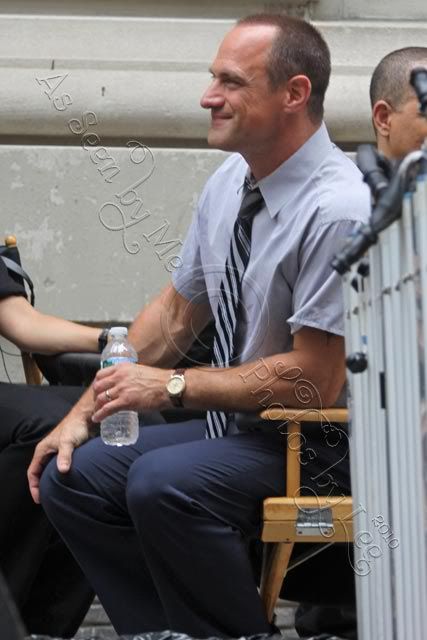 Mariska initially checked her messages, but then she got hot and tried to cool off by fanning herself with an envelope, but then when that failed she went back to her trusty personal fan.




Since they didn't seem that busy, I walked over and asked them if they wouldn't mind posing for a shot together. I told them that the shot would be dedicated to some of their fan sites,

SVUFans.net

, the

Unoffical Chris Meloni forum

,

MariskaHargitay.org

, and

FinMunch.proboards.com

, and they seemed to like that. However, when asking them for the shot I kind of made a fool of myself because in my haste to change lenses since they were so close and I was previously using my zooms lens, I apparently had forgotten to take the lens cap off. Chris gave me the quirkiest grin and asked me if I wouldn't like to take the cap off first. I know my face turned all shades of red as I nervously laughed.

Duh! Note to self, when asking actors if I can take close up shots of them remember to first uncap your lens!




After I thanked them for the photo I started to leave. As I was walking down the block I saw Jennifer Love Hewitt walk by. At first I didn't recognize her because of what she had on. I am not quite certain I like this "Catholic School Girl Fantasy Outfit" on a show with a topic like SVU. For some reason it just doesn't "seem right", but I am sure it will work with the script.




Before she went in her trailer she was gracious enough to give me her autograph.




She didn't stay in her trailer for long though, as she soon went over to 110th and Riverside to film a school scene with other girls. You got to give to her for being in her 30's and still being able to play a school girl.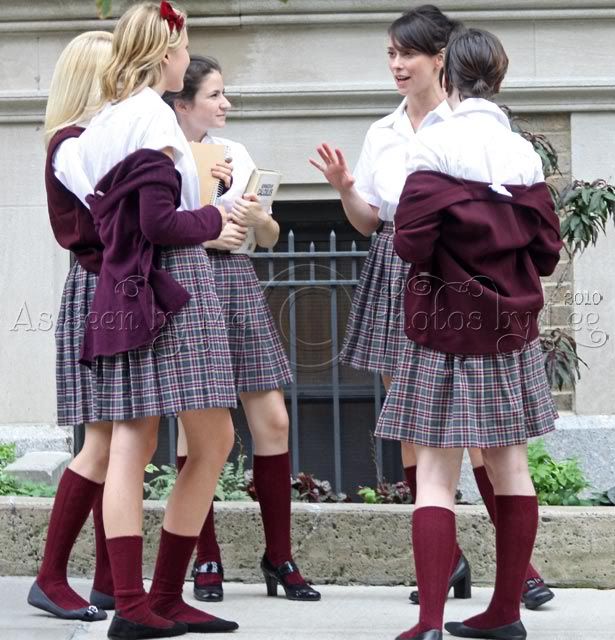 At times she seemed a bit serious or upset, ...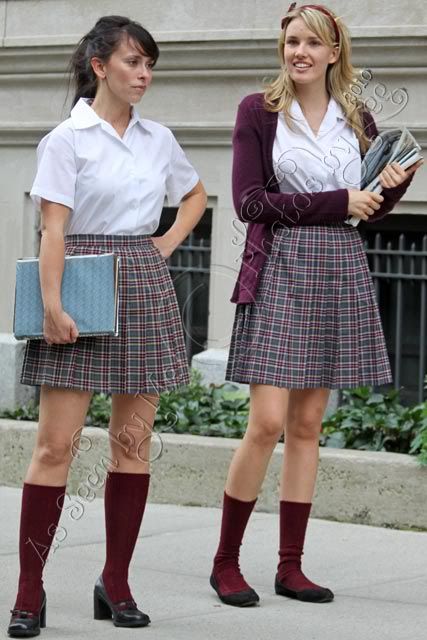 ... but then she perked right back up and joked around with her fellow actress.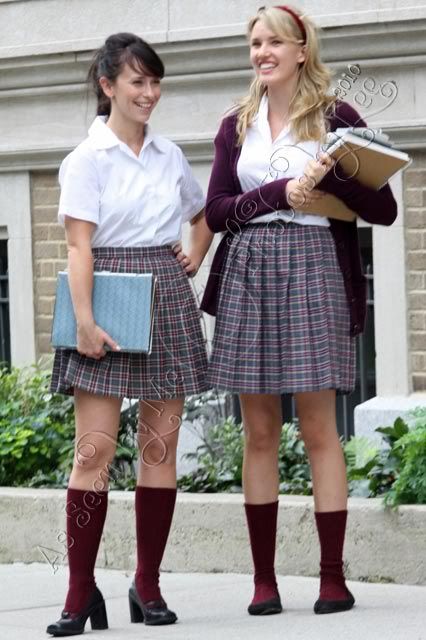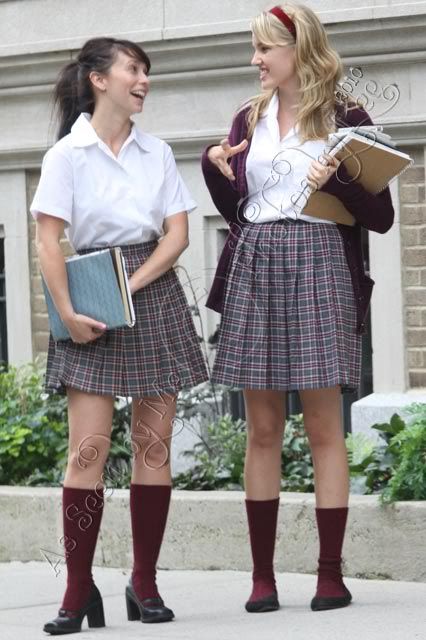 I had to leave at that point, so that's all from me folks. Sorry. :D

HOPE YOU ENJOYED THE PICS!!

FOR NOW.