TUES. Aug 24th
FIRST, I want to say

TO ALL THE PEOPLE WHO TOOK THE TIME TO LEAVE COMMENTS about my previous pics. I REALLY DO APPRECIATE you all taking the time to do that. I spend a good amount of time on both taking the pics and posting them up and it really does me good to know that the effort is appreciated. Thank you!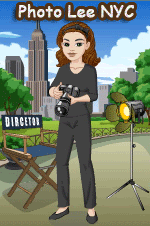 (

Preface:

I chose the first song on my playlist to coordinate with this

SVU

post and it was the best version of the theme song on youtube that I could find. However, I don't agree with its use of the term fag.)

When I posted about

Law & Order: SVU

last time, I didn't expect that I would be posting about them again so soon. I was working on a different topic as my next (this) blog post, but that one is going to have to wait till next time.

Fate had something different in mind.

I was on the bus when I saw a set of film production trailers. (I saw the trailers from the other (street) side, but I took these pics after I had gotten off of the bus.)




Initially, I thought they belonged to the movie

Premium Rush

, which has been intermittently filming Uptown, in addition to other parts of

Manhattan

. However, once I saw these tan and brown trailers ...




... I instantaneously recognized them and knew whom they belonged to and what was filming, so I quickly jumped off the bus and was very happy that I had traveled with my camera stuff that day.



Those tan and brown trailers belong to

Christopher Meloni

and

Mariska Hargitay

.

Chris'

is the primarily tan one, with brown accents, and

Mariska's

is the primarily brown one, with tan accents. I think it is cute that they coordinate. (This photo was taken back in the spring.)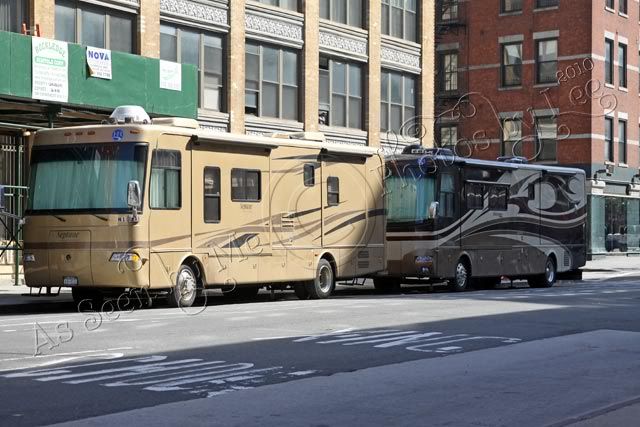 So upon seeing those trailers I knew that it had to be

Law & Order: SVU

that was filming.

(Photo from Pitaara.)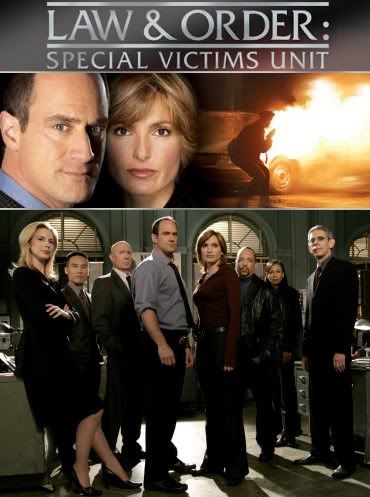 The trailers were parked right in front of the uptown

Trinity Church Cemetery

.

(Photo from MuseumPlanet.com.)




The cemetery has been used in Many TV shows and films.

Trinity Church Cemetery consists of three separate burial grounds associated with

Trinity Church

in Manhattan, New York, USA. The first was established in the Churchyard located at 74 Trinity Place at Wall Street and Broadway. In 1842, the church, running out of space in its churchyard, established Trinity Church Cemetery and Mausoleum in Upper Manhattan between Broadway and Riverside Drive, at the Chapel of the Intercession (now The Church of the Intercession, New York), formerly the location of John James Audubon's estate. A third burial place is the Churchyard of St. Paul's Chapel.

The burial grounds have been the final resting place for many historic figures since the Churchyard cemetery opened in 1697. A non-denominational cemetery, it is listed in the United States National Register of Historic Places and is the only remaining active cemetery in Manhattan. There are two bronze plaques at the Church of the Intercession cemetery commemorating the Battle of Fort Washington, which included some of the fiercest fighting of the Revolutionary War.

-- Wiki

Initially I thought they might have been filming inside the cemetery, which from my perspective would not have been good because it is enclosed by thick stone walls so I wouldn't have been able to get any good pictures. However, when I got there I didn't see any active filming. Instead I saw crew members walking down the street with plates of food so I thought they must be on their "lunch" break (though it was late afternoon) and then I saw this sign up the block.




As Christine from

On Location Vacations

has previously pointed out, holding tends to always be inside a church. This time the chosen church was the Episcopalian

Church of the Intercession.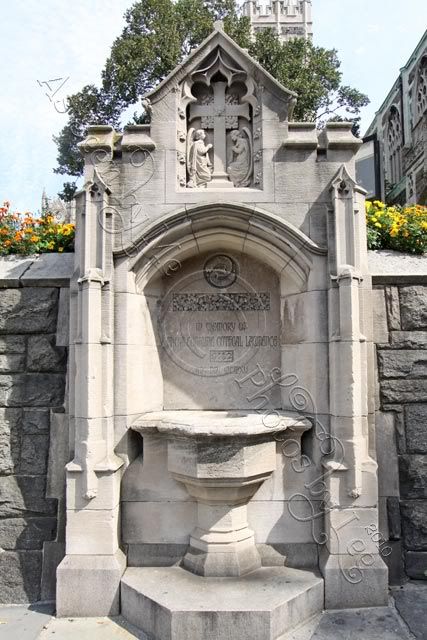 (Picture from

MuseumPlanet.com

.)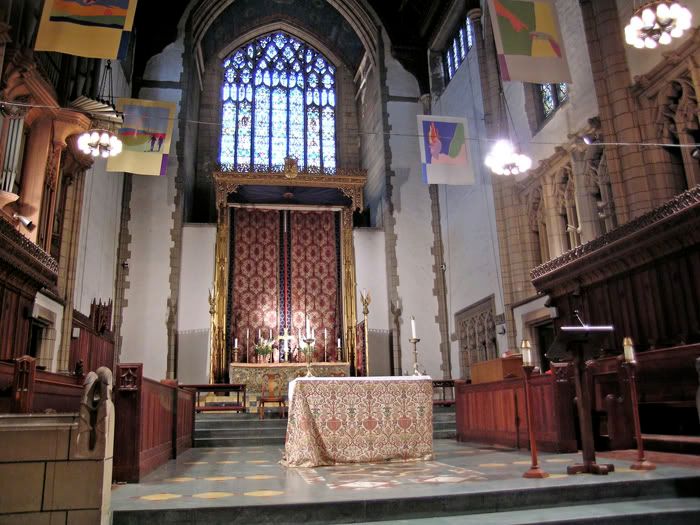 So I positioned myself on the corner, which was right in between the trailers and the holding location and I hoped that I would get at least a few good shots. As I was standing there I saw this plaque in a car window and boy did I wish I could have one of those to keep as a souvenir.



So I expected to see either

Chris

or

Mariska

, but much to my surprise the person I next saw was

The Sopranos

and

Nurse Jackie

actor,

Paul Schulze

. He was really friendly and very down to earth. He posed for a picture for me and also gave me his autograph. I really like it when actors are just nice regular people.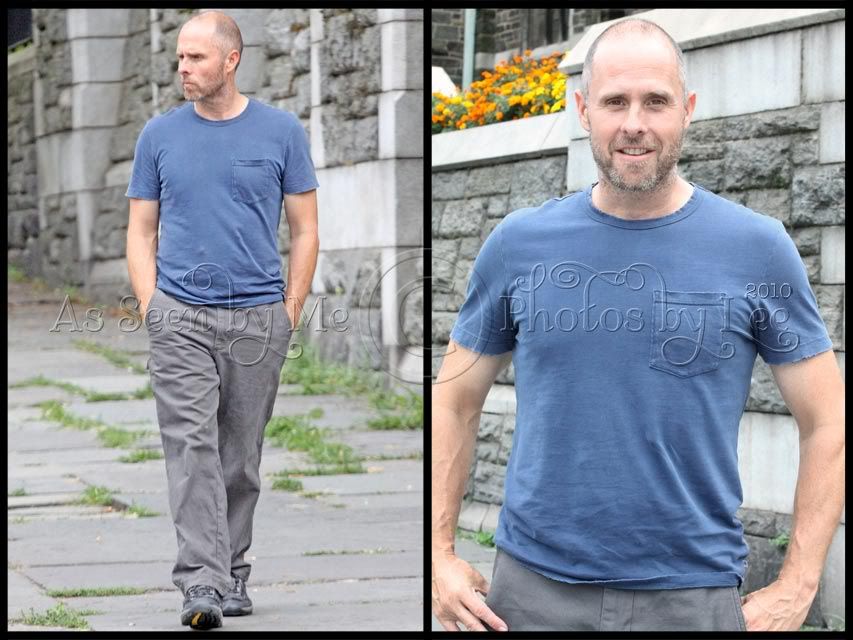 He then walked to his trailer, but I saw him again a few minutes later walking down the block with a crew member.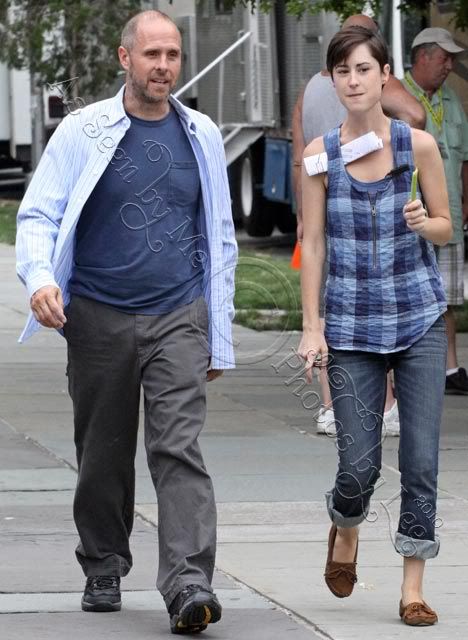 I haven't read about him guest starring on

SVU

and I didn't see him filming any scenes that day (but he might have filmed earlier in the day), so I have no idea if he will be in one of their future episodes or not, or if he is indeed in one of them, whom he will be playing. I wonder though, given that he recently played a teacher's union lawyer on the parent

Law & Order

and the fact that some days later

SVU

filmed at a nearby school, if he is reprising that role on

SVU

.

Some minutes later I heard a booming laugh and I thought it sounded like

Chris Meloni's

laugh, but I couldn't see him since there was a bus stop awning in the way. Sure enough, a few seconds later I saw

Chris

walking down the block still laughing to himself.

As he passed by he said, "Hello" to me.




Almost at the same time as I was taking

Chris'

picture,

Mariska

exited her trailer and walked towards the other (makeup, wardrobe, etc.) trailers and I didn't get a good picture of her.




I started to think that I wouldn't get really good pictures of them that day because although it had been partly sunny when I first got off the bus, it was starting to become more and more cloudy, with rain/storm clouds moving in. It seemed that at any moment it would start to rain.

Right at that moment a set of kids gathered on the corner. I initially noticed them because I was so scared for their safety. They were acting just like kids and kind of running unsafely into the street. I was so worried that they would end up getting hit by a car so I called them over and asked them to wait until they had the light and could cross the street safely. They smiled and came right over. They then asked me if I was paparazzi (a paparazzo) and I said no. I admit that I was a bit surprised that such young children knew what paparazzi were. I was further surprised when they asked if I had seen

Olivia

or

Elliot

. I guess I am just old fashioned and think that

SVU

isn't suitable for young children to watch, though they are often the victims of sexual crimes. Since I didn't want them constantly running out into the streets if they thought they saw

Chris

or

Mariska

, I asked them to just wait on the corner with me and that I could almost guarantee that they would see them. That guarentee brought smiles to their faces. (I have blurred out their faces because no adults were with them.)




Sure enough, a little while later,

Mariska

came walking back down the block while speaking to a crew member. She seemed to be in a bit of a hurry and didn't stop for the children, though she did smile at them before she entered her trailer. The kids were completely awestruck.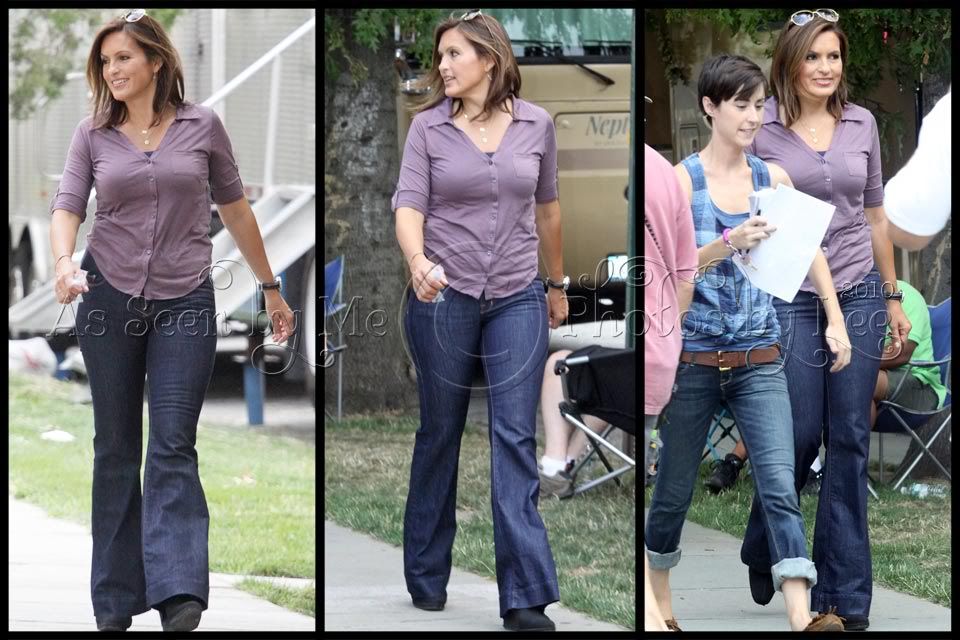 Relatively soon though, after a dressing change, she came back out of her trailer and fully acknowledged the children.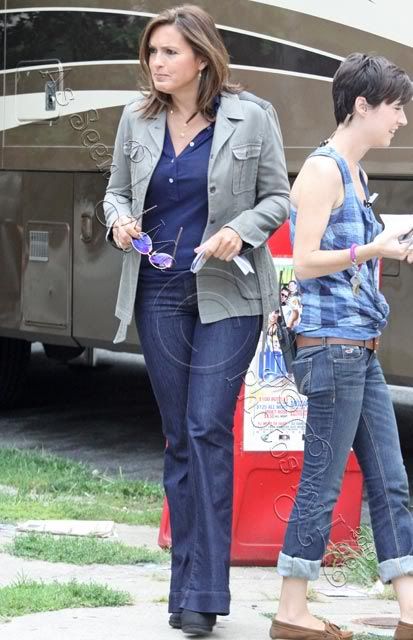 Now before I post this next set of pictures I want to say something. I try really hard to not post two types of photos. One type are those that show people in "ugly" positions or situations, like in the middle of coughing or sneezing for example. I don't see what is the point of such pictures, as I am sure they might be embarrassing to the person. If I post funny pictures, I try to only post those that are good-heartedly funny, like the comedic facial expressions that

Chris

makes when he is dramatically sharing funny stories with his fellow co-workers. The other type of photos I try not to post are those that can potentially be misunderstood. If I do post them, I post them with an explanation of the accompanying events so that the pictures are completely understood. I often see photos where the captions are negative and I often wonder if that is indeed what was happening when the photos were taken. From one second to the next peoples' facial expressions can change and in one shot they might look mad, but when you look at the very next shots you see that they were actually getting ready to break into huge smiles and that indeed they were having a great time when the pictures were taken.

The pictures below are an example of the second type of photos. If shown without an explanation one might write a caption that states something like "

Mariska Hargitay

gets frustrated by, and yells at, young fan causing fan to turn away dejected and without autograph." The middle photo in particular could be misunderstood.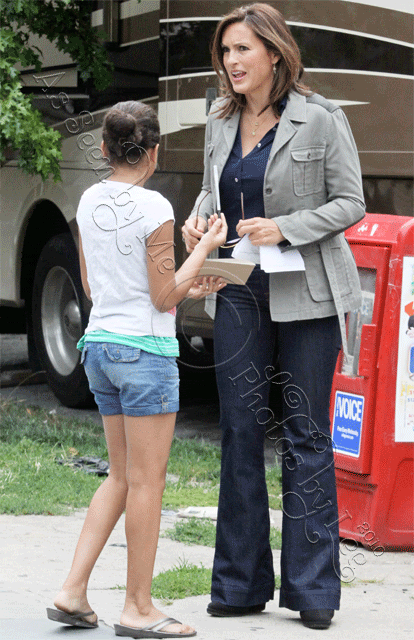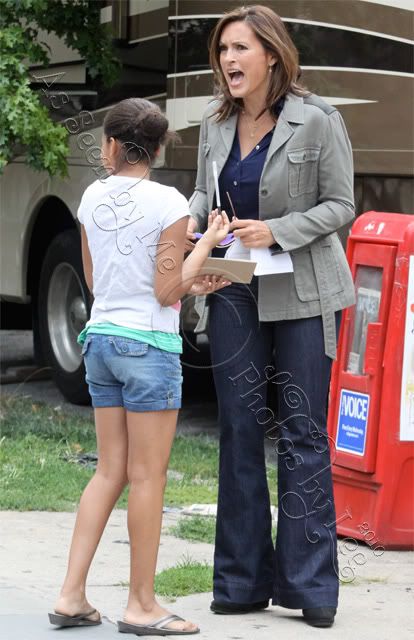 However, that is

NOT

at all what was going on at that moment.



The little girl who asked for

Mariska's

autograph told me that she wants to be an actress and she was so in awe of meeting

Mariska

and so happy that

Mariska

gave her her autograph. She was the only one "brave" enough to walk up to

Mariska

. Her shy friends stayed close to the wall while

Mariska

spoke to her so they were out of the camera's frame. Even though they stayed back, they were screaming in excitement and

Mariska

was good-heartedly joking with them by imitating their screaming. The young girl was shyly smiling so widely and was looking back at her friends/family members as if to say, "Can you believe this is really happening?"

When the kids saw how nice

Mariska

is they came closer to her and

Mariska

asked that I take a picture of them all together. How

freakin' cool and nice

is that?!

I am telling you

Mariska

has got to be the most fan friendly/fan approachable public figure around! This is the second time I have seen her come back to fully acknowledge fans when she was too pressed for time initially to stop. You can read about the other time I saw her to this

HERE

. She completely made Cass' and Chelsea's day that day!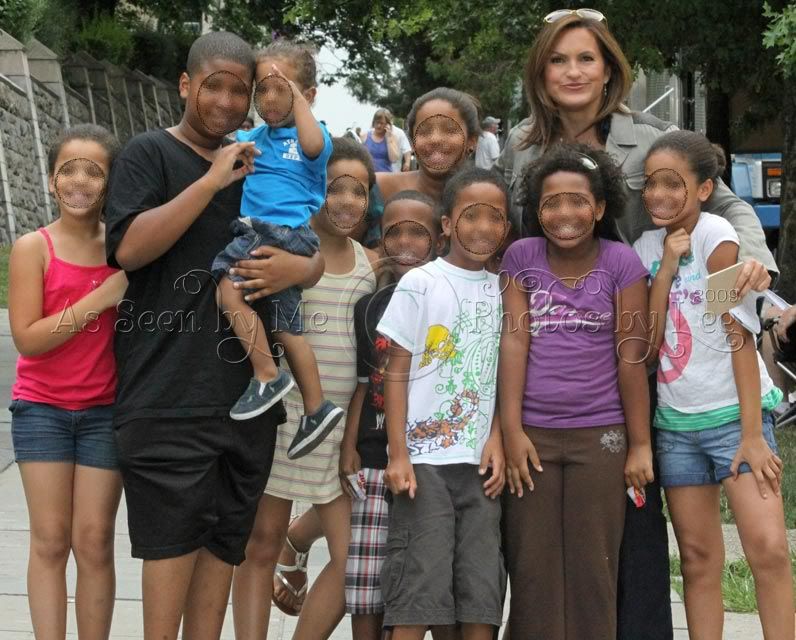 After that

Mariska

had to go over to the set, as filming was going to soon begin. While I had been taking pics of the kids and

Mariska

,

Chris

had already walked over to the set.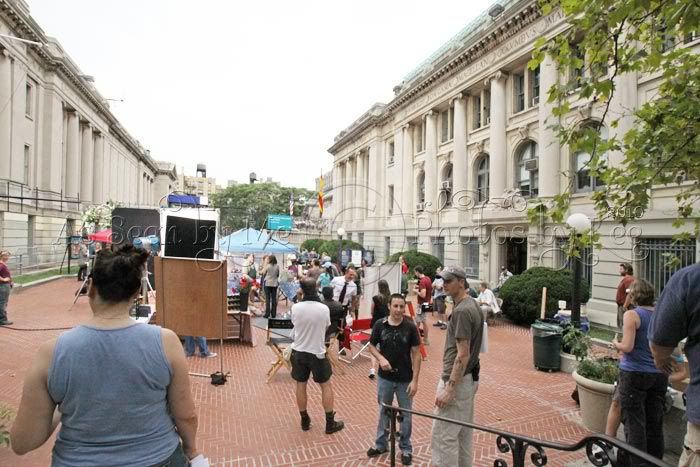 Where they filmed that day is called

Audubon Terrace

and it is simply an under-appreciated architectural/artistic/intellectual

JEWEL

in

Harlem

. If you ever have the chance to visit it, you Really, Really should!

Audubon Terrace, also known as Audubon Terrace Historic District, is a landmark complex of approximately eight early 20th century

Beaux Arts

buildings in New York City. Home to several different cultural institutions, the various architecturally complementary buildings, which take up most of a city block, are arranged in two parallel rows facing each other across a common east / west pedestrian plaza. It is listed on the National Register of Historic Places.

The original residents of Audubon Terrace included the

American Geographical Society

, the

American Numismatic Society

, the Museum of the

American Indian-Heye Foundation

, the

Hispanic Society of America

, the

American Academy of Arts and Letters

and the

Church of Our Lady of Esperanza

[2]. The first three organizations have since moved, and the Hispanic Society has been considering a move to larger quarters downtown since 2006[3].

Boricua College

, a private bilingual college, has since occupied the former building of the American Geographical Society, the easternmost building on the north side of the plaza.

The Hispanic Society maintains a library and a museum with an important collection of art and artifacts from the Iberian peninsula, as well as from Central and South America[4]. It is normally open daily except Mondays. The American Academy of Arts and Letters exhibits to the public occasionally, usually twice each year[5].

Named for naturalist and artist

John James Audubon

, on whose former land the complex sits, and who is buried across the street, Audubon Terrace was commissioned by railroad heir and philanthropist

Archer M. Huntington

in 1907. Among the well-known architects who designed the buildings were

Cass Gilbert

,

Stanford White

, and

Charles Pratt Huntington

[6]. Huntington designed the original buildings, housing the Hispanic Society, American Geographical Society, Museum of the American Indian, and American Numismatic Society. The two buildings housing the Academy of Arts and Letters were completed in 1923 and 1930, respectively[7]. A large equestrian statue of the legendary Spanish knight El Cid, located in the plaza in front of the Hispanic Society, was sculpted by Archer Huntington's wife,

Anna Hyatt Huntington

in 1927[8].

Audubon Terrace was designated the "Audubon Terrace Historic District" by the New York City Landmarks Preservation Commission on January 9, 1979[9]. It was listed on the U.S. National Register in 1980.[1]



--Wiki


The following pictures are from

MuseumPlanet.com

. They have an

EXCELLENT

virtual tour of

Audubon Terrace

that is Completely worth checking out. Just click on their name in the previous sentence and you will be taken directly to the tour.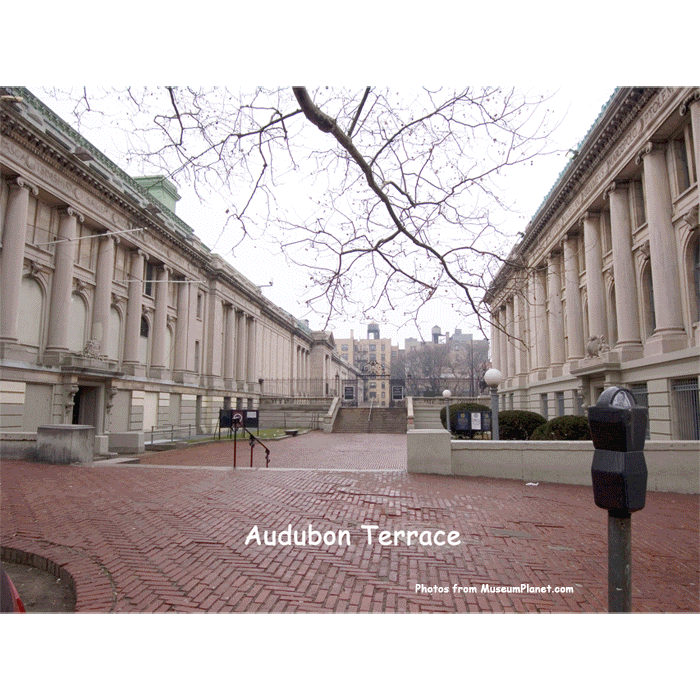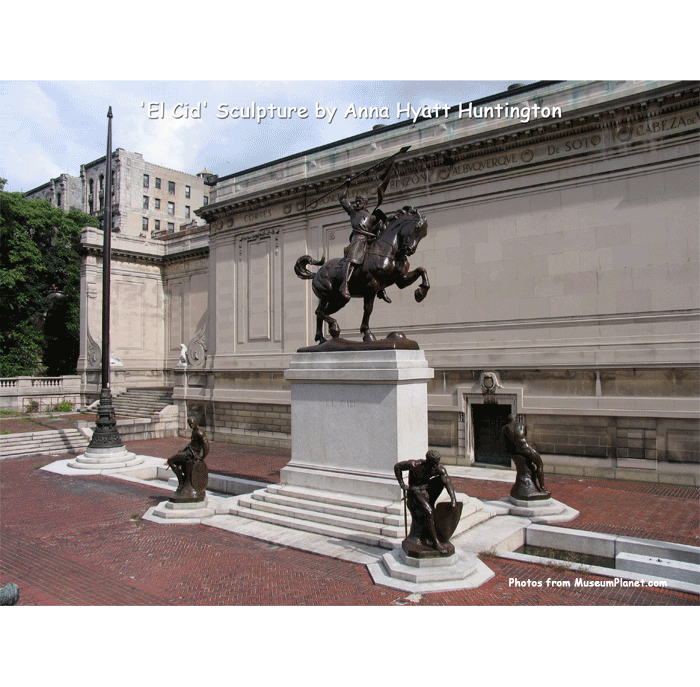 When I crossed the street and got to Audubon Terrace they hadn't yet started filming.

Chris

was kind of just walking around. I don't think this first picture is a really a good one, but I like it because it reminds me of

Keller

, not

Elliot

.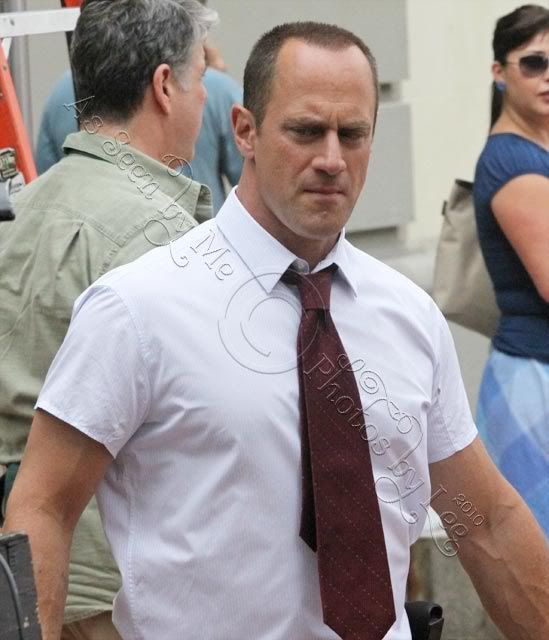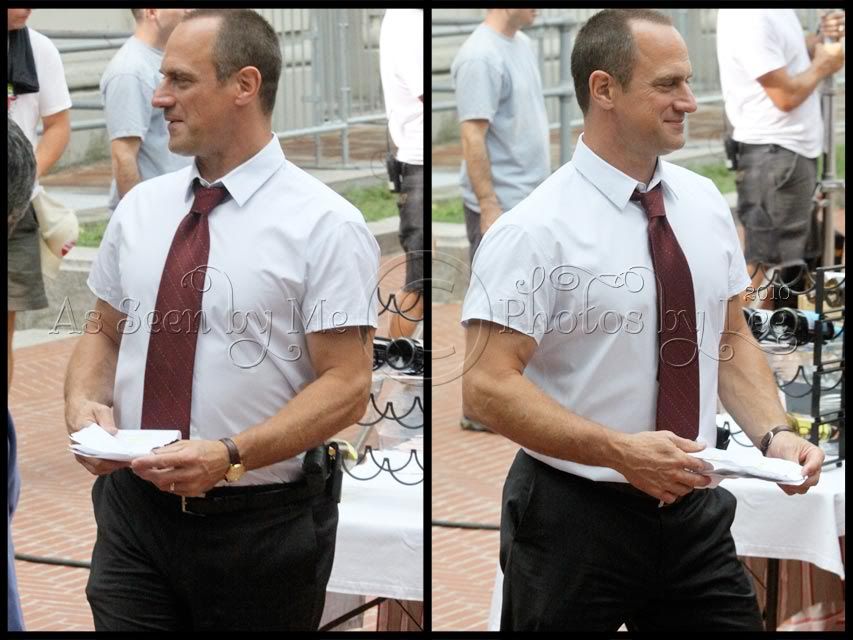 In those pictures you can see the edge of one of his tattoos.

He wears a fake tattoo of the United States Marine Corps emblem (the Eagle, Globe, and Anchor) on his arm for his role in SVU (as seen in Law & Order: Special Victims Unit Season 7 episodes, Season 8, Episode 8: "Underbelly" and Season 6, Episode 5: "Outcry".) He has a real tattoo of a butterfly on his upper thigh, and a cubist representation of the crucifixion of Christ tattooed on his upper left arm.

-- 123nonstop.com


(Image by © Erica Berger/Corbis Outline)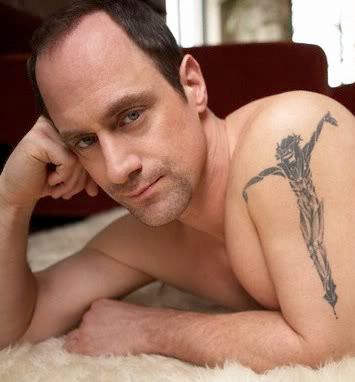 They were filming an outdoor market scene where it appears that Elliot and Olivia are talking to first a woman, and then also a man, about a girl/young woman that is either missing or dead. They were too far away for me to hear the exact dialogue.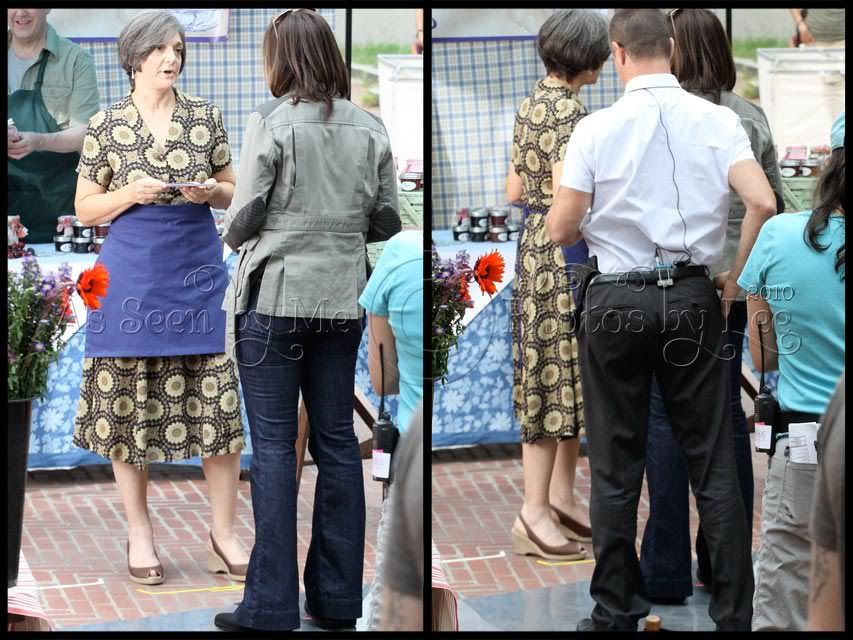 After a few takes it was break time ....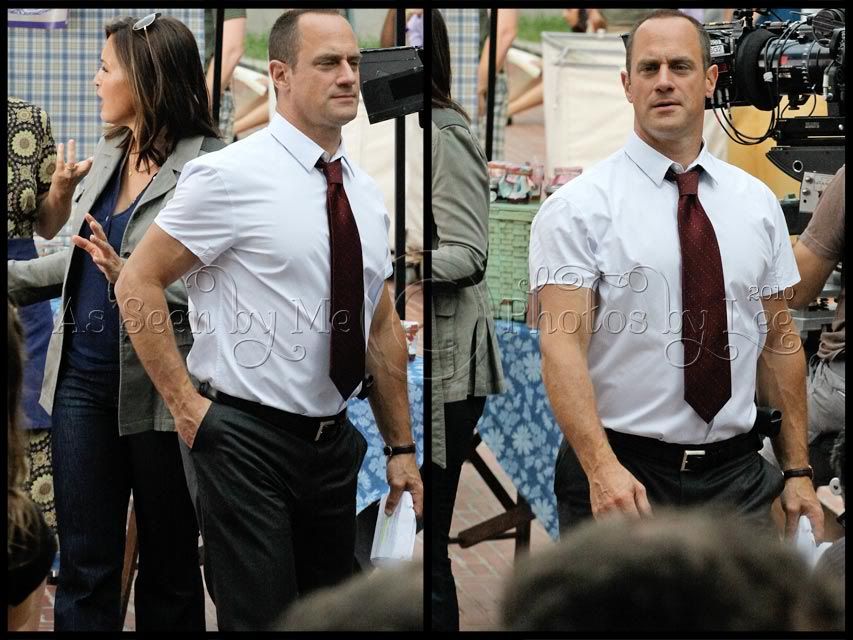 .... and

Chris

started speaking to whom I think is the director. Initially I thought they were speaking about something serious ....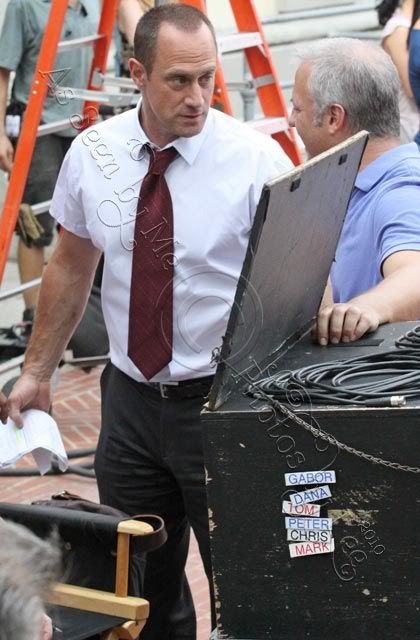 .... but then it quickly became obvious that it was about something hysterical!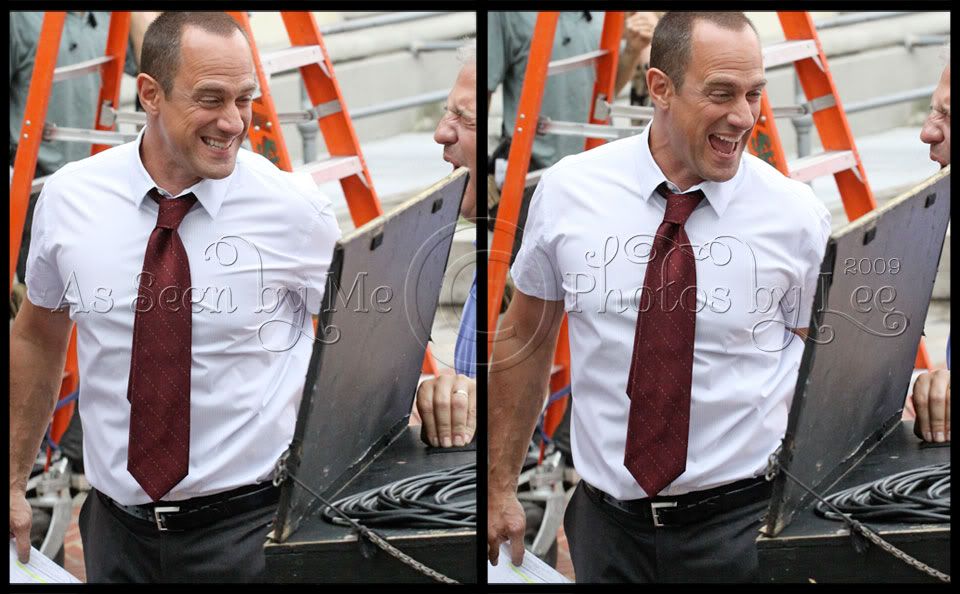 The director (if that is what he is) seemed to be able to make everyone smile.




But that smiling was nothing in comparison to the "smilefest" that was going on between Chris and Mariska!

I know I said this before, but I will repeat that they must really have Very Secure spouses.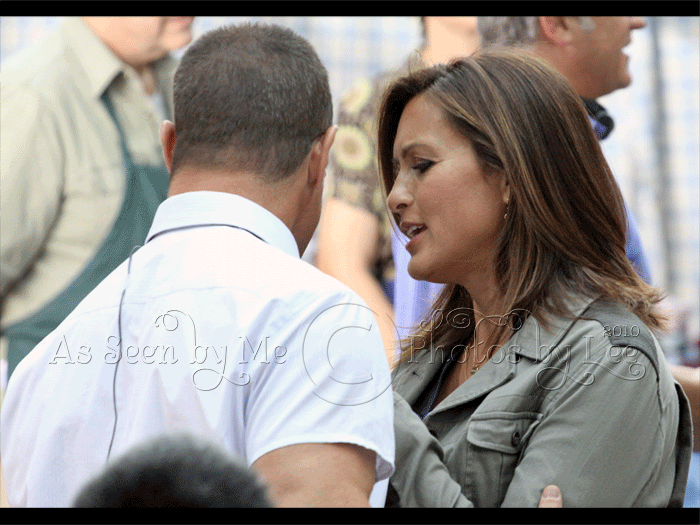 But not a few moments later, and it was all about back to the seriousness of work. Wouldn't it have been Way Cool if

Chris

accidentally left his script behind and I was able to pick it up and save it as a souvenir!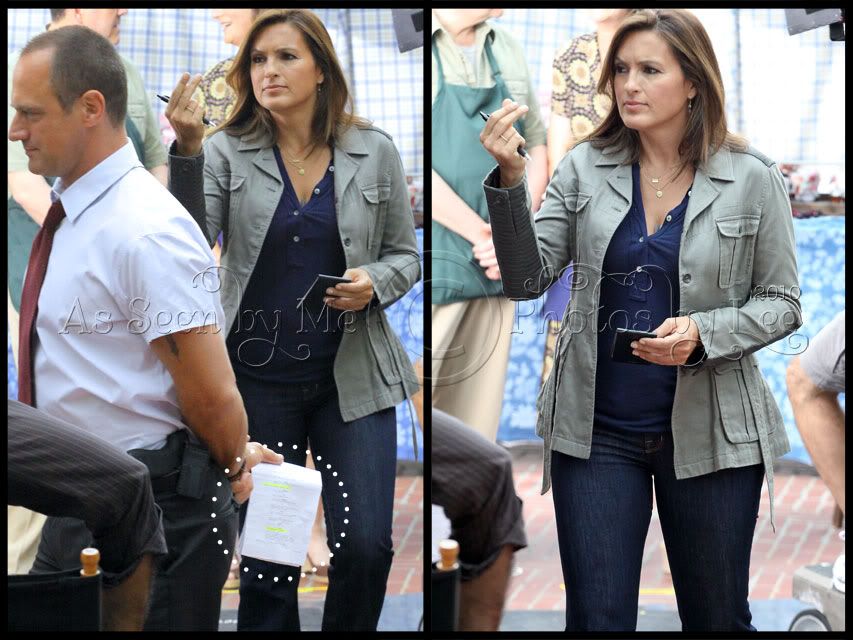 After a few more takes they took another break and

Mariska

quenched her thirst.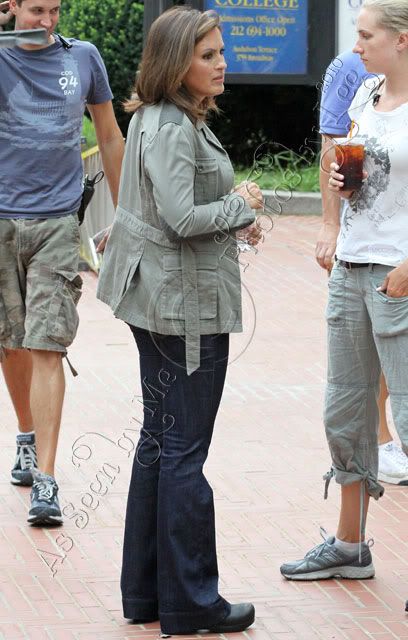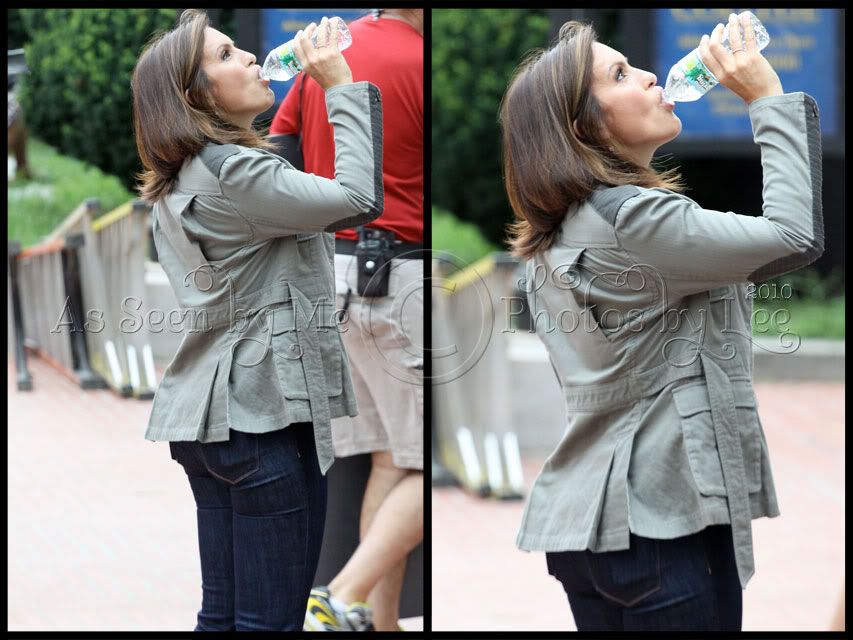 Someone on one of the fan sites asked if

Mariska

is really on her phone that much and the answer is that she really is. You can't see the phone here because her hands are out of view, but she indeed was on her phone again ....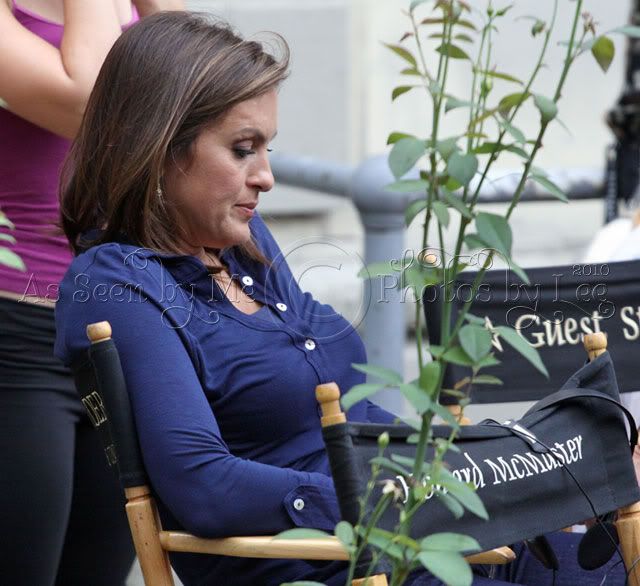 .... but she doesn't become so self-engrossed that she doesn't pay attention to those around her.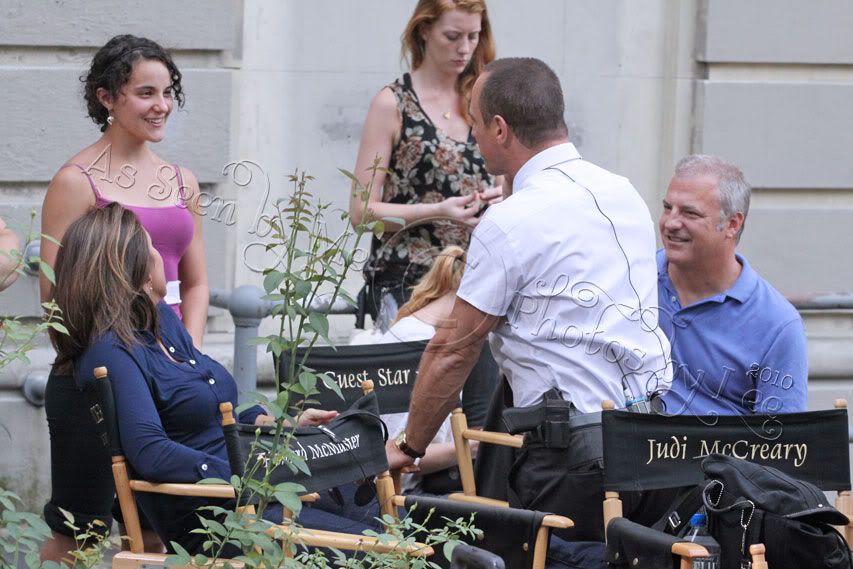 In the spring I was able to get a shot of her director's chair (I just

LOVE

the name she choose to put on it) ....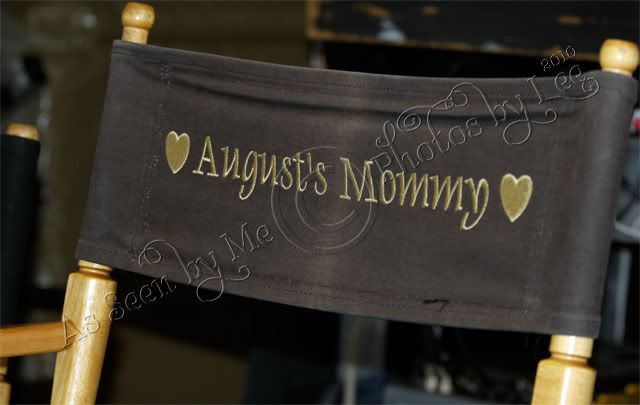 .... and this time around I was able to get a picture of his chair.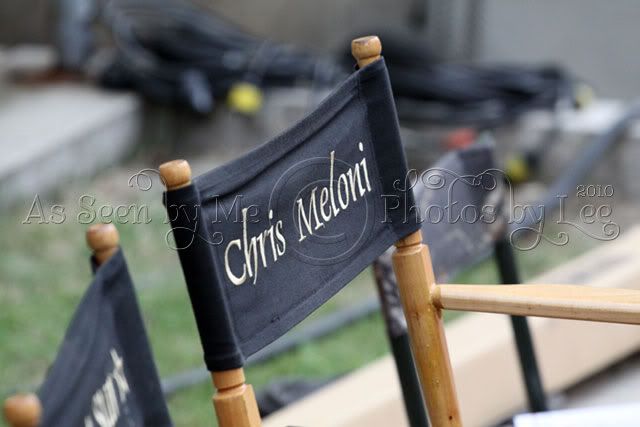 Afterward, they went back to filming (Man, that mike guy must have EXCELLENT upper body strength to be able to hold the mike up there all day long) ....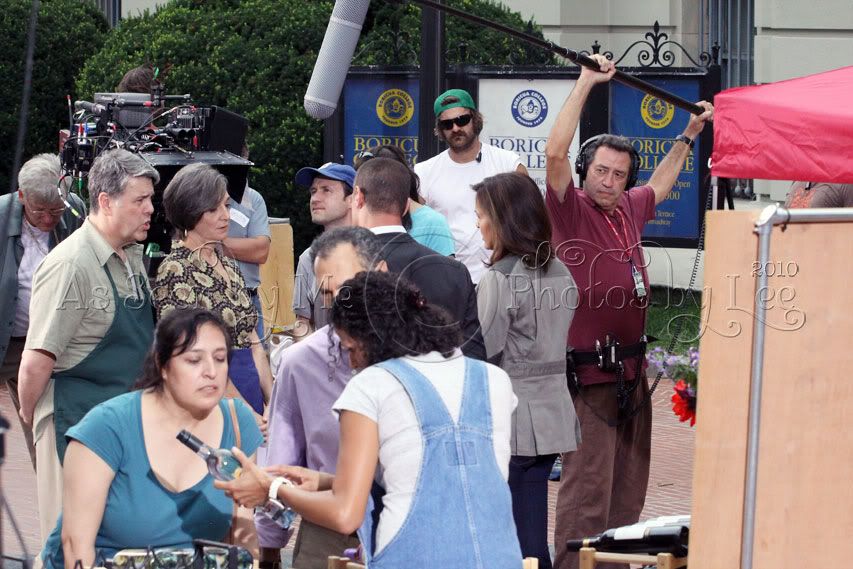 .... and I was able to get pics of the filming monitor (or whatever is its official name.) Sorry for the first shot being so blown out.

Mariska

must have said something funny to

Chris

, but then they quickly got back into character.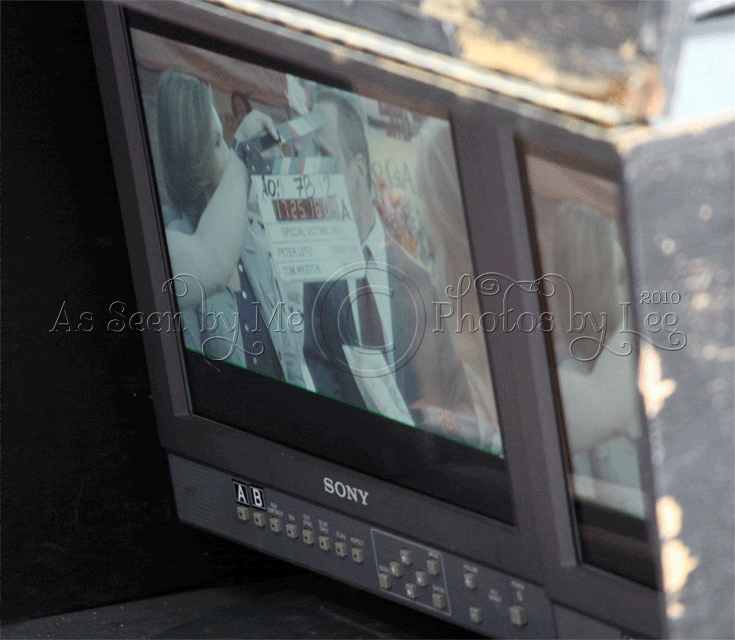 The director then yelled, "Cut!" and took the missing/dead girl's photograph from the market woman and started discussing with the crew how he might not be able to use the picture, as the paper it was printed on was causing some sort of flare on the screen. (At least that is what I think I heard him say.)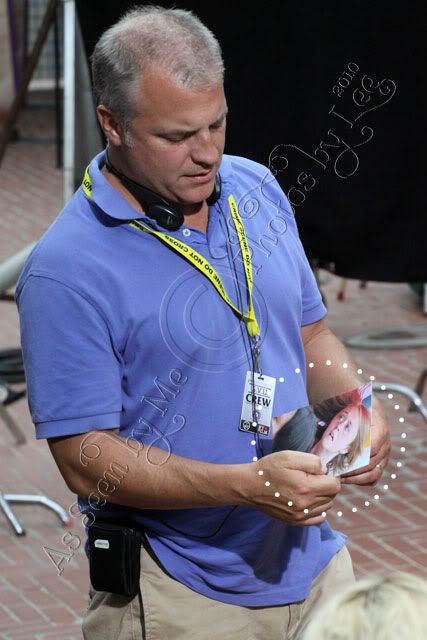 They then went back to filming the scene, but the director was really nervous because he thought it would start to rain before they were finished filming.

I wish the guy in the purple shirt had his eyes open in this shot because I believe I have seen him before in a prior

SVU

or parent

Law & Order

episode. It is so common for them to reuse actors.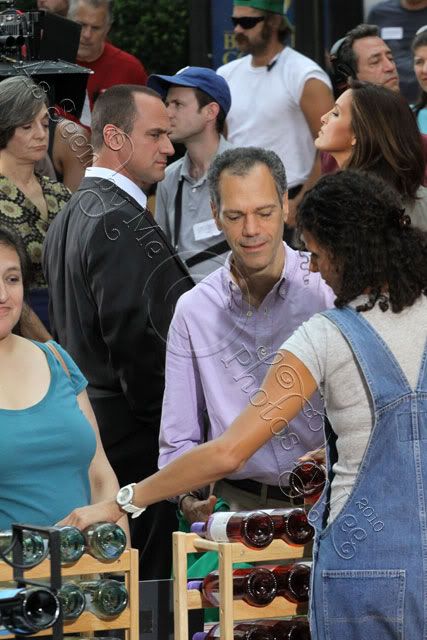 After that take, they broke and the director was very happy that they finished before it started to rain. Everyone milled around for a little bit and both

Chris

and

Mariska

took off their jackets.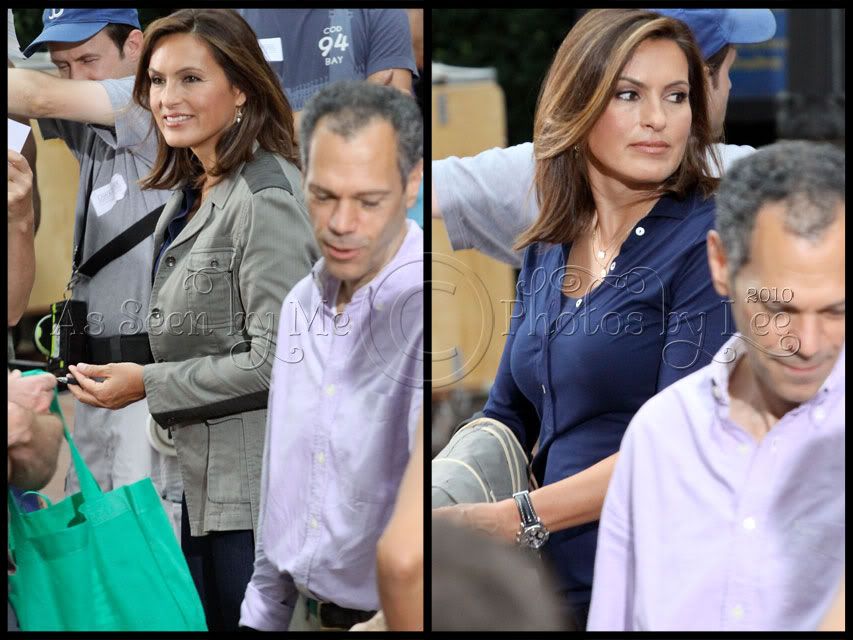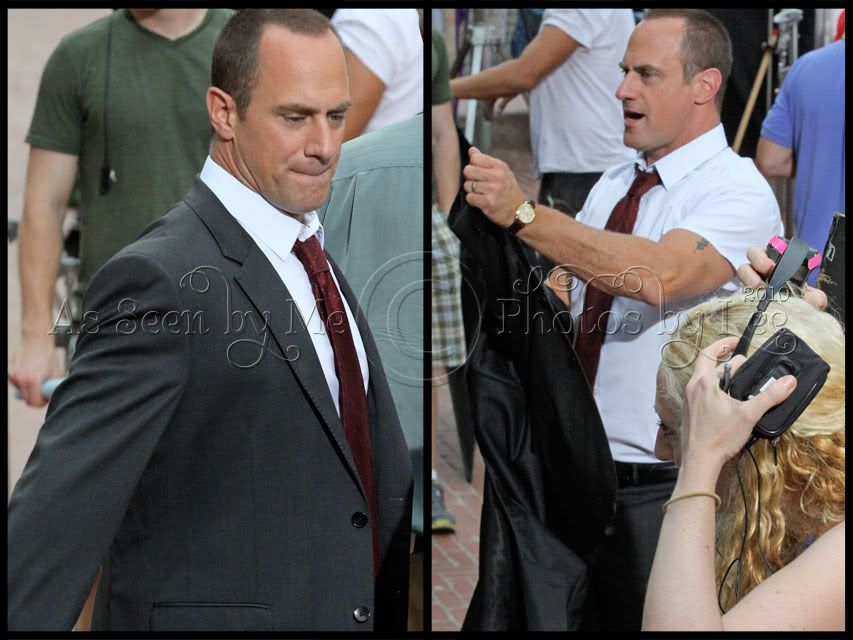 After that, the director announced that they were going inside one of the buildings to do the final scene of the day and off they went. As soon as they went inside and I started to walk to the bus stop, it started to rain. They finished filming outside just in time and I got on the bus just in time for my camera stuff not to get wet.

HOPE YOU ENJOYED THE PICS!!

FOR NOW.