SUN. Aug 15th
FIRST, I want to say

TO ALL THE PEOPLE WHO TOOK THE TIME TO LEAVE COMMENTS about my previous pics. I REALLY DO APPRECIATE you all taking the time to do that. I spend a good amount of time on both taking the pics and posting them up and it really does me good to know that the effort is appreciated. Thank you!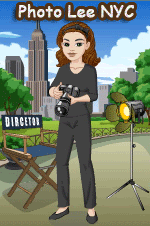 Last week was a busy filming week for Uptown. Not only was

Premium Rush

filming up here again, but so was a movie based on the children's book

Jeremy Fink and the Meaning of Life

, and reportedly the

Remake

of

Arthur

also filmed up here last week, but I am not 100% certain about that. I wasn't able to get to any of those shoots, but I was able to get to three others that also filmed up here last week:

The Good Wife

,

Law and Order: SVU

, and

White Collar

. This post will only be about

The Good Wife

and

Law and Order: SVU

.

White Collar

will have its own separate post in the near future. Of the three of these shoots I have to be honest and say that the

White Collar

shoot excited me the most, but for reasons that most likely will be unexpected.



Although all of this filming might be deemed exciting by some, a lot of people are actually very unhappy with it, because of all the parking spaces that the trucks and trailers take up, and have complained about it on the news. I can understand their point of view. For roughly two weeks now

Premium Rush

has had up no parking signs on a block up here and has had the nerve to only show up on about two of the 14 days. For good or bad, I don't think the filming trend is going to slow down anytime soon because even as I am typing this, according to a tip on Christine's fantastic site

On Location Vacations

,

Gossip Girl

is again filming down the block.

I don't know about you, but I Really Like

The Good Wife

.

(Photo from Beliefnet.com)




It is an intelligent, adult drama that has minimal fufu. I initially watched the show solely for

Julianna Margulies

and

Chris Noth

.

(Photo Credit: Eike Shroter/CBS)




However, it quickly became apparent that the strength of this show is its

STELLAR

ensemble cast. All of the actors are strong and when that happens that is Television Gold in my opinion. Of the ensemble cast two actors initially, and then a later addition to the show, stand out to me. I think

Christine Baranski

is an

AMAZINGLY TALENTED

woman! She can do dramas, comedies, and even musicals with equal excellence. To me though I will always remember her most as

Connie Chasseur

in

The Ref.

That is one

FUNNY

movie!!

(Photo from TVFanatic.com.)






Warning:

The clip contains adult/foul language.



The second additional standout actor is English actress

Archie Panjabi

. Her portrayal of

Kalinda

is so nuanced and multifaceted.

(Photo from Yahoo TV.)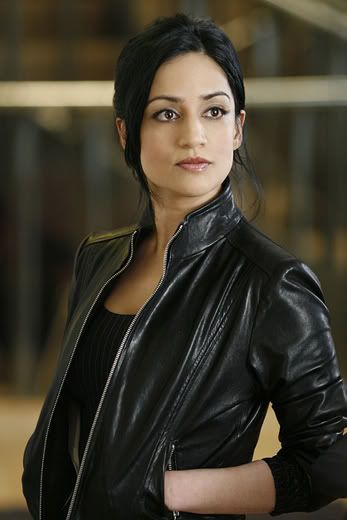 According to a very nice professional photographer who I met at the shoot, I had missed my third standout actor, Scottish

Alan Cumming

, filming a scene in front of

The Manhattan School of Music.

I was a bit bummed, but at least I had already taken a picture of him at last year's

Macy*s Thanksgiving Day Parade

. I think he is a phenomenal actor and was disgustingly good at being bad as

Sean Walsh

in

Circle of Friends

.




By the time I got there they were camped out in front (and behind) of

Union Theological Seminary

and

Columbia University's Teachers College

.


(Picture of Teachers College from Wikipedia.)




Julianna Margulies

was not on set, so the rest of this post might be boring to people looking for pictures of her, but to me I got a kick out of this tv shoot for a reason I am about to explain.

It soon became apparent that the scene was going to be a prostitute street corner scene. That in of itself is not funny, but to me it was because they were filming right on the corner of

Corpus Christi Church

. (The interior of which is GORGEOUS.)




The head priest of the Church used to be Monsignor Burke who was a very conservative and traditional priest. All I kept thinking while I was watching the scene unfold was that if Monsignor Burke was still alive there would be NO WAY that he would allow a scene with hookers
and pimps

to be filmed on the corner of his Church. No Way!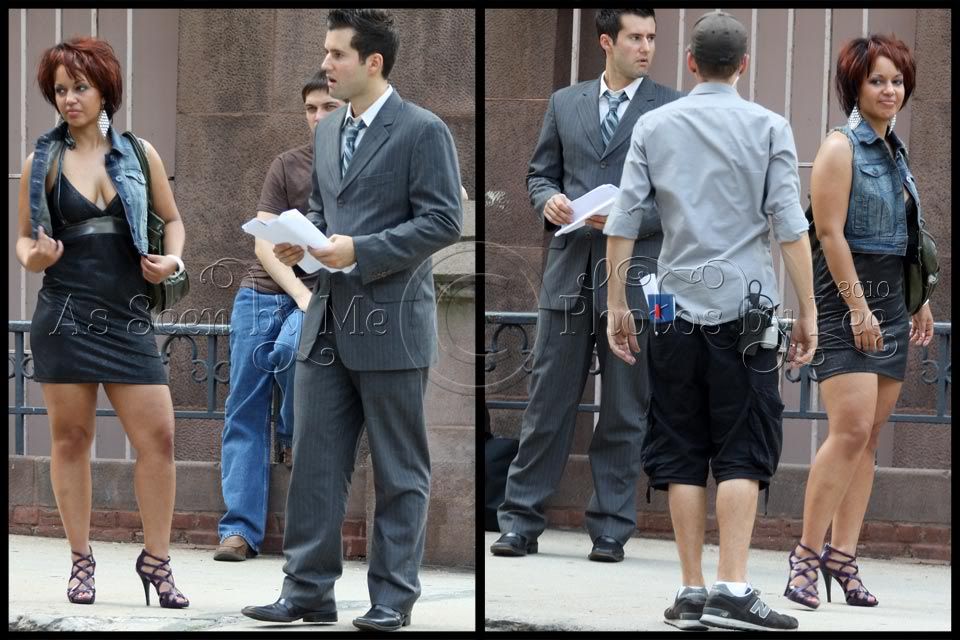 It's hard to stand on your feet all day in shoes like these.



What a neighborhood always wants, a friendly, smiling, happy pimp!

Lol! (I LOVE this shot!)




The first part of the scene was filmed from within this vehicle.




Unfortunately, I couldn't get a picture of the camera equipment that was inside, but the woman that you can see in the window was holding the camera. The vehicle rode behind the main car (the beige one, right next to the taxi cab) as they drove down the street and then the main car turned the corner to where the next camera was set up.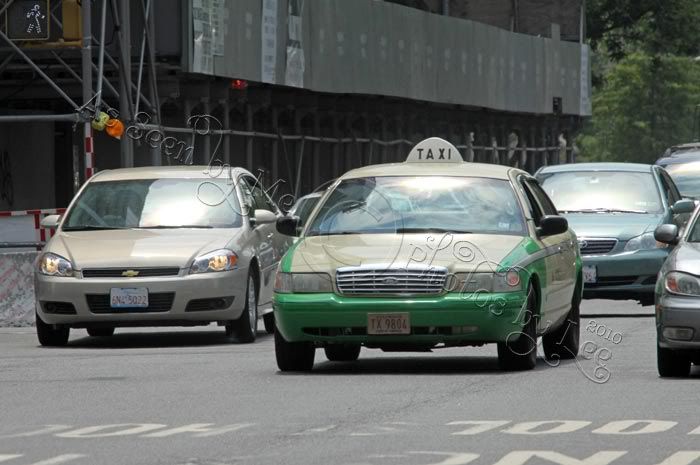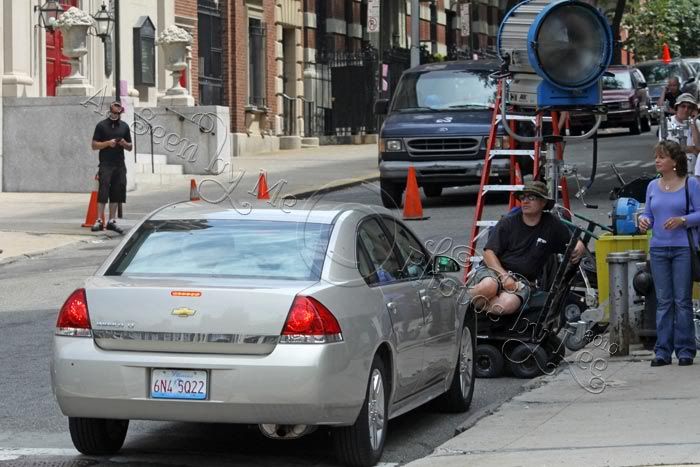 The coolest aspects of that scene (besides the fact that the camera person was a woman), was the taxi and license plates on the cars. Despite

The Good Wife

being shot in NYC, the show is set in Chicago so they used a Chicago-styled cab and Illinois license plates.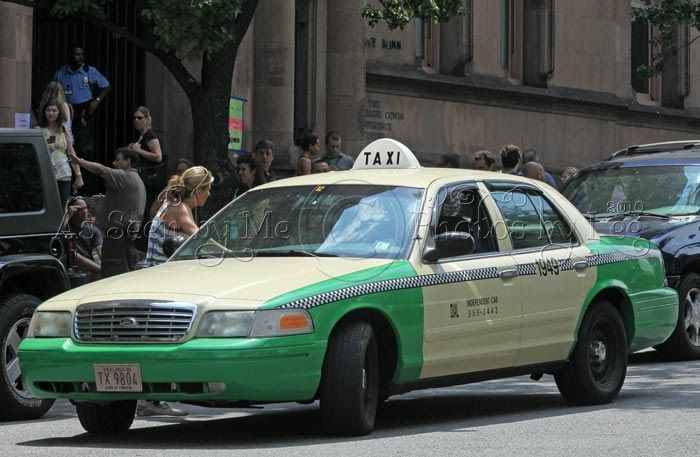 After they shot that scene for a couple of more times, out of nowhere

Archie Panjabi

showed up. However she did not stay on the external set for long, as she was immediately whisked away to her trailer via a grey van. Maybe she had been filming an interior scene while they were filming the car scene. She really is very pretty in person and I just Love

Kalinda's

wardrobe! :D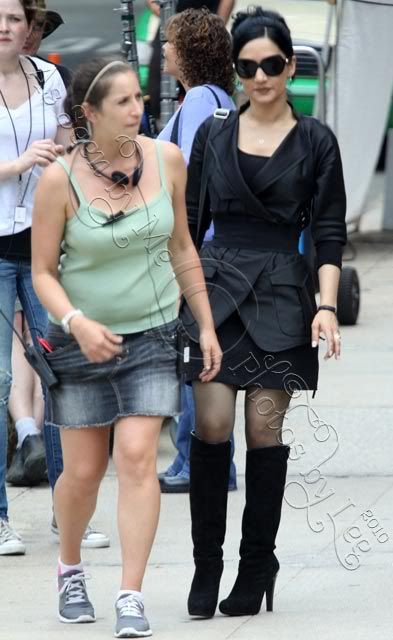 After she left, filming continued on.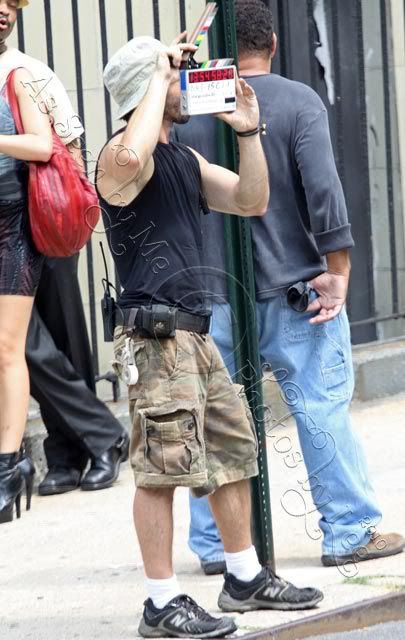 The scene continued with an actor that I didn't know at the time, but who seemed to be a major actor given how people were giving him the royal treatment, getting out of the biege car and walking over to one of the prostitutes on the corner. At first it seemed like she didn't want to speak to him, ...




... but then she cozied up to him ...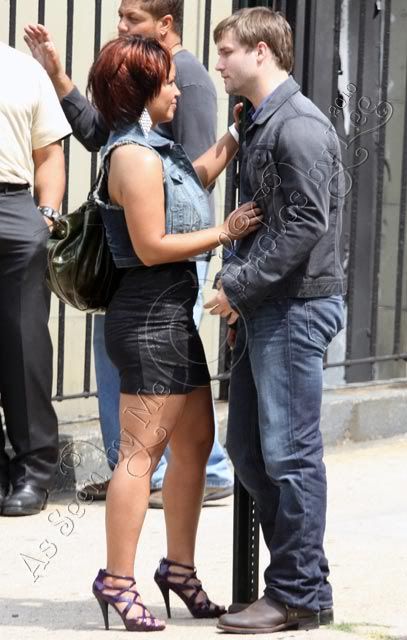 ... and then another gentleman joined them and an exchange of information took place. In one of the takes the main actor was also handed an envelope.




After they filmed the scene they called for a break and the main actor was walked over to holding.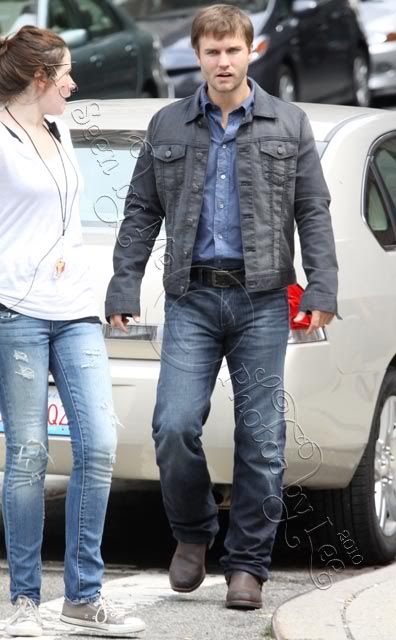 When I got home I looked the actor up (one of the crew people was only able to tell me that his first name was Scott) and I found out that he is

Scott Porter.

This is what Entertainment Weekly's site had to say about him and his

Good Wife

character,

Blake

:

'The Good Wife' exclusive: 'FNL' grad Scott Porter to romance Kalinda?



by Michael Ausiello




Image Credit: Chris Hatcher/PR Photos



This doesn't happen often: One of my favorite actors has scored one of the coolest roles on one of TV's best dramas.

Friday Night Lights MVP Scott Porter is joining CBS' The Good Wife as a professional and perhaps personal foil to Archie Punjabi's sexually ambiguous Kalinda, sources confirm to me exclusively.

Porter's handsome and mysterious character, Blake, is Kalinda's private-eye counterpart at the D.C. firm that's merging with Lockhart & Gardner. Per the casting breakdown, Blake "offsets his cynical attitude with lots of hidden humor and sexual charisma. He is disguised as a landlord when he first encounters Kalinda, who doesn't appreciate being taken in by this 'master of disguise.' However, underneath their fractious interactions, there's definite chemistry between these two."

Porter's exact episode count is still being worked out, but I'm told he could appear in as many as 10 episodes of Wife's second season.

Thoughts? Are you as stoked about this piece of casting as I am? And do you think the "definite chemistry" between Blake and Kalinda will lead to something romantic? And if so, what will Kalinda's female bartender crush have to say about it? Sound off below!

http://ausiellofiles.ew.com/2010/07/20/the-good-wife-scott-porter/


In the end I am glad that I didn't know who Scott Porter was because while researching him I found out, much to my heart's content, that

Michael Ealy

is joining the cast as the firm's new partner! Yeah!!
(Photo Credit: Richard Chavez)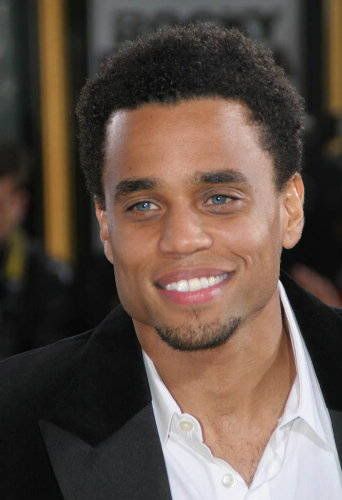 Now I can be all cerebral and say that the reason I am so happy he is joining the cast is because of what an

EXCEPTIONAL

actor he is, and indeed that would be true because his portrayal of the emotional, spiritual, intellectual and patriotic complexity of

Darwyn Al-Sayeed

in

Sleeper Cell

was

ASTOUNDING

, but let me keep it real and fully admit that I think he is

S-T-E-A-M-I-N-G H-O-T!!!

I am definitely going to have to go to more

Good Wife

on location shootings in order to try and see him in person! Lol! :D :D

Anyway, after they called for their break, I decided to leave because just a few blocks away

Law & Order: SVU

was filming.

Part Two (the

Law & Order: SVU

part) of this post is HERE.