SAT NOV 6th
FIRST, I want to say
TO ALL THE PEOPLE WHO TOOK THE TIME TO LEAVE COMMENTS about my previous pics. I REALLY DO APPRECIATE you all taking the time to do that. I spend a good amount of time on both taking the pics and posting them up and it really does me good to know that the effort is appreciated. Thank you!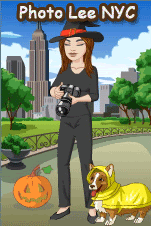 On Saturday, October 23rd, 2010, Tompkins Square Park's the Friends of First Run ....

(Picture by David Shankbone)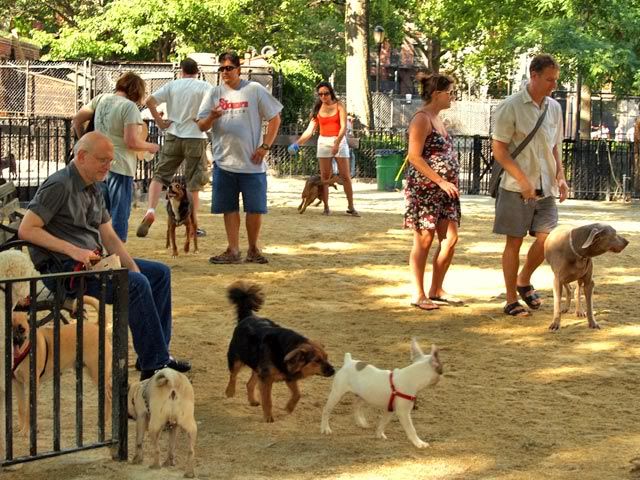 .... held its

20th annual Tompkins Square Halloween Dog Parade

.

(Graphic property of Friends of First Run)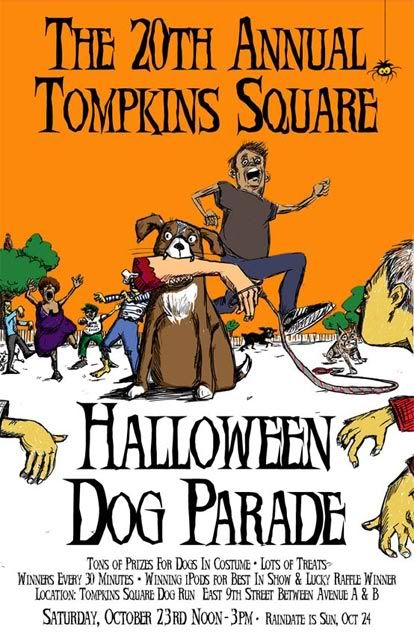 First I should say that I don't have a dog, but I LOVE going to this parade. I also love petting other people's dogs at our dog runs. I thought I was the only dogless person who does that, but then some months back I read a

NY Daily News

article that let me know better!

Meet the doglers: New York's dog-less people who can't help ogling cute pups



BY Leah Chernikoff
DAILY NEWS STAFF WRITER

Wednesday, May 12th 2010, 4:00 AM


Handschuh/News
Dog lovers but not dog owners Cassie Ho and boyfriend Sam Livits get their canine fix in Washington Square Park.


Braganti for News
Abby and Donnie Cutler check out the dogs in Carl Schurz Park on the upper East Side.

Go to any of New York's 100-plus dog parks and you'll notice them: poochless people hanging over the fences to gawk at the motley mutts. Call them doglers.

It's no secret that New Yorkers are attached to their canine companions. There are around a million dog owners in the city, according to an estimate by the ASPCA. But that still leaves millions of dog-loving New Yorkers dogless.

That's where dogling — that is, ogling dogs — comes in.

"There's a hidden club of us," says Hannah Spencer, 28, an executive assistant based in Brooklyn who coined the word "dogle." She uses her morning runs as an excuse to drop by Fort Greene Park and watch the dogs.

"I know my own levels of responsibility and I just can't have a dog," says Spencer. "So you can get this vicarious pleasure out of watching other people's dogs."

New Yorkers who dogle say they do it because they love dogs, but their hectic lifestyles and tiny apartments prevent them from actually owning their own four-legged friend.

"I want a dog, but I just can't take care of one," says Cassey Ho, 23, who goes on weekly walks from the East Village to the Washington Square Park dog runs with her boyfriend, Sam Livitz, 24. "I work all day and it wouldn't be fair to the dog."

"We just don't have the time or the space to provide a dog a good home right now," says Donald Cutler, 27, who has been checking out the pups at Carl Schurz dog park on the upper East Side for the past four years with his wife, Abby, 26.

"Watching dogs is a nice way to get outside of the hustle that is the city," he says. "Dog parks are one of the nicer places in New York."

Dog owners don't seem to mind.

"People line up on the sides of the fence to watch the dogs all the time," says Deborah Lauren, 46, a cake designer in SoHo and the owner of Wellington, a dachshund, and Brando, a chow and Border collie mix.

"It's nice to see people who appreciate dogs and love them," Lauren adds.

Greer Griffith, 64, the manager of Animal Assisted Therapy for the ASPCA, is not surprised by the trend.

"There are studies that show that animal-assisted therapy brings people out of depression, lowers blood pressure and can be tremendously helpful in dealing with loneliness at extended-care facilities," says Griffith, who has worked in animal-assisted therapy for the past 15 years.

"It confirms what I already know about dogs," she says. "They change the energy around them and make people smile."

But maybe the best part about dogling is that it's all the perks — and none of the responsibility.

"It's all cute and no poop," says Cutler.

-

Daily News

Source Link

This year's parade was another Big One! The run was appropriately decorated ....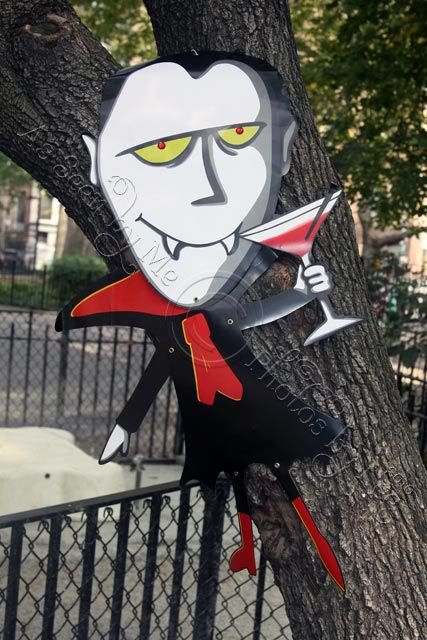 .... and one of the MCs was hilariously dressed as Snooki (have to admit that I am NOT a Jersey Shore fan, sorry) and the other MC was cutely dressed as what I guess was a Dark Angel. (I wish I knew their names. If I find them out later I will amend this post.)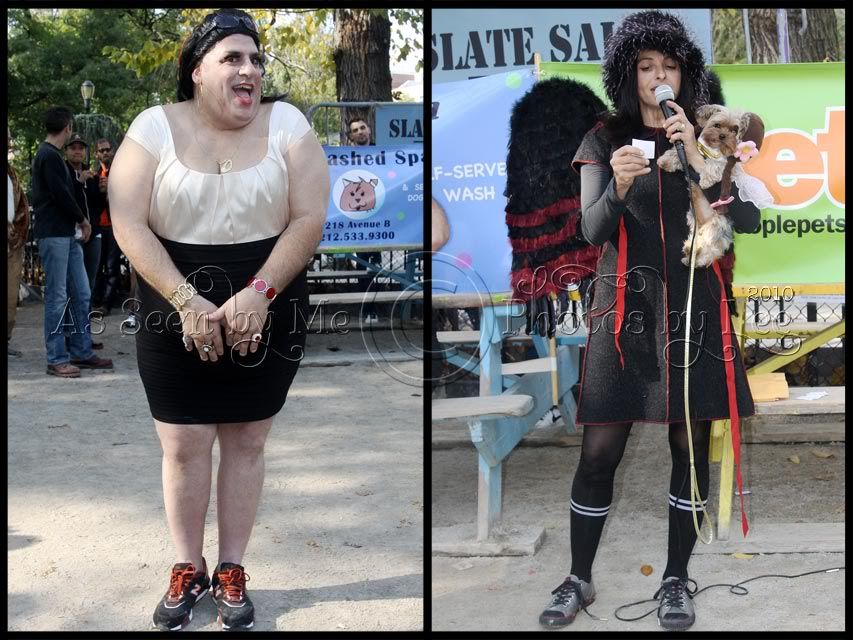 The MCs were not only having fun with the crowd and amongst themselves, but also with their

canine

doggie companion. :)




However, they also had help from their

human

"doggie" companion.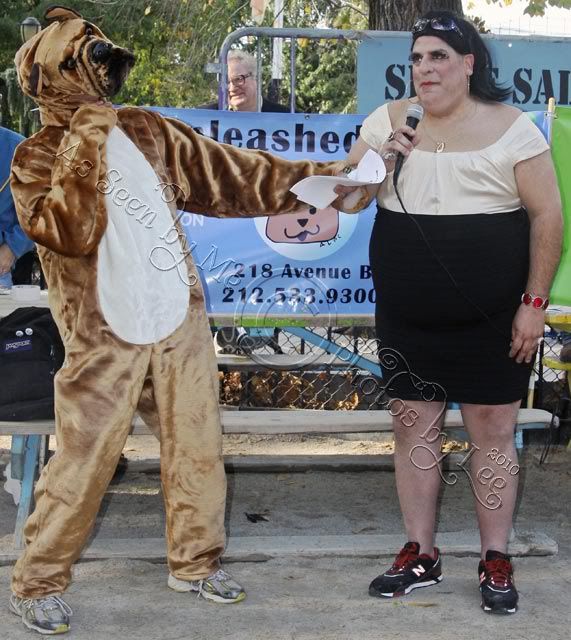 The parade is not a traditional parade, but really a set of mini contests with groups of doggies competing for best costumes. Within each group something like 6 or so costumes were ranked best by a panel of judges.




The winners of each group won a variety of doggie-related prizes donated by various neighborhood doggiecentric businesses. However it wasn't only the costumed doggies who won prizes, but anybody who entered what I call the "prize ring." When you get to the parade, you have the choice of either watching the parade from outside the doggie run for free or you can enter the doggie run (and hence get a better view of the contestants) by contributing $5. In exchange for the contribution you are given a raffle ticket so that you have a change of winning a "human-aimed" prize, even if you don't have a doggie. This year's "human" prizes were items like Johnny Rosza's new photography book

Untouched: Star Photography Before They Were Famous

and a new iPod. How great was it that the photography book went to someone who likes photography?!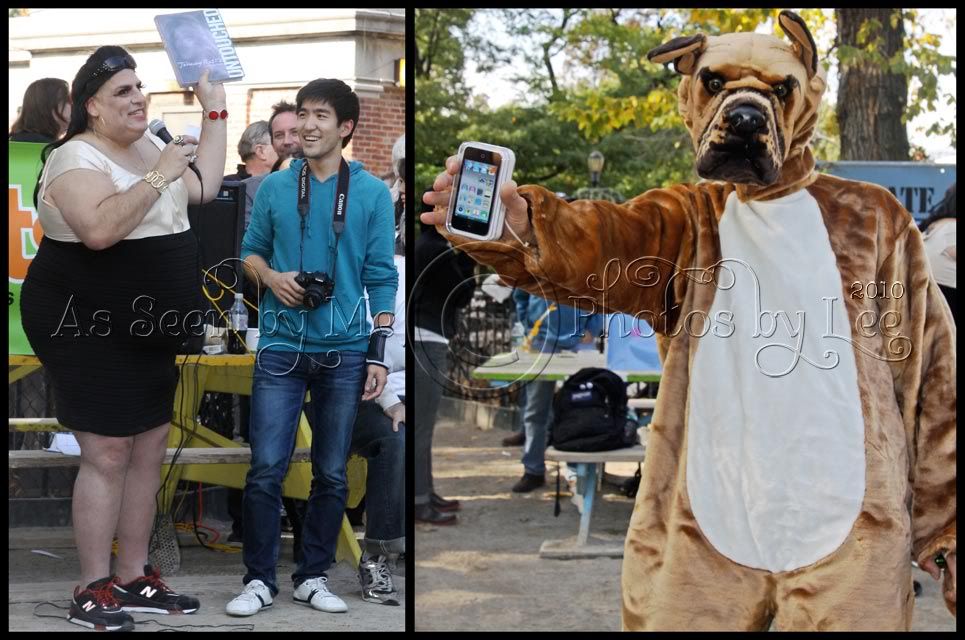 At the end of the day a

"Best In Show" ultimate winner

was chosen from all the winners of the earlier mini-contests and the owner won a new iPod. The Best In Show winner will be one of the last pics I post, that way while you look at the pics you can see if you can guess who it was!



Like last year, there were certain recurring themes such as:



1.) Halloween Related



General Halloween Theme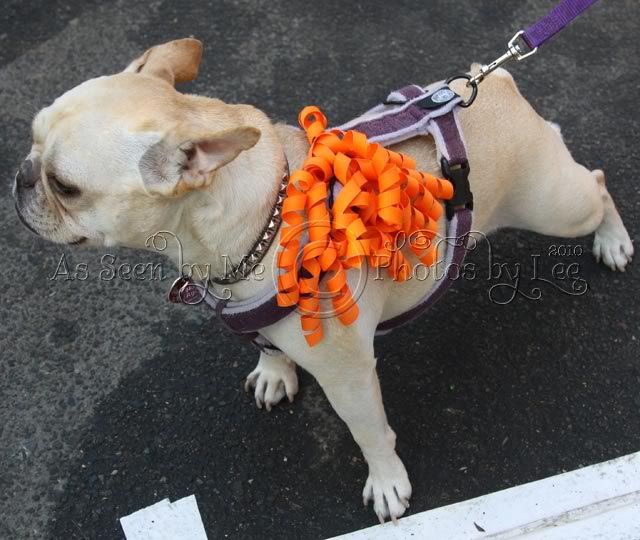 Devils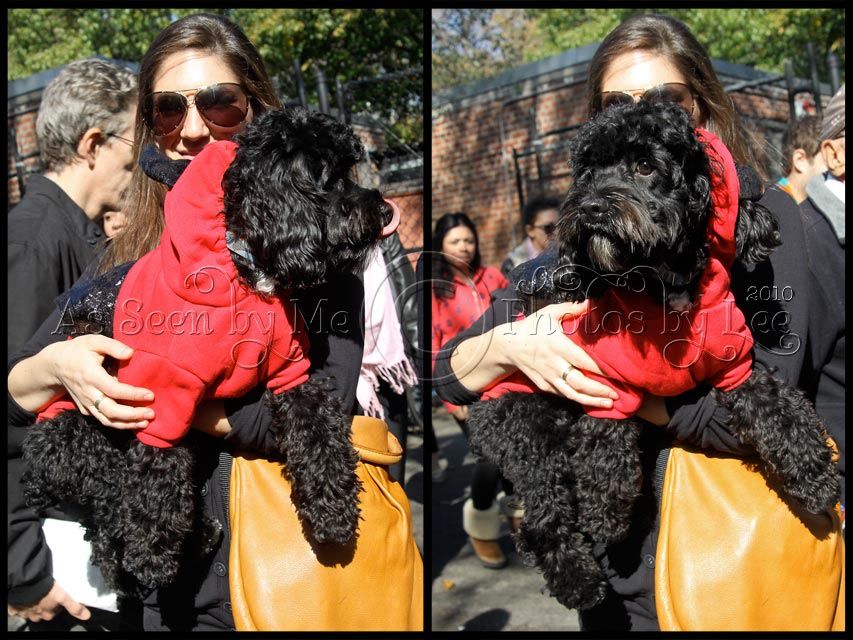 (If this devil looks familiar it is because last year he or she was a beautiful dragonfly. Dragonfly picture by istolethetv)




Pumpkins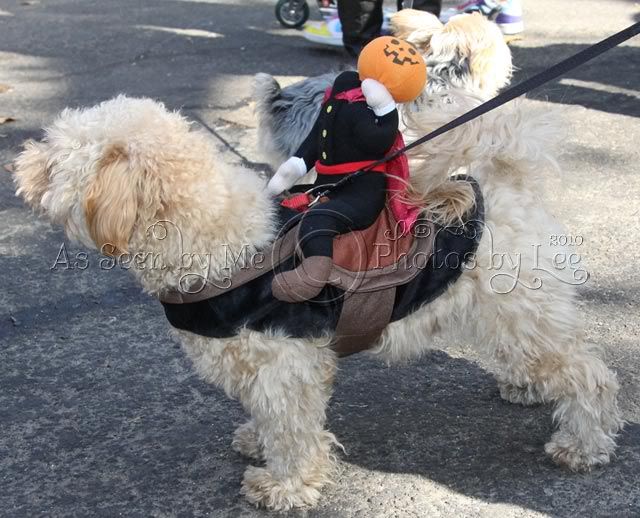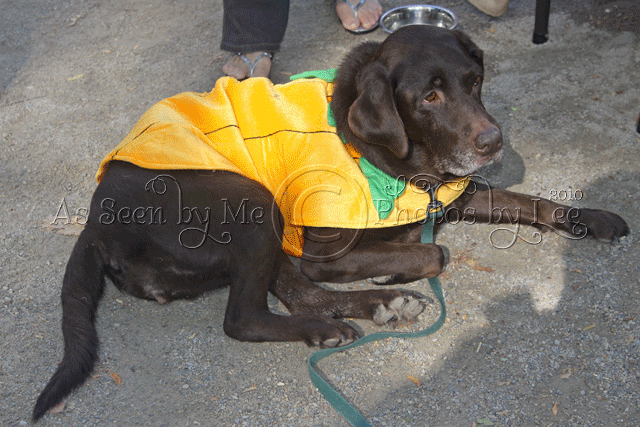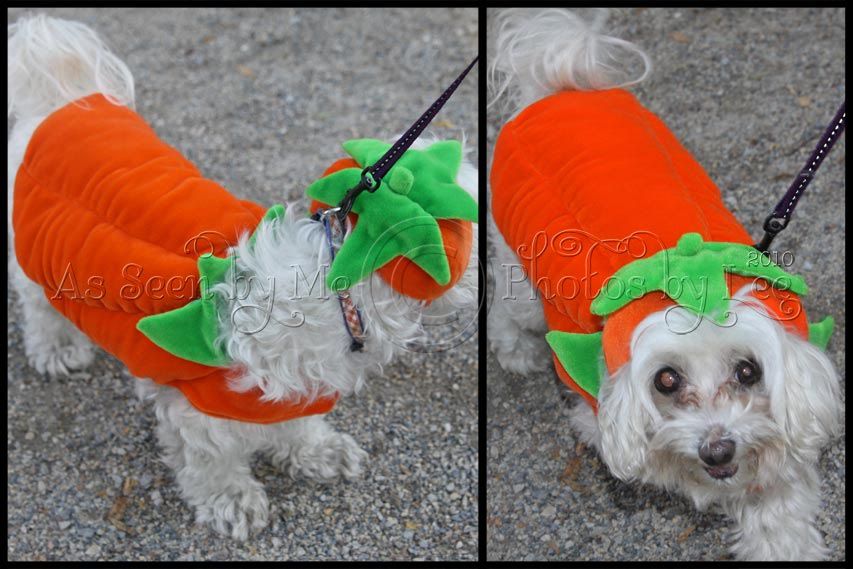 (I just LOVE Bulldogs! I know the first doggie is pug.

)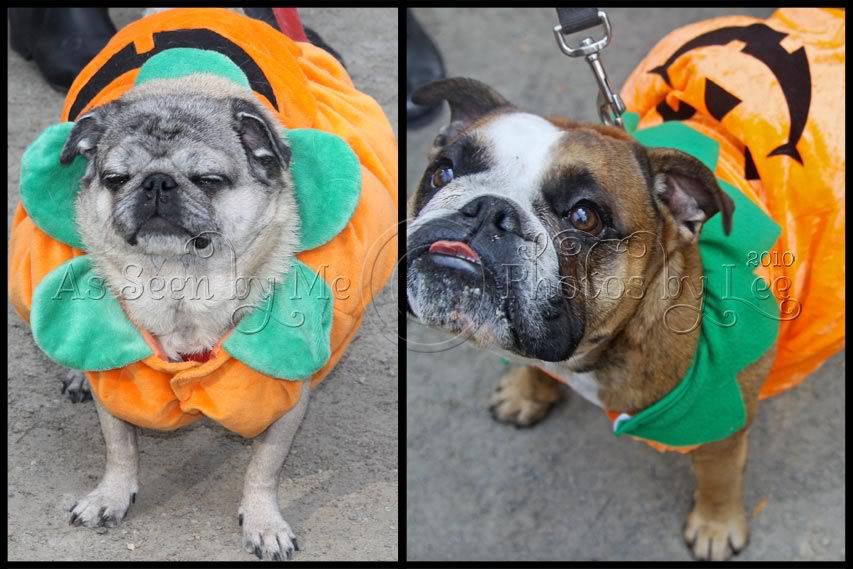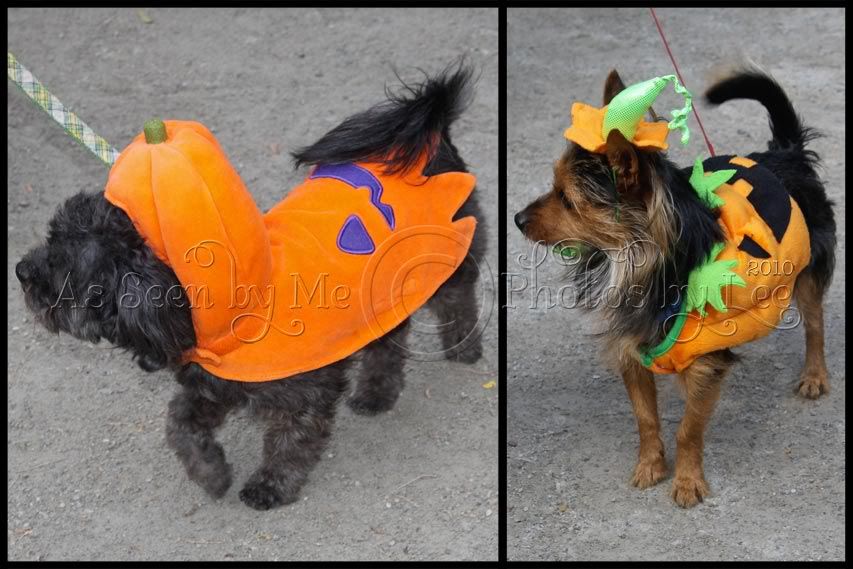 Skulls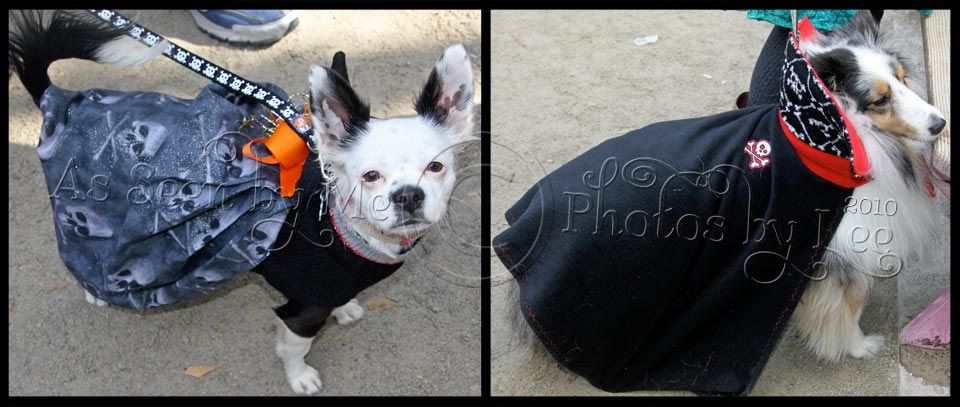 Spiders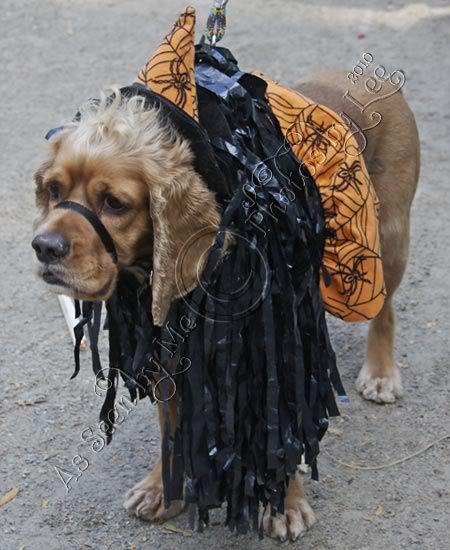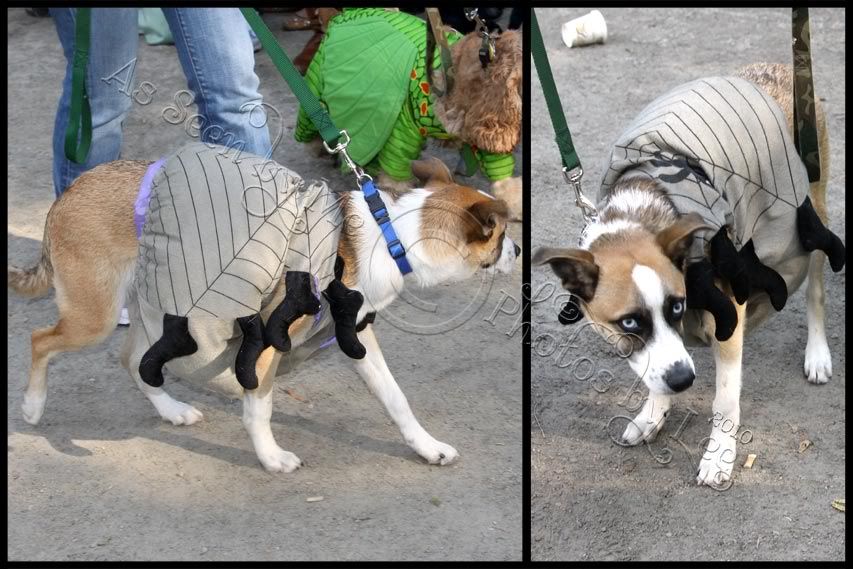 (Its a bit hard to see, but this doggie was covered with white cobwebs. The effect was really cool!)




When this "spider" moved it looked SO REAL!




Vampires and Bats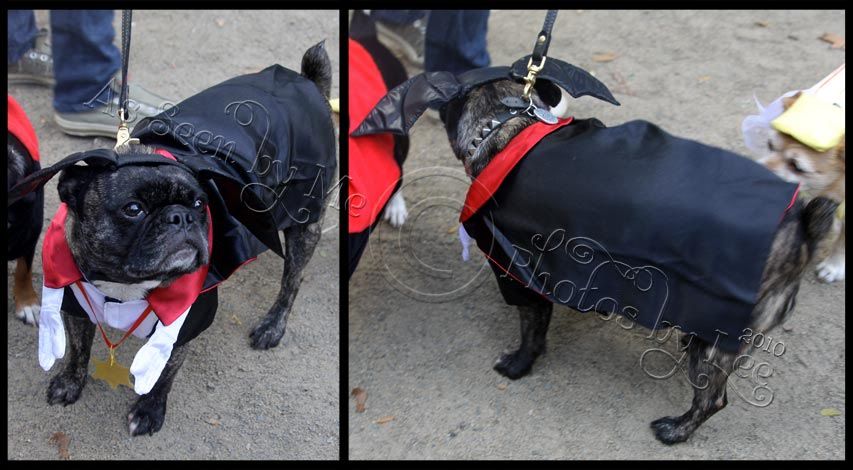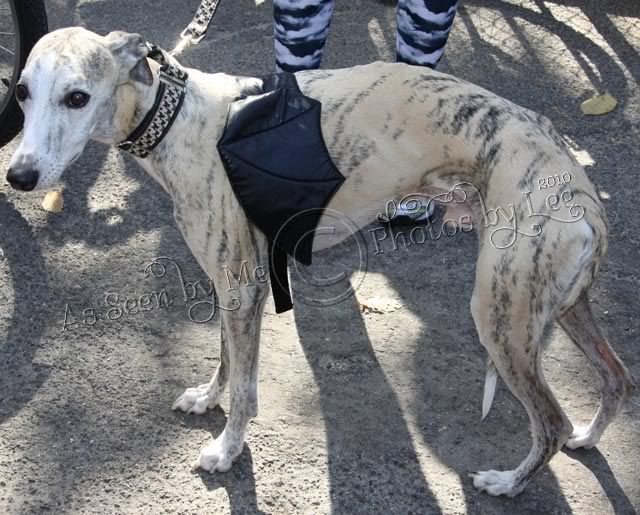 Witches







2.) Animals



A Bear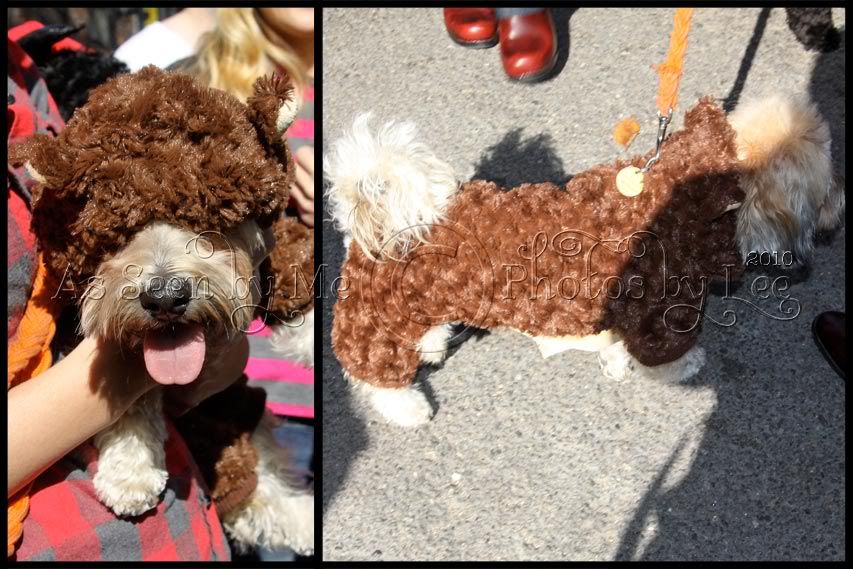 Bees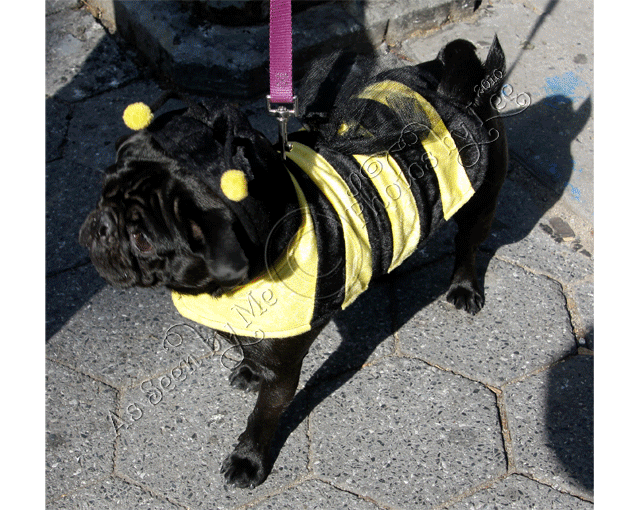 Dragons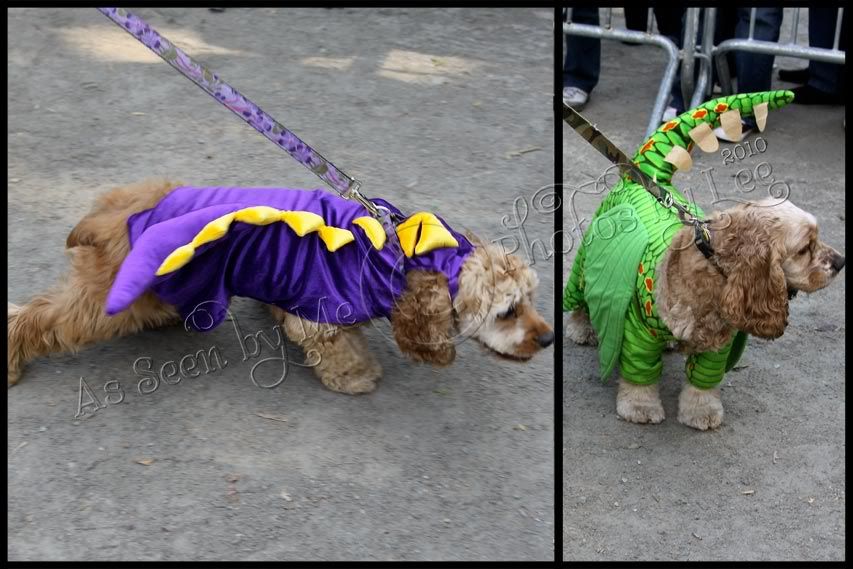 An Ultra CUTE little Duckie whom ended up exhausted by the excitement of the day!



Elephants and the Circus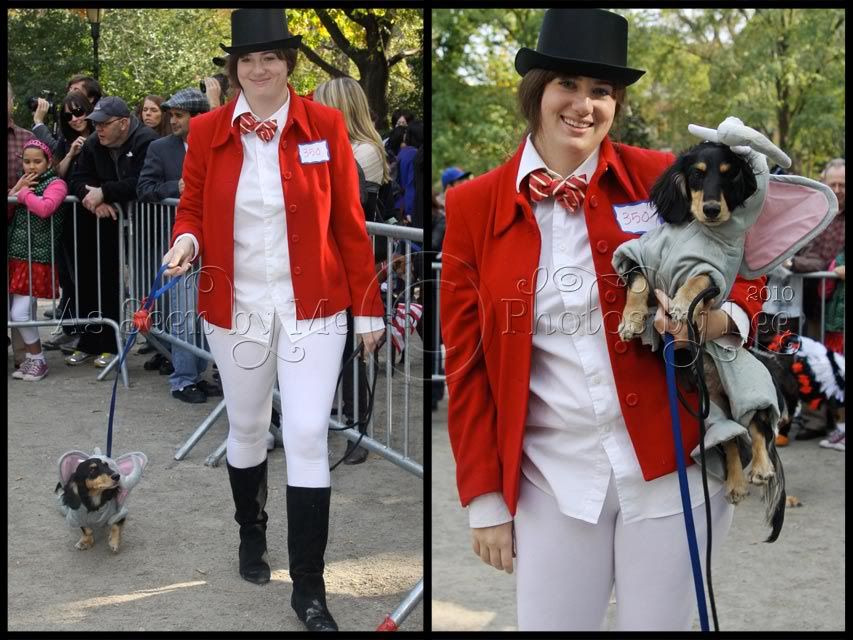 A Hippo




A Horse (

Secretariat

)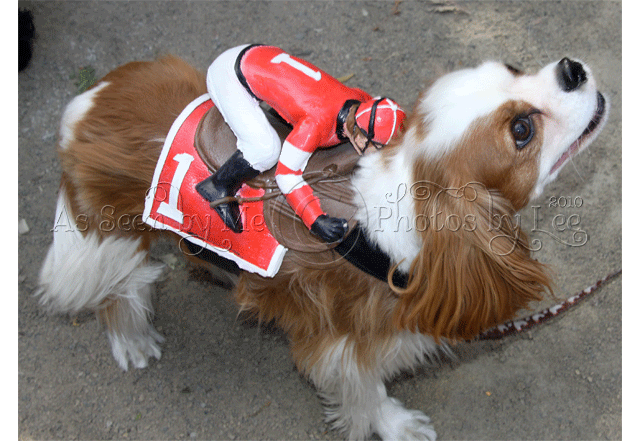 Insects, such as Ladybugs ....




.... and NYC's new scariest invader, Bedbugs!! ....




.... And, an Amazing Caterpillar!! When this doggie moved it really did look like a Real Caterpillar. Those dachshunds can really pull off low to ground costumes!




A Fancy Leopard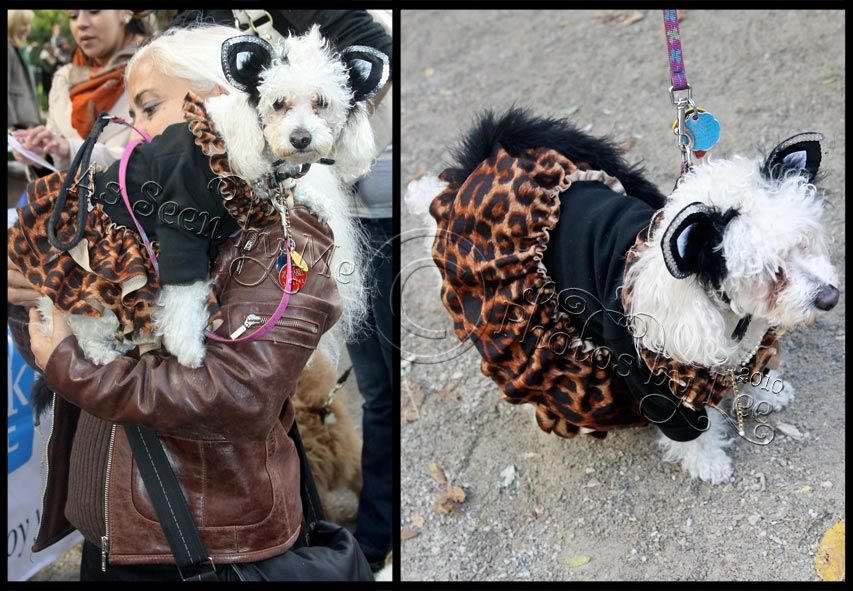 A Lobster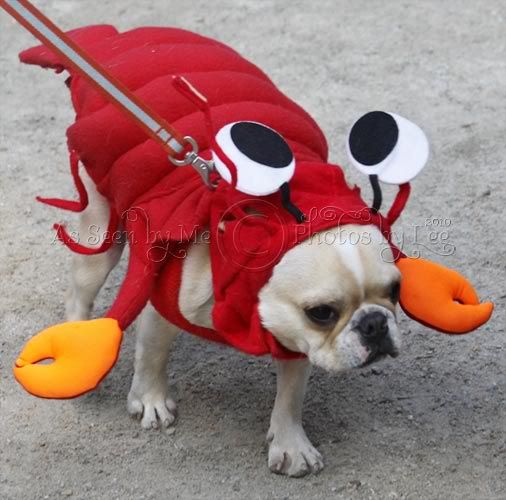 A Panda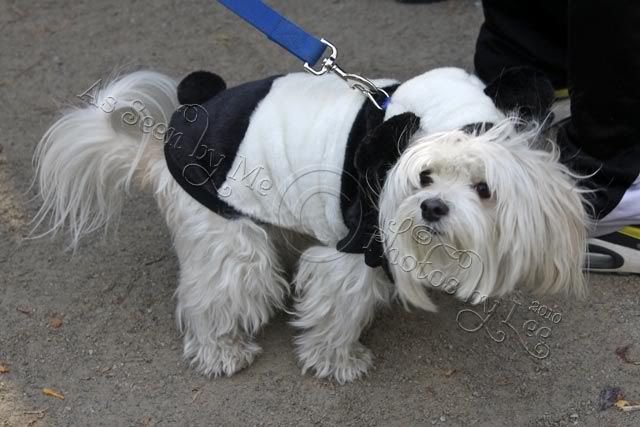 A Ram




A Reindeer




Sharks ....




.... featuring a Shark Attack (I have no idea if this doggie is really a three legged doggie, but I think so. If he or she is, then this really is an ingenious costume.) ....




.... and a Card Shark.




Skunks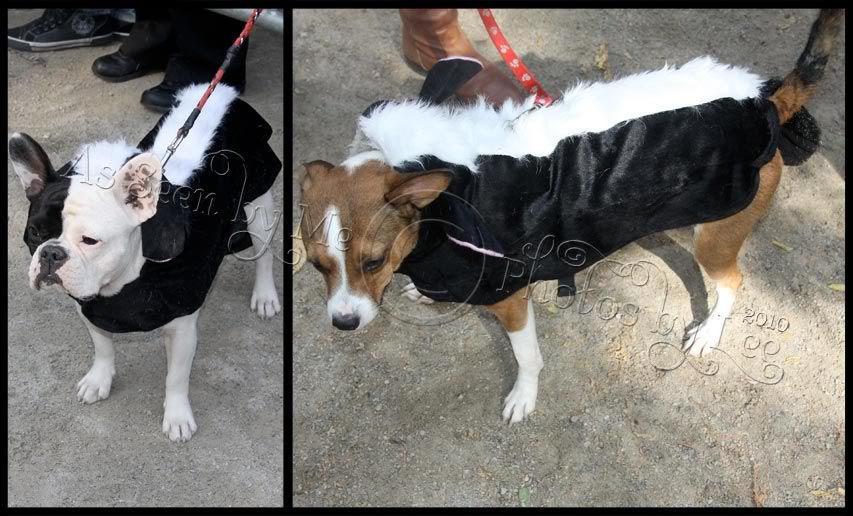 The Tortoise and The Hare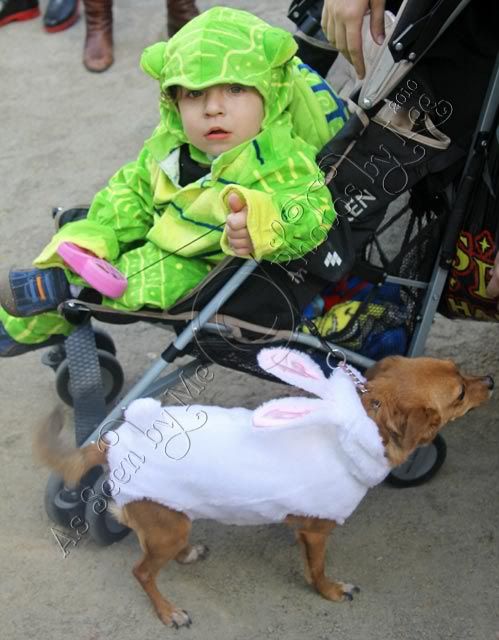 Part Two of this CUTIE PIE FILLED post is HERE.