TUES. May 4th


(

PART 1 OF THIS POST CAN BE FOUND HERE.

)

I then walked over to check out some of the other trailers and came across the Makeup trailer in time to see the makeup artist put on the final touches on one of the actresses. It was then that I noticed that the actors appeared to be playing a family that consisted of a father and his two children. I didn't see an actresses that appeared to be playing the mother. I don't know if they were playing a family that was severely sunburned. The scene that they shot was an interior scene inside one of the brownstones. Why would a family call firemen for sunburns? But who knows maybe that is part of the humor of the scene. They might have also been playing a family that was burned in a "regular" house fire. It will be interesting to see the final episode to see if fire is digitally added to the scene because obviously they didn't set the brownstone on fire when they were shooting the scene. A crew member said that they were filming two episodes that day and she only had the numbers 616 as the episode description, so I don't know exactly what episodes they were filming. If I find out the episode name I will amend this post.




The guys then walked over to set and shot scenes of them entering the building/apartment. Like I said above, the actual scene was an interior scene so it was out of view.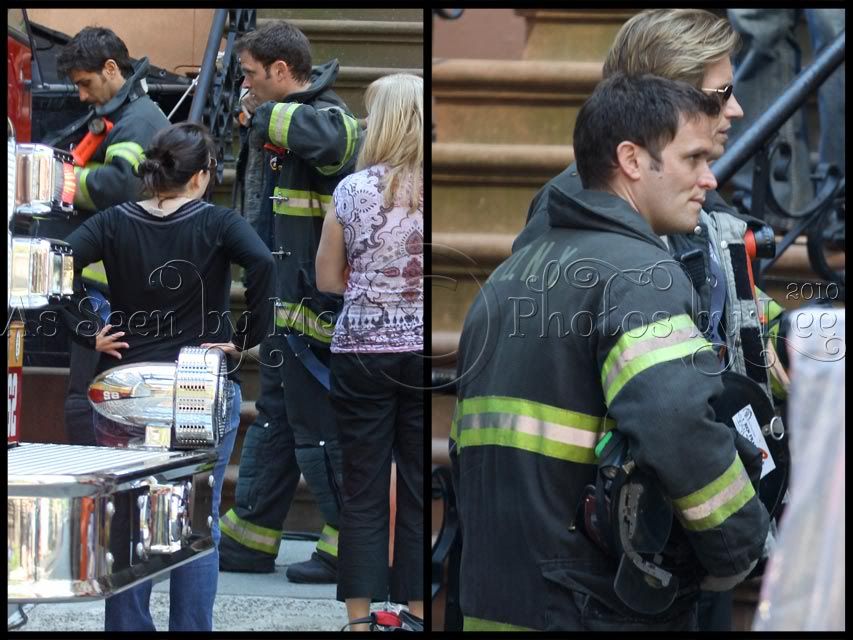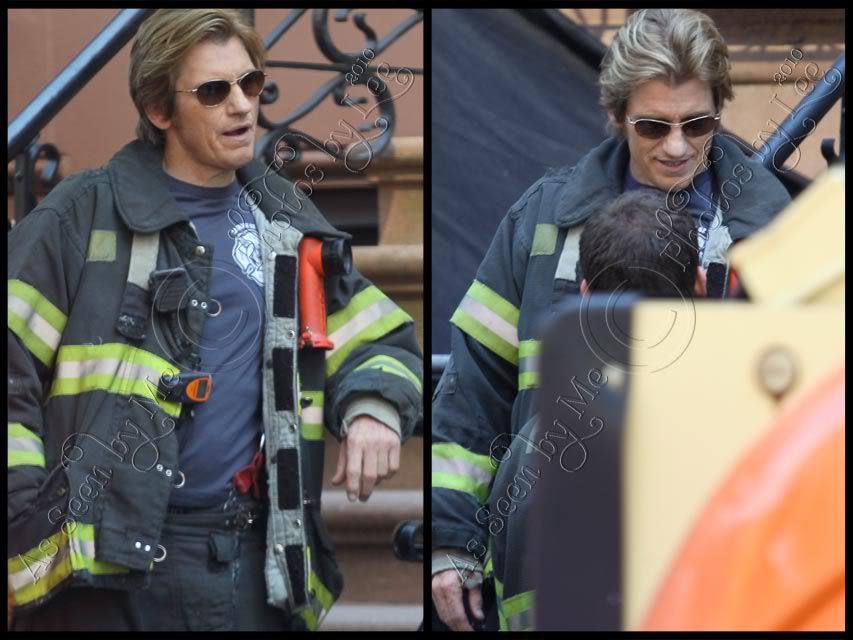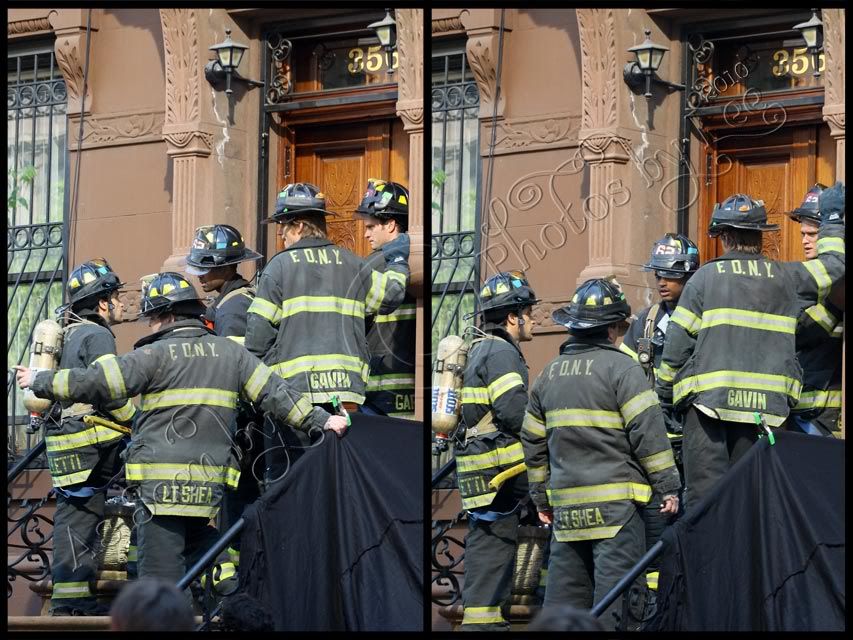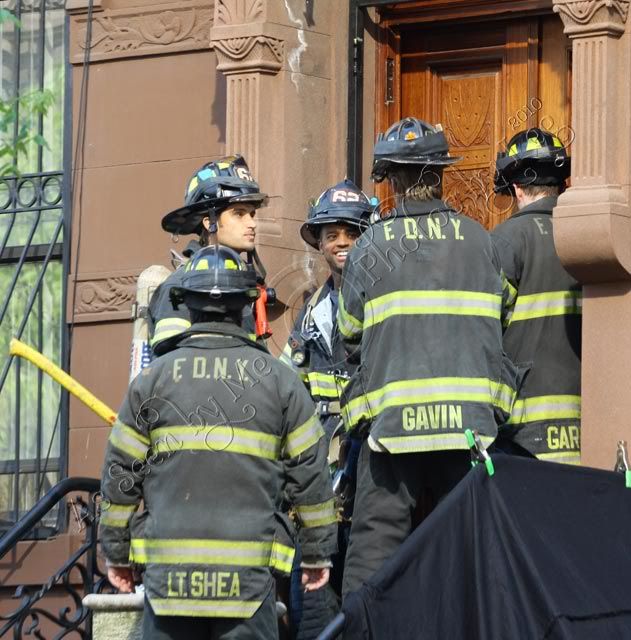 In between takes they would just chill out, speaking to and joking with each other. :)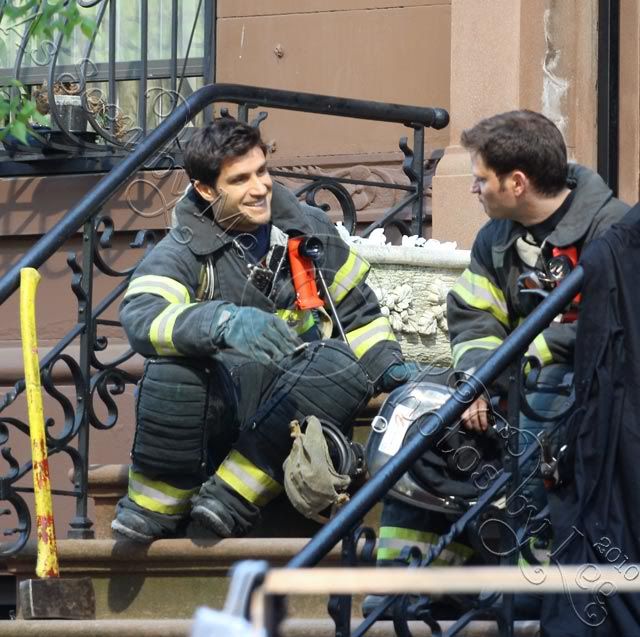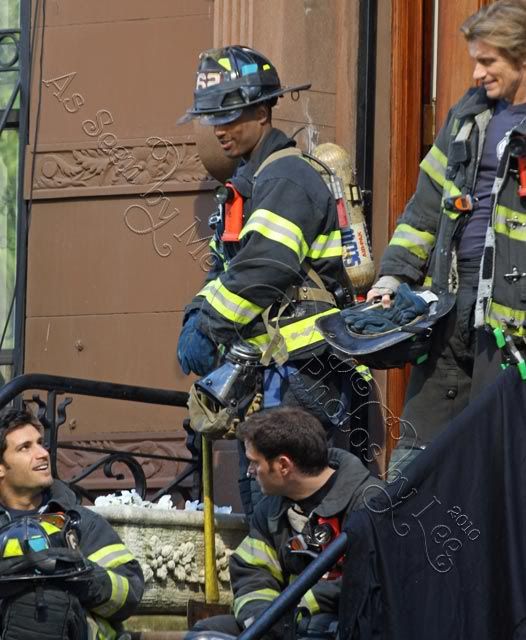 They then took a break and Robert Burke (ex-Father Mickey Gavin) stopped by the set. He and

Denis Leary

had what looked to be quite an amusing conversation because some of

Denis Leary's

facial expressions were too funny! :D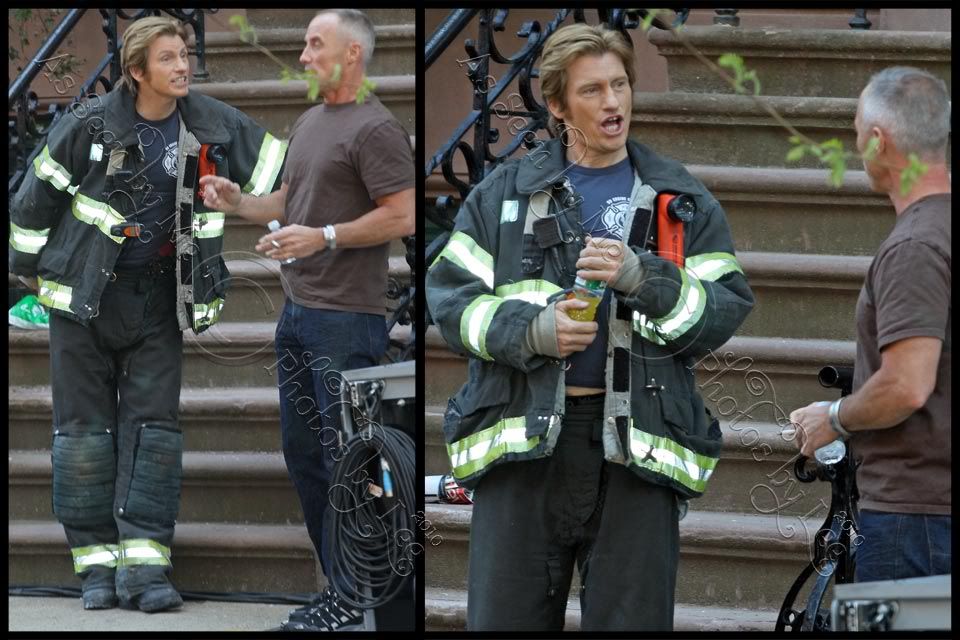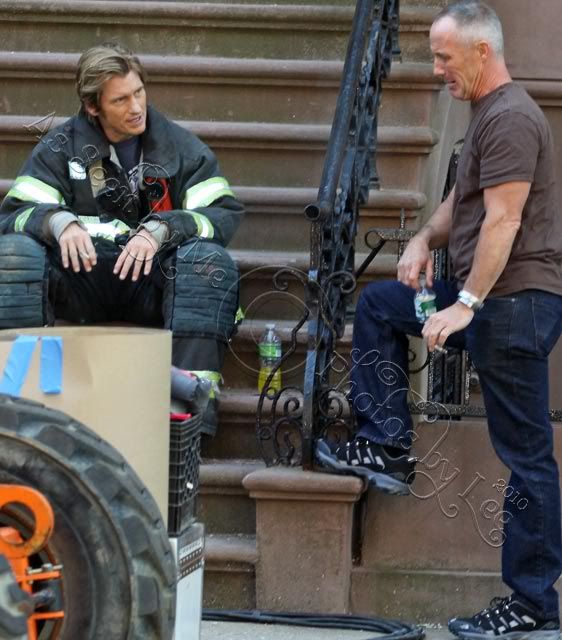 In true NYC fashion, there were people who just walked through their conversation and they couldn't have cared less that the people were TV/Movie stars. :)

I LOVE my city!

:D :D




I have liked

Robert Burke

since I saw him in Thinner, but I really never knew he was so buffed! :D I asked him for his autograph and told him that I really liked him in

Thinner

, but that I don't like his character so much in

SVU

(Internal Affairs Sgt. Ed Tucker.) He chuckled at that. :)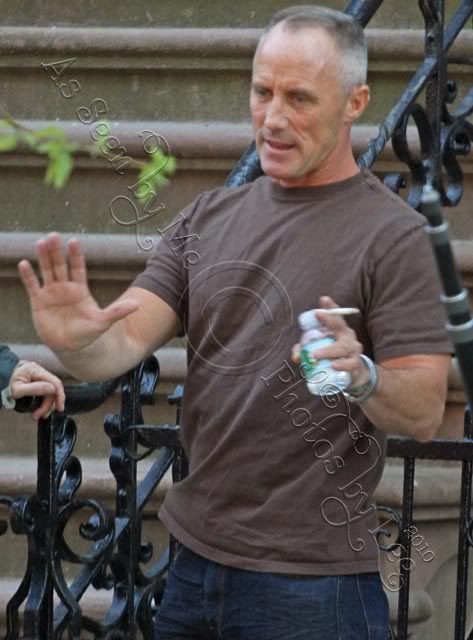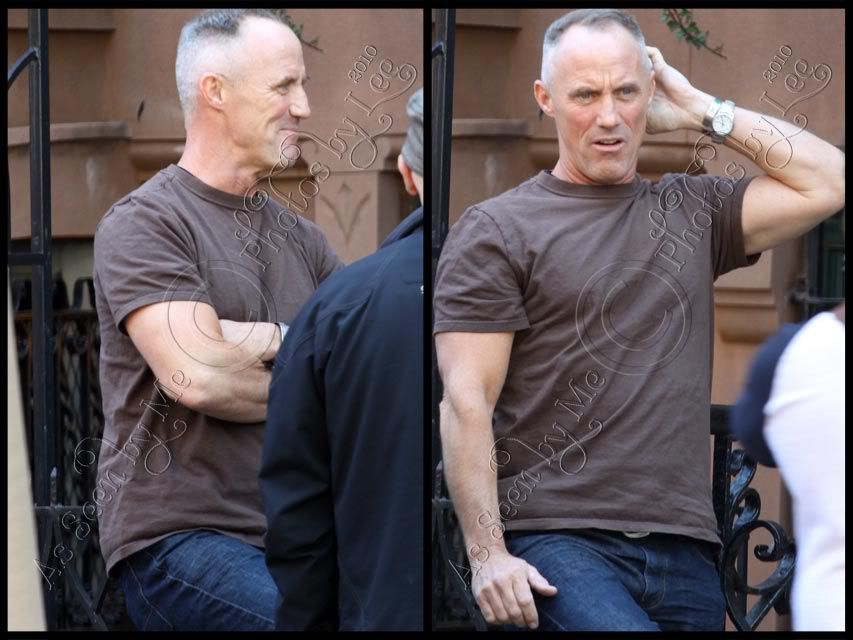 Things got a bit slow so I decided to walk over towards the park and that is when I saw the

"dirty side"

of filming! :D I never really thought about it before, but of course the trailers' toilets would need to be drained!




When I walked backed over to the set a REAL firetruck pulled up and the REAL firemen said that they should be in the filming! :D They then thanked them for the show and the crew thanked the firemen for what they do on a daily basis. It really was a great interaction to watch.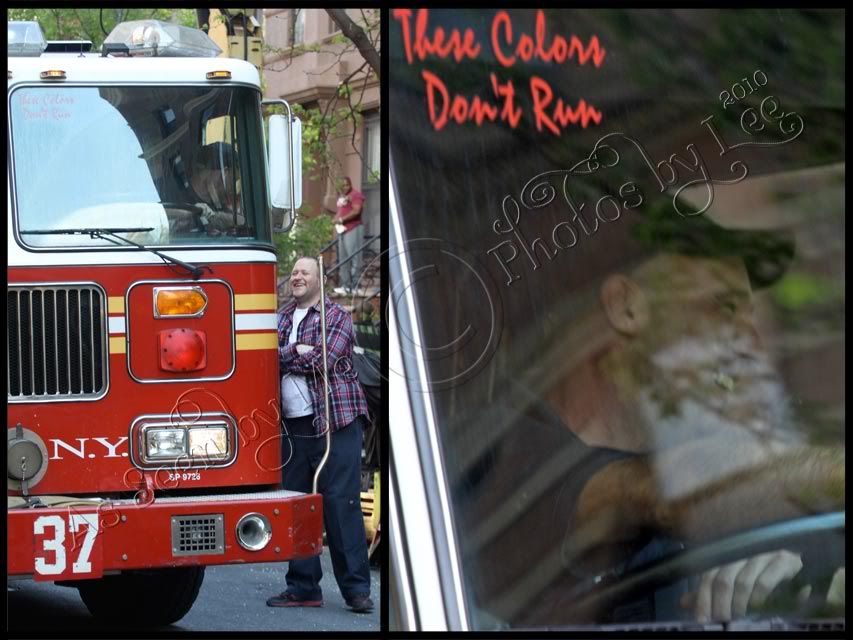 While I had been over in the park they had continued filming inside the building. When I walked back over they were coming out to take another break.




The "burnt family" also came out this time for a break. I mean even extras have to eat right! :D It must be hard to eat and not ruin your makeup.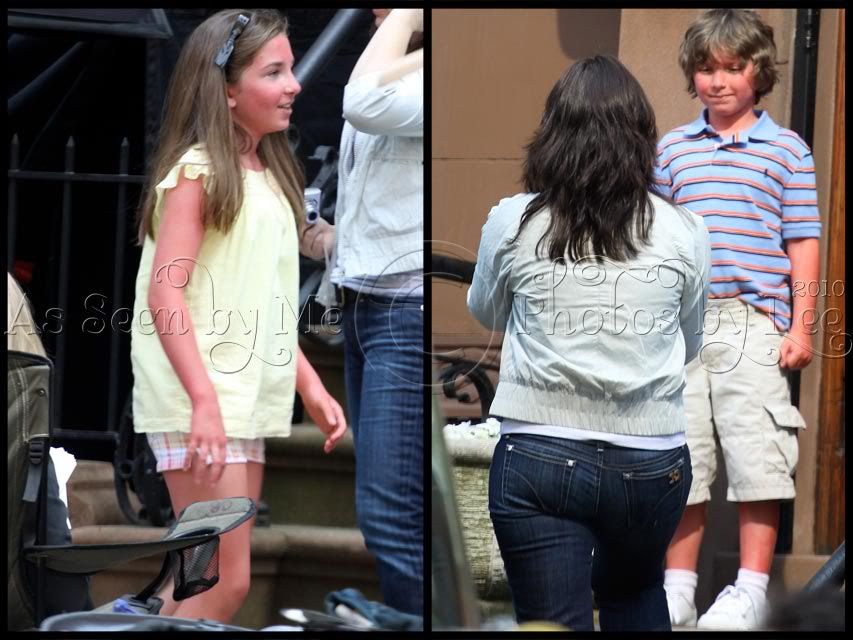 During the filming I met another On Location Vacations visitor, Shane, who came down from Massachusetts that day in order to see the taping. He was very happy that he was able to also get

Denis Leary's

autograph! :D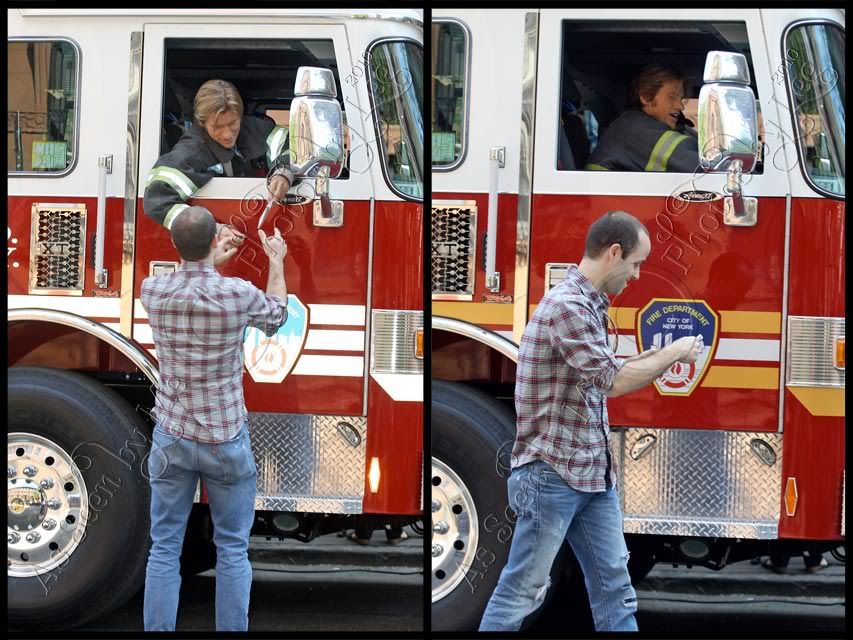 At that point I had to leave. While I was walking away I noticed this police car and "thing" (I have no idea what it is officially called) and I asked the officer if it was there because of the filming and unfortunately he said no and that the reason it was there was because there had been a recent rash of shootings. Not exactly the thing one wants to hear. :(




After I walked over a few more blocks I saw those same REAL firemen from above busy on a real call.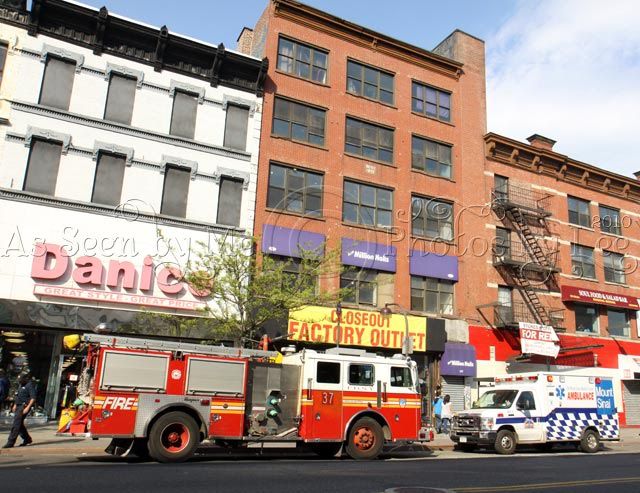 Firemen seemed to be the theme of the day because just one more block over I saw this. :D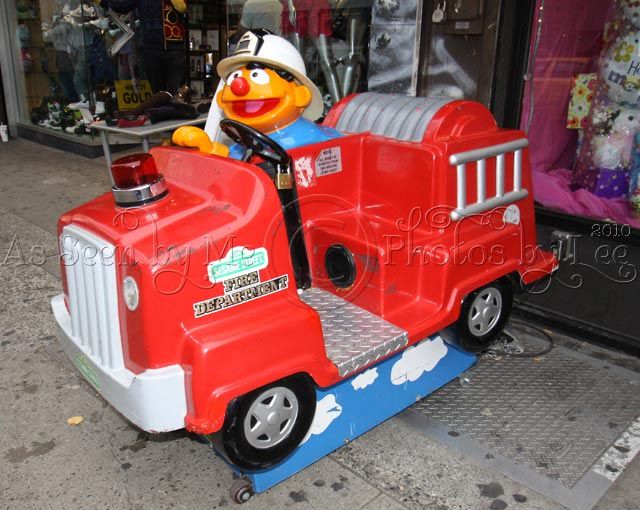 Since I was disappointed that I had gotten almost all the lead actors' pics and autographs except for

Daniel Sunjata

, I decided to go out to Queens when they were shooting there on another day. Now I am a true Manhattanite and I don't often venture out to Queens, but I am glad I did. Not only did I meet to great and funny fans of the show and of On Location Vacations, but I also found an AMAZING "Graffiti Building" that I had only seen previously from the train. I always wanted to know how to get to the building, but since I didn't know the building's name I couldn't find the directions. Luckily they were filming right by the building so it all worked out well. I will post pics from the building at a later date. It really is AMAZING!

They were filming an interior scene that day so I don't have a lot of shots.




Cast members,

Adam Ferarra

and Sopranos' actor

Jerry Adler

were onset. They were really nice. I knew I must sound like I am just repeating myself, but truly all of the cast I encountered were friendly. You can tell

Adam Ferrara

is a stand-up comedian and

Jerry Adler

laughed when I told him that a part of me feels "scared" (obviously not really) talking to him because he could have me "whacked!" (Heh, I never said I wasn't corny! Lol! :D)




Of course I asked for their autographs.




Like I said above I also met two fans of both OLV and the show. They were FUNNY! One had come from Kansas City, Amy (in the blue), and the other had come from Michigan, Cole (in the pink.) They had come here as part of a trip to see a soap opera star named Roger Howarth. They were so much fun to be around because they were first so happy just to be on set (the pic on the left) and then even happier after they got to meet the cast members (the pic on the right.) The size of their smiles were contagious. :D




This time around I was able to get

John Scuti's

autograph.




However, he gave Cole a really

GREAT

autograph! Cole's brother REALLY LOVES

Rescue Me

, but does not like big cities so he wouldn't accompany them on their trip. Well

John Scurti

(who misheard Cole's name as Nicole) wrote what he thought about that... obviously I edited what he wrote so that it would be PG! Lol!!!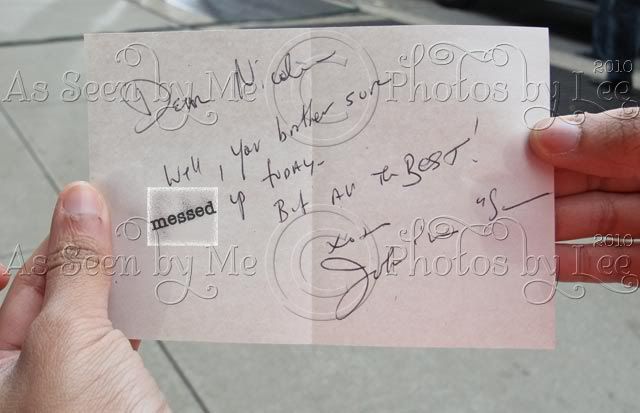 FUNNY!

After that I left because my sole reason for going out there that day in the first place was not on set. One day I will get

Daniel Sunjata's

pic and autograph! Lol! :D For now, I will just have to enjoy these pics which are NOT mine! Lol! The first picture is from StarryMag.com and the second picture is from Selective Memory.


HOPE YOU ALL ENJOYED THE PICS!