WED April 21st
FIRST, I want to THANK ALL THE PEOPLE WHO TOOK THE TIME TO LEAVE COMMENTS about my previous pics. I REALLY DO APPRECIATE you all taking the time to do that. I spend a good amount of time on both taking the pics and posting them up and it really does me good to know that the effort is appreciated. Thank you!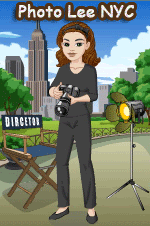 These past few weeks have really been star studded, which is funny given that I actually prefer taking animal and event photos. However, several great opportunities presented themselves, so I just had to take advantage of them. I have to thank On Location Vacations for posting such GREAT information! Due to that site I have been able to meet two people I greatly admire, Johnny Weir and Carol Burnett, get some pics of people that I know friends of mine really like and know when filming is occurring near to me. In the upcoming weeks I will be posting pics from the Figure Skating in Harlem's Skating with the Stars Gala (which include some SVU cast members) and of

Carol Burnett

, Khloé Kardashian and the practically all of the Rescue Me cast from when they came to Harlem to film. I also have pics from

NYC's Macy*s Easter Petacular

event,

Macy*s Flower Show

,

NYC's Easter Parade

and several

Public Art exhibits

. Man that is a

LOT

of photos I have to process and post!! :D :D

Today though I am going to start with Reagan's Law. When I first read the title I thought it was going to be a SVU-like cop show based on Megan's Law, with the name Megan changed to Reagan for TV purposes. Instead, according to IMDB it is a show based on a family of cops and their family name is Reagan. It is set to air on CBS and only a pilot has been ordered so far. Honestly, I didn't pay it much attention at first, but when I read who are the two major stars in it I knew I would have to try and get pics of the tapings if I could. I am not even a big fan of either of the main stars, but know two people who are in love with them. One of the stars is Tom Selleck and I know someone who just LOVES him ever since Magnum, P.I.. The other star is Donnie Wahlberg and I know someone who still is a HUGE NKOTB fan! :D Since I, myself, am not a big fan of either of the stars I thought this photo trip would be quick and simple. I had no idea that I would end up having to go to three different sites, experience three different temperature climates, and end up only completing half of my self-given assignment.

The first shoot I visited was uptown in Washington Heights. They were filming in a variety of locations up there. By the time I was able to get there they were already filming at Set #2. They were filming an exterior scene involving children coming out of a school at

The Church of the Incarnation

at 175th St and St. Nicholas Avenue.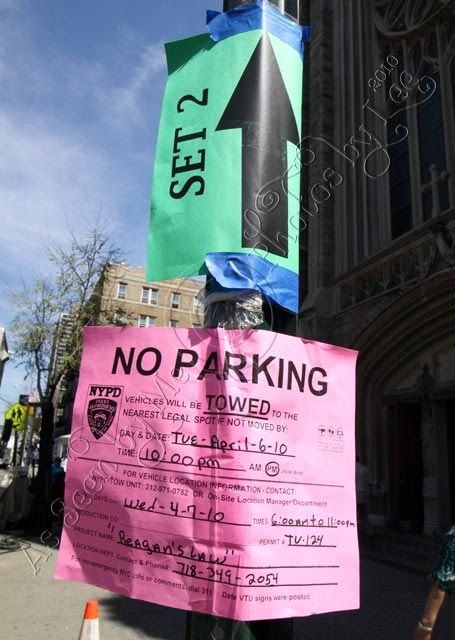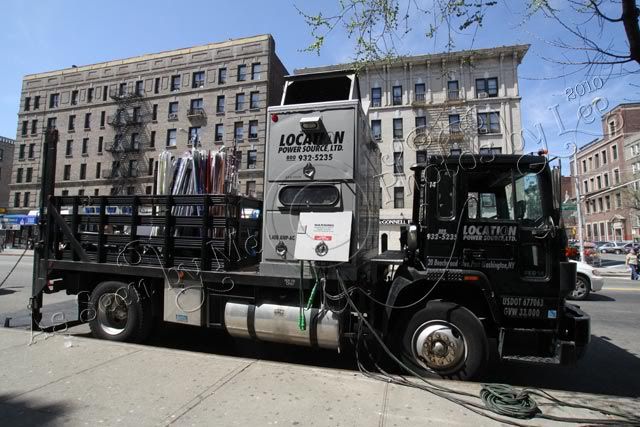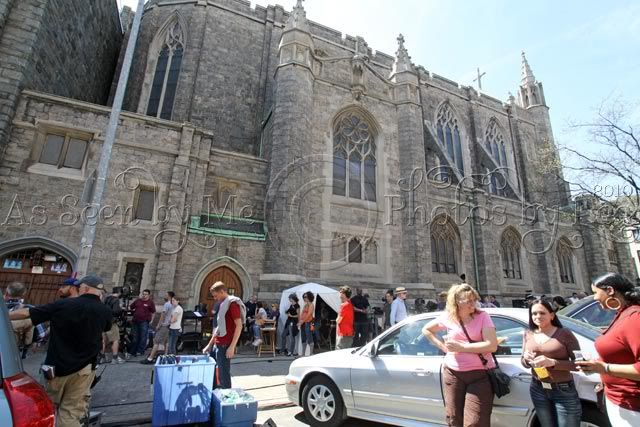 Shortly after I got there they finished with the scene and then all the cast went to a holding location inside another church. I didn't see any of the main cast present and really didn't have time to look around because I only could stay that day for a short time. In addition the temperature was a record breaking high of 92 degrees. It felt like I was roasting because I was totally overdressed. Heh, it is usually still a bit chilly in NYC at this time of year. I totally wasn't prepared for a heatwave.

All of these people crossing the street were actors/extras, not real nuns or Catholic school children. :D




After taking that photo I left. Later on I found out online that Donnie had indeed been on set, but I had missed him. I was a bit pissed (in a non-serious way :D ) because once I set my mind on accomplishing something I like to finish the task. However, I thought to myself, "Well at least I tried." A few days later I read at OLV that they were filming again, but this time it was all the way downtown in The Lower East Side. It is not so easy for me to quickly pop down there, but that day I had a bit more available time. The only problem was that it was a very cloudy, at the verge of raining, day and I knew that would translate into crappy photos because I don't have a very fast lens. I waffled on actually going because I wondered if it would be worth it for me to go. I finally decided to chance it and I am glad I went. Not only because I got some fairly decent pictures, but mostly because previously I could have counted the number of times I went to the LES on one hand and as such really didn't know the area well. While I was down there I found some GREAT architecture and a TON of GREAT street art. I plan on devoting an upcoming post to all the great stuff I saw down there. :D

They were filming on East 4th Street between Avenues C and D ...




... and initially I thought that I had gotten there too late because although I saw the filming vehicles I didn't see any film equipment. Then I spotted ...




... the catering table/tent and I knew that if the food was still present then filming was likely still going on. Lol! :D However, I didn't know if any of the main stars were on set that day. I looked around and I didn't see anyone, but then I saw a bunch of women hanging in front of a trailer and I knew that Donnie likely had to be on set. So I checked the names taped to the front of the trailer doors and initially was like what star's name is Demarcus? I then saw the name Danny Reagan and realized that they were using the characters' names on the doors. I didn't know what character was Demarcus so I just decided to hang around and see who would show up.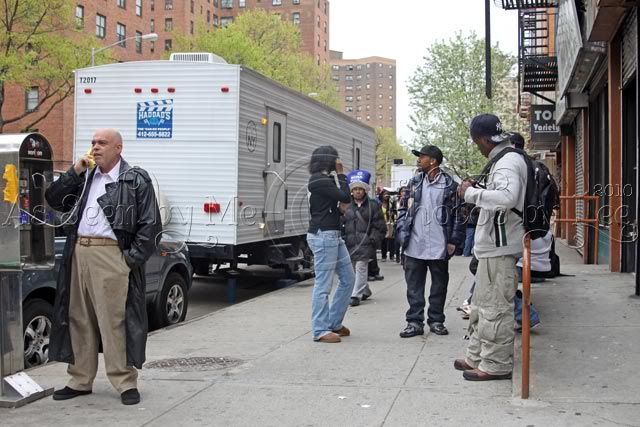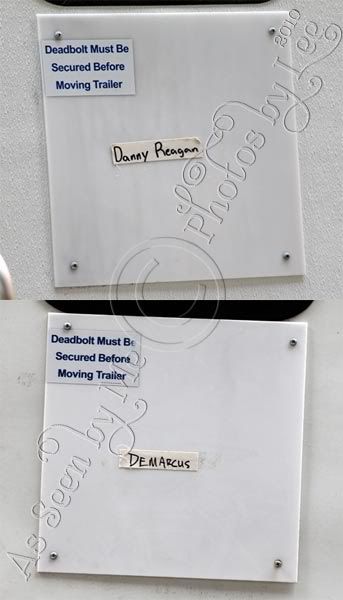 While I was waiting some typical NYC interesting people walked by ....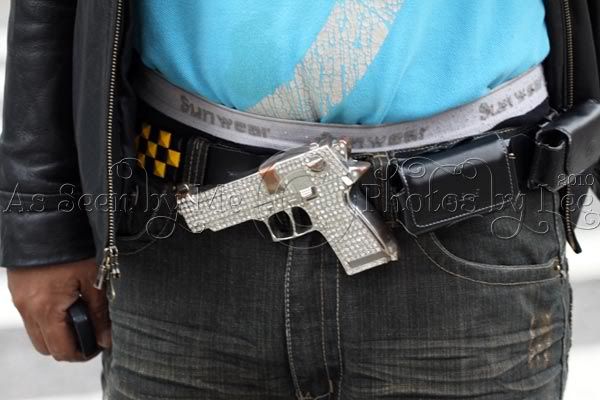 I was so busy getting the gentleman's permission to photograph his belt buckle that I almost missed it when the actor playing Demarcus walked to his trailer. It turns out the character's name is DeMarcus King (likely a Detective) and from the looks of it he is Danny Reagan's partner. I was pleasantly surprised to see that DeMarcus was being played by NYC native Flex Alexander. I thought Flex was really funny in

Snakes on a Plane

. I also like him because he favors my partner. Not a bad way to spend some time ... taking photos of someone who looks like your good looking partner! :D Lol!




Initially, Flex just went into his trailer and didn't interact much with the crowd, but when one of the crew came to tell him something Flex stayed outside and interacted with fans when the fans started speaking to him. Flex seems like a genuinely nice guy. He really seemed to not be bothered by the fans and to genuinely interact with them. He spoke to multiple people and smiled quite a lot. He really does have a nice smile. He even gave me his autograph and he made me laugh because he asked me if I was from TMZ. I couldn't stop laughing at the thought of that and I was like, "No. No! I am just taking pics for friends." :D

(By the way if CBS picks up the show and they film again in the future, just look for this guy. He seems to be Flex and Donnie's assigned crew member because he was always the one taking them to set. If he is present, it seems to be likely that they will be somewhere around.)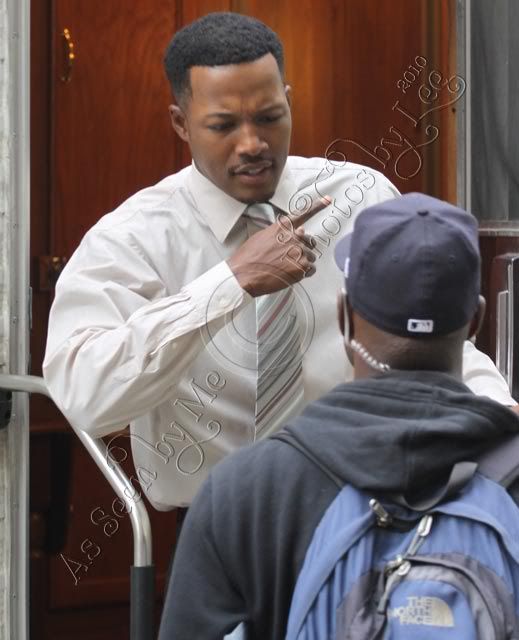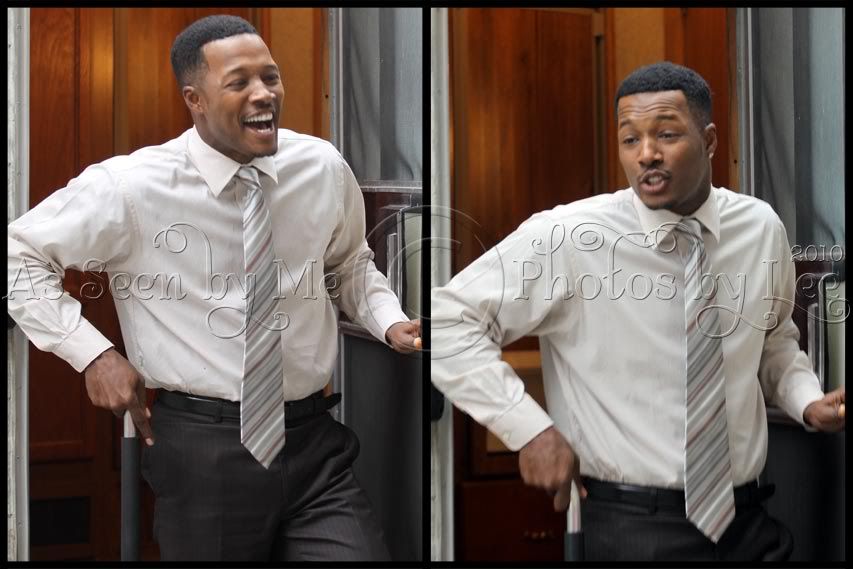 Flex definitely has a new fan in me. :)

Flex then went back in his trailer and things calmed down a bit and got boring. Again, my focus was elsewhere and Donnie almost slipped into his trailer without me noticing. He didn't stay and speak with fans, but instead just rushed inside. You could tell that he seemed pressed for time. He smiled at and acknowledged the fans though.




In almost no time at all he came back out all dressed up in his character's clothes. He quickly walked to the set, again not having much time to stop and chat with fans. He wasn't rude at all. You could just tell that he had to get to the set.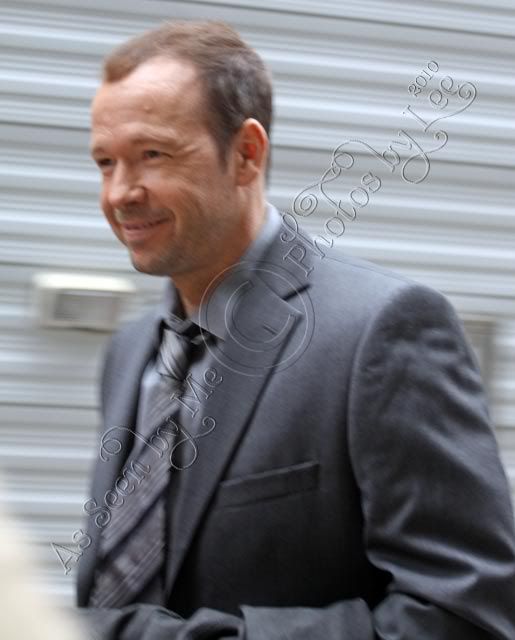 He did however pause for a second and pose for a shot with a funny little smile on his face when he saw that I was taking his picture. That was very nice and funny of him! :D I wish I wasn't using my zoom lens when I took the shot because he body positioning was very funny. He sort of looked like Clark Kent getting ready to run to the rescue! Lol! :D I thanked him for the shot. :)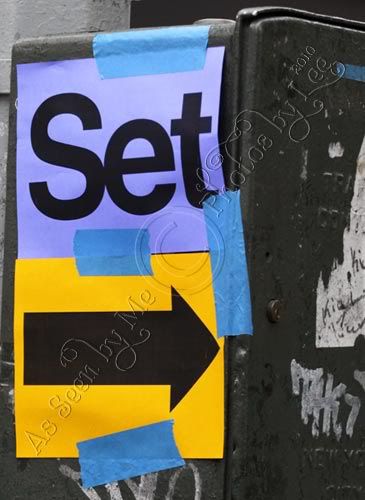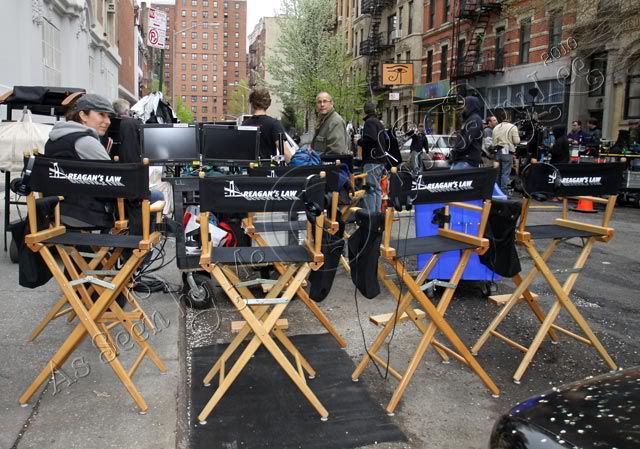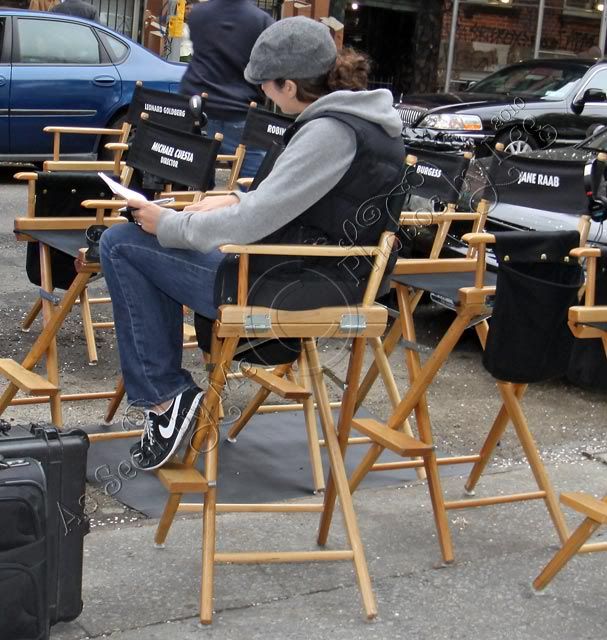 I LOVE this building! I plan to go back down there and get pics of it on a sunny day. The painting was Amazing! It makes sense that they used it as a backdrop for the scene.




I couldn't tell if these were extras or not.




I always wonder what real cops are thinking whenever they are on cop show sets.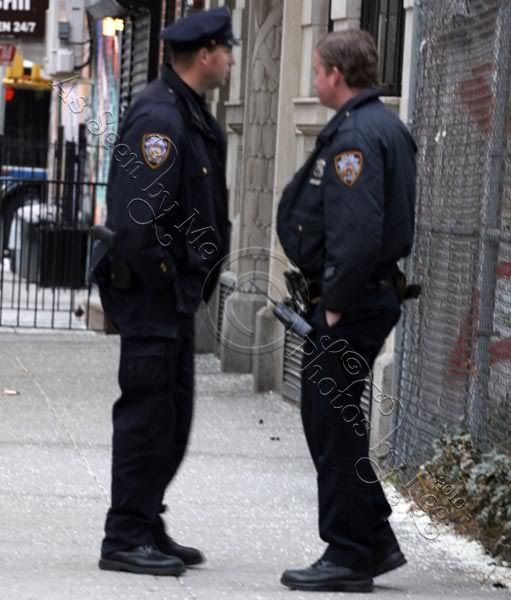 The neighborhood people called this gentlemen "Radio Man." He has also shown up at SVU shoots.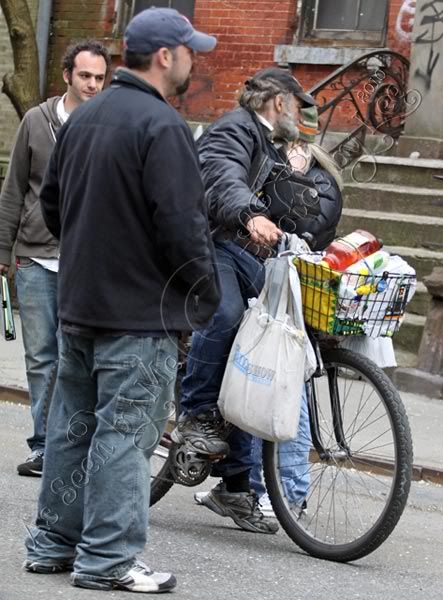 Talking over the scene with director Michael Cuesta.




Checking on the weather. (It really was a crappy weather day. Sorry for the blurry photos! There really was not a lot of light and one can't use flash when taking photos onset.)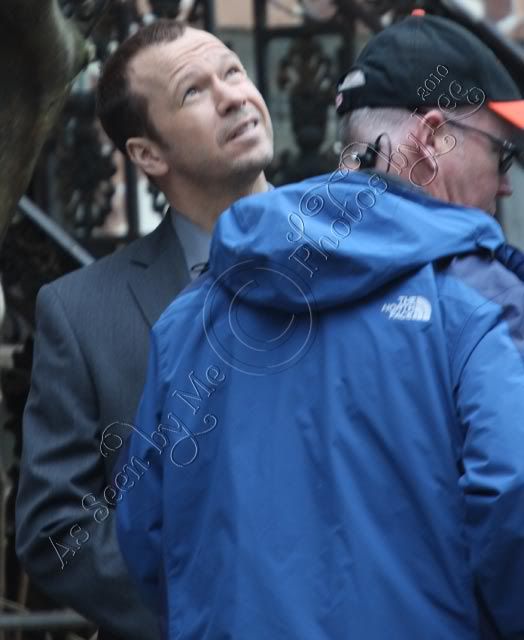 Checking on the prop gun .... well at least I hope it is a prop gun! :D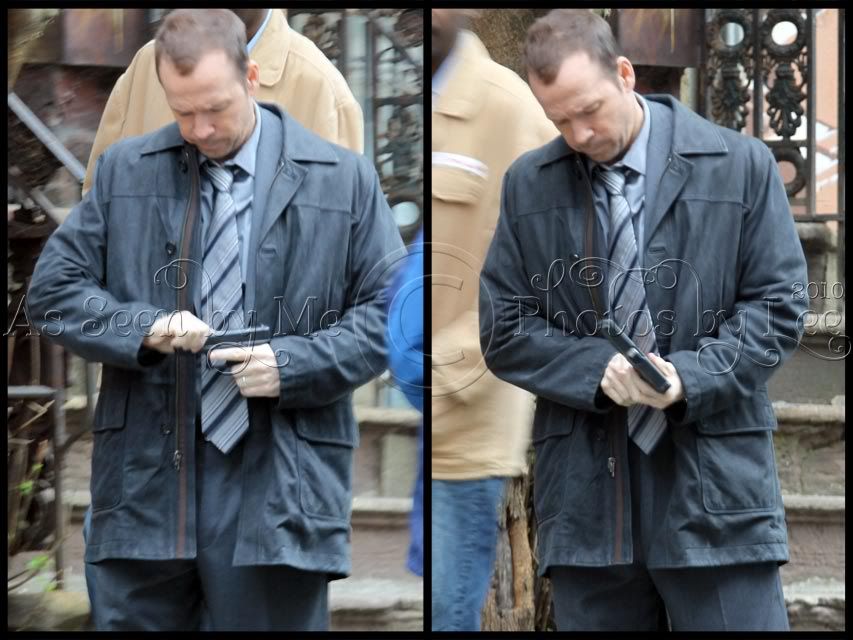 The first scene they filmed was down in the basement of 330 East 4th St. It started to rain a bit so they covered the filming equipment.




Donnie then got a do touch up and went to do another take.




They then took a break.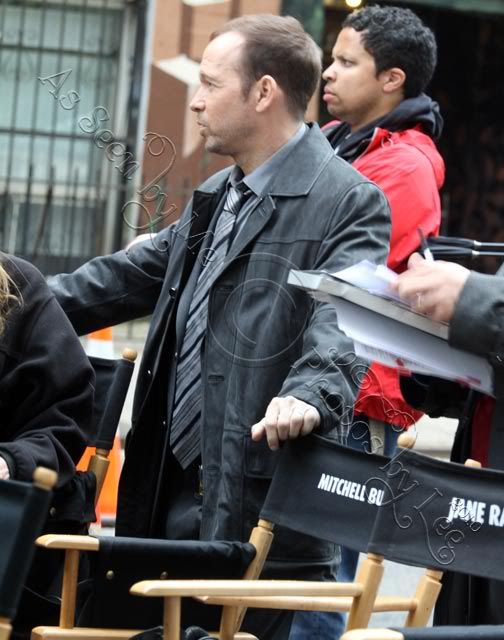 Donnie then got a makeup touch up and the shooting continued.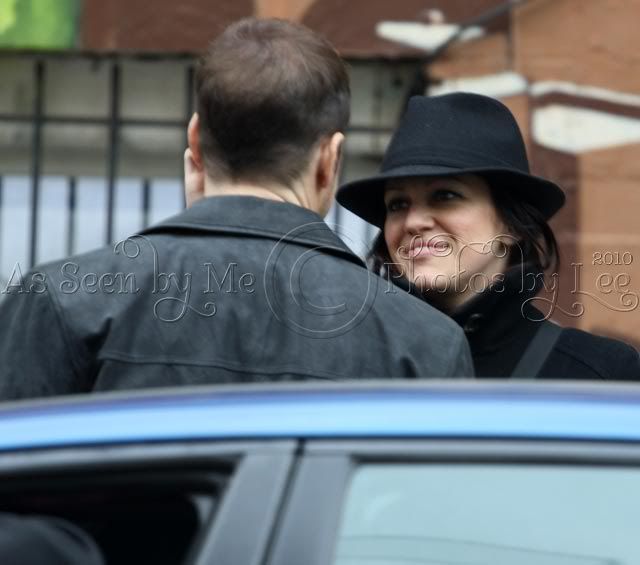 This time they were shooting them coming out of their car and going down another basement set of stairs. The camera man was really nice. He told me that I should have worn gloves that day and had on a thicker jacket because my teeth were literally chattering because I was so cold. The weather that week was unbelievable. In the span of just two days it went from a record breaking 92 degrees to very chilly 50s. I had been overdressed the last time I tried to get pics of them and that day I was totally underdressed.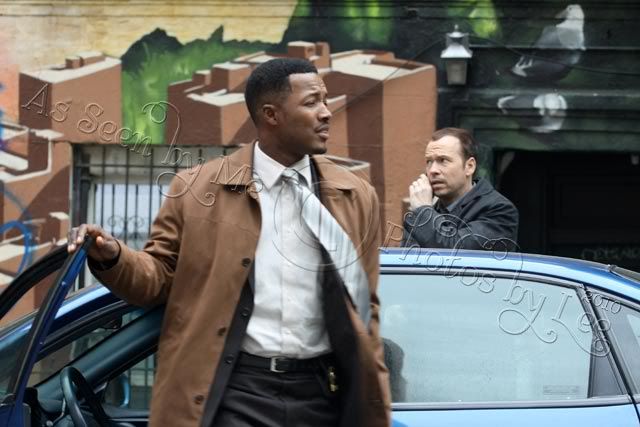 After some discussions about the take, they redid the scenes a number of times. I wonder if most people realize how many times a scene is actually redone. It really is something to see how long it takes to actually shoot something like a two minute piece of film.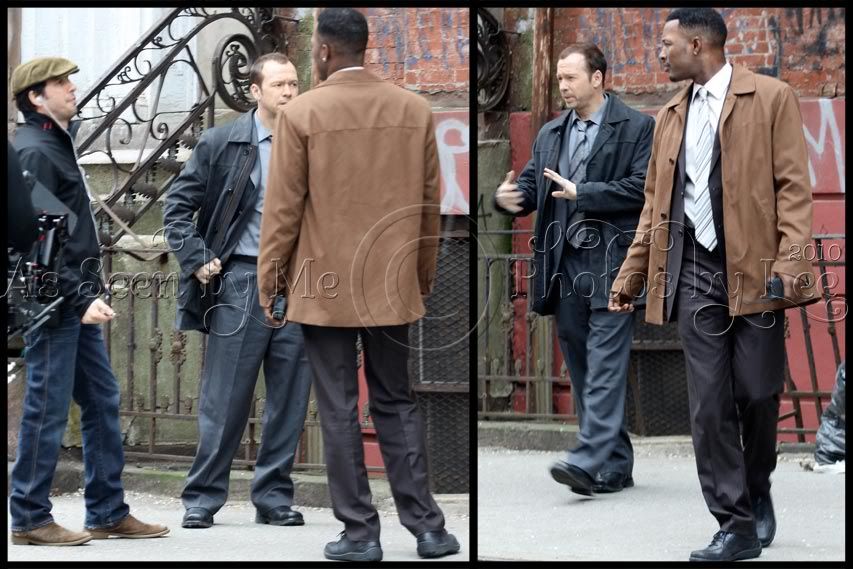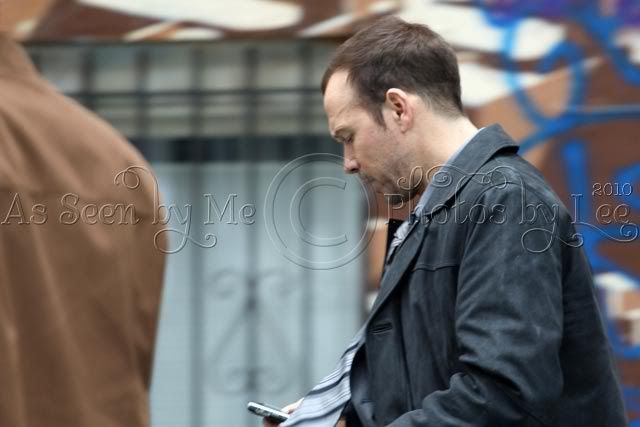 At times Donnie seemed very serious on the set ...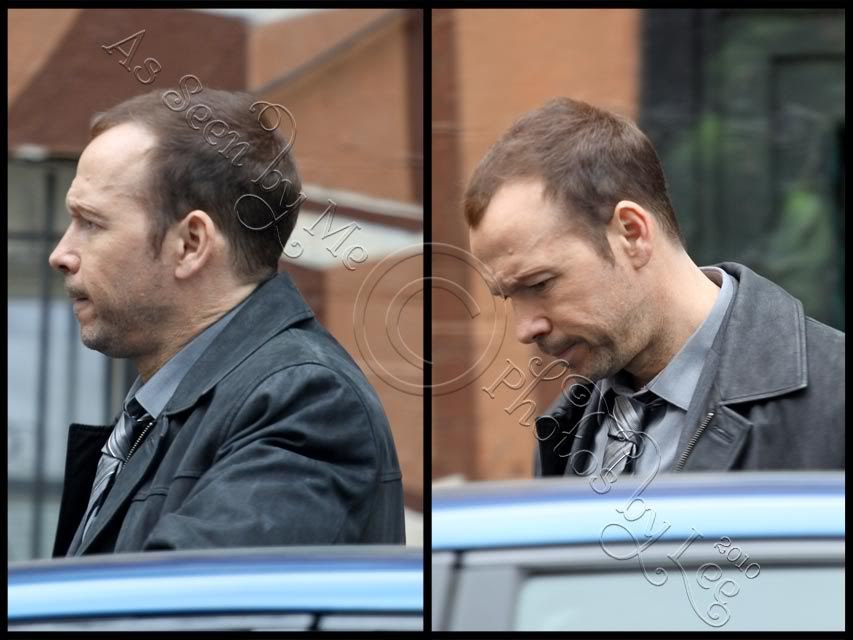 ... but then at other times you could tell he was having a ball of a time.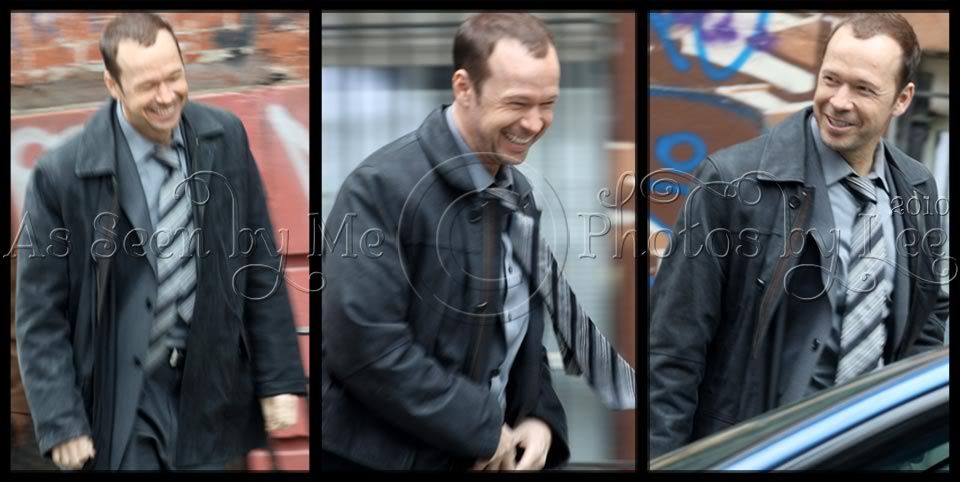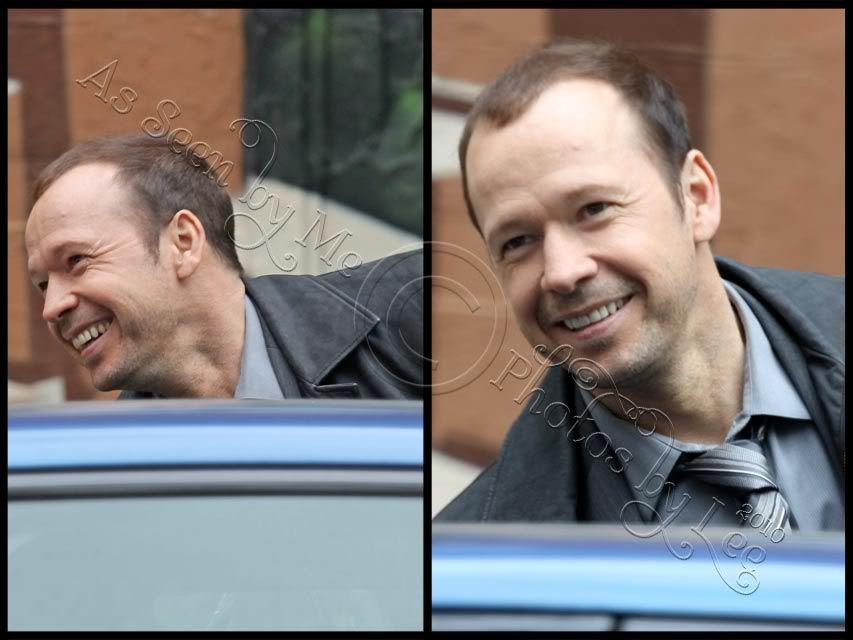 After a while though Donnie didn't look so good. He seemed to be sick and true enough when he left the set he mentioned not feeling well.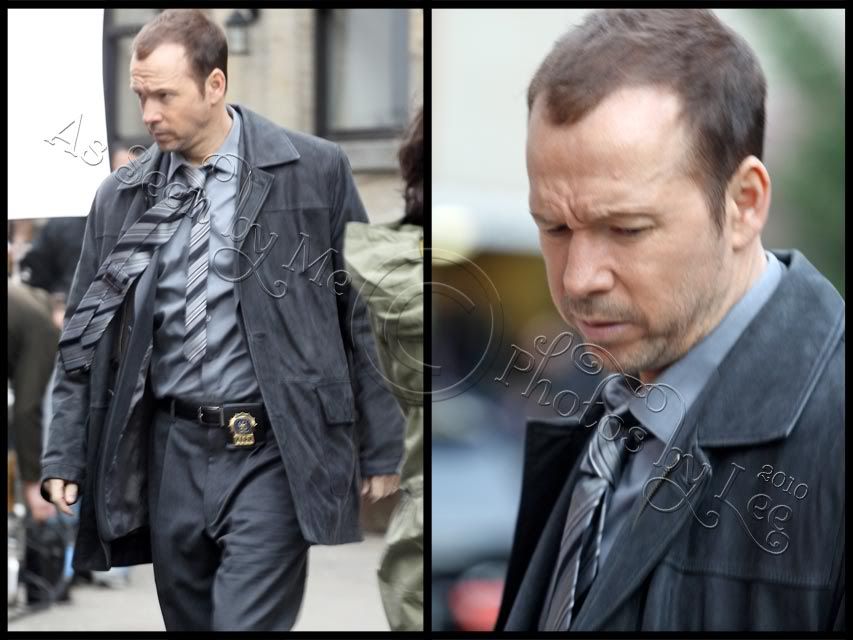 He told the fans that he was not feeling well, but they still really wanted to take photos with him so he graciously still took some photos with them and even hugged one woman when she said it was her birthday. I got to give it to him for being so gracious!!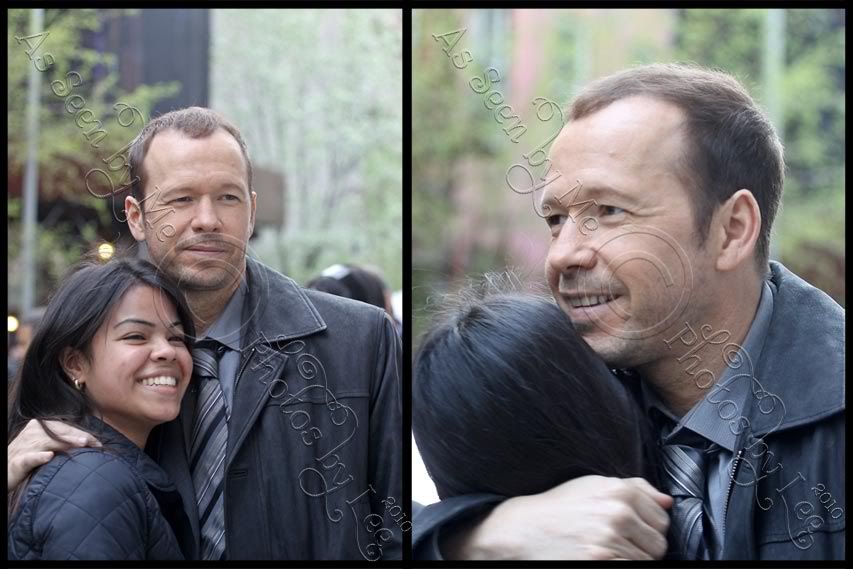 A really bad, blurry photo that I still like because it looks artistic to me. I wish I could take credit for purposely making it that way! Lol! :D :D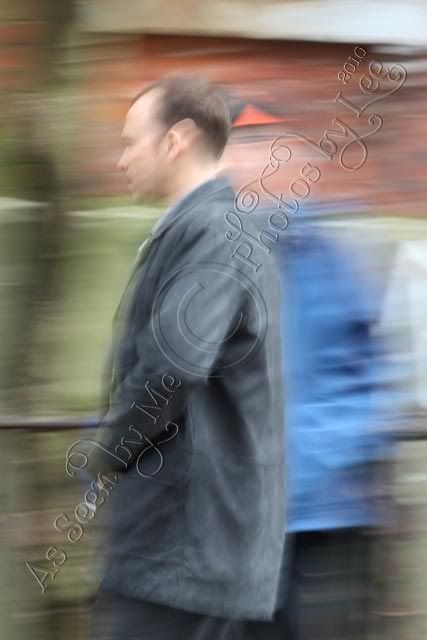 Even though I wanted to get his autograph for my friend I didn't want to bug him since he wasn't feeling well. I guess I would just have to try again ....

CLICK HERE FOR PART TWO OF THIS POST.