FRI SEPT 4th

One of these days I will get all caught up. :D For now, I am still posting past pictures and I am not even posting them in order. Lol!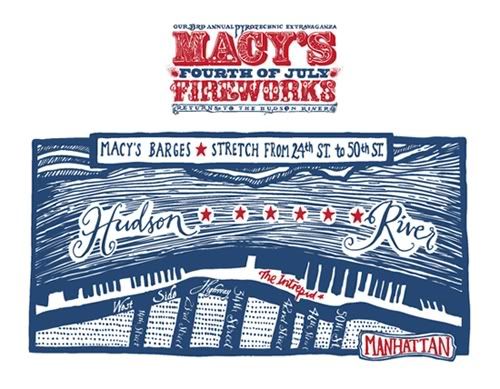 Usually Macy's has their Fireworks Show on the East River which affords clearer views, but this year in honor of the discovery of the river they had the show on the Hudson River, which is on the West Side, and whoever made that decision did NOT do any scouting of the assigned public viewing areas because there were HUGE trees right in the line of view. I was quite mad about the lack of proper planning by them. Luckily I was able to see the full fireworks by looking off to the side towards the street corner where there were no trees. In terms of photographs, I couldn't take the pictures in the direction of street corners (the onobstructed viewpoints) because the street lamps were right there and their bright lights would have ruined the pics so I ended up looking at the show by looking in one direction while taking pics of the show by pointing the camera in another direction. :D Lol! All I can say about the show is

WOW!!!

Those fireworks were

BIG!!!

You could feel them go off in your chest. I was using a wide angle lens and still some of the blasts took up the entire field of view. Everybody should experience the show in person at least once in their lives because the experience is

AWESOME!!!



This was my first time ever taking pics of fireworks and I didn't do anything one is supposed to do in order to get good pics. I didn't get a spot with an unobstructed view. I didn't shoot downwind, so I ended up with hazy pictures (although they didn't give us much freedom in choosing where to stand.) I didn't bring a tripod or use a remote release. I only had my monopod and you can clearly see the effects of movement in the pictures. I did however use manual bulb mode (a first for me) and used a low ISO setting and a small aperture in order to create thin streaky lines (although I might have made the lines too thin and streaky.) Despite all the bad things about these shots I still like them. :) Next year I think I am going to go across the river and take long distance shots of the fireworks so I can capture both the barges and the flaring up and blasts of the fireworks. :D



The slideshow is of all the pics and if you like ABBA you should definitely watch it. :D

Below the slideshow are some highlighted pictures. :)



Macy's Fireworks 2009 from Lee on Vimeo.