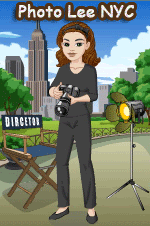 MON AUG 31st: Still trying to catch up with old pictures, so even though I am posting this on 8-31-09, the pictures are from 8-18-09.

Bryant Park is a public park located in the heart of midtown Manhattan. It runs from 5th to 6th Avenues and from 42nd to 40th Street. I must admit that I spend the vast majority of my park time in Central and Riverside Parks, but after spending some time recently in Bryant Park it definitely is going to be added to my list of regularly visited parks. I will speak more about the park in an upcoming post.

First, in typical NY fashion, the trip started with a Musical Subway Serenade. I just Love this place! :D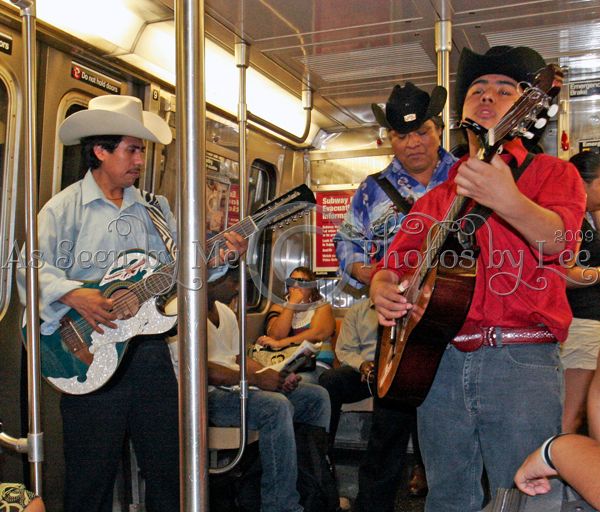 ______________________________________

Then I unexpectedly ran into a film set and, as you will see, all of us were "severely warned" about milling around the set. All filming and/or photography of me belongs to Verona Productions for Perpetuity and can be used in any and all media throughout the Universe! Wow! That is kind of far reaching and long lasting! Lol! :D :D I really don't think they will be using any pics or films of me. Besides all they got of me was me taking pics of them! :D ;)




The movie being made is titled Letters to Juliet starring Mamma Mia's (the 2008 film) Amanda Seyfried.



-promotional poster from About.com

I recognized her face immediately but couldn't remember where I had seen her, which is surprising given how many times I have watched Mamma Mia. Lol! :D So I asked one of the movie crew her name and he said (and I quote - I wrote it down immediately because I thought it was so funny!), "To be honest, I haven't learned her name yet." Either he was instructed to not give out any information or she has not yet reached mega star status. If it is the second explanation, then I am sure she will reach such status one day. :)

Here are a few pics from some of the scenes they shot in Bryant Park.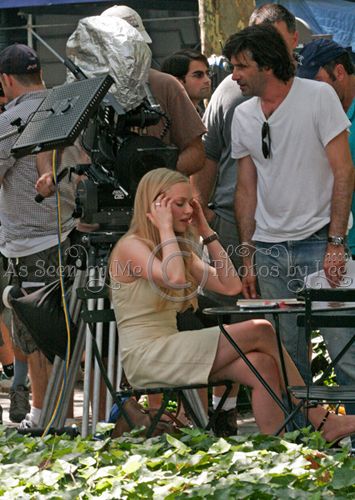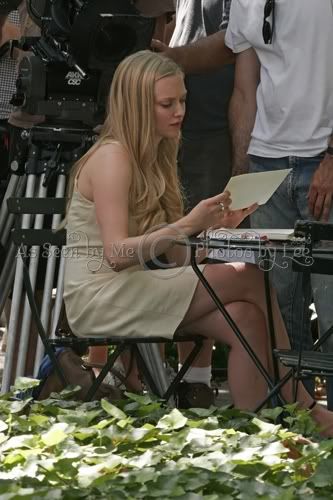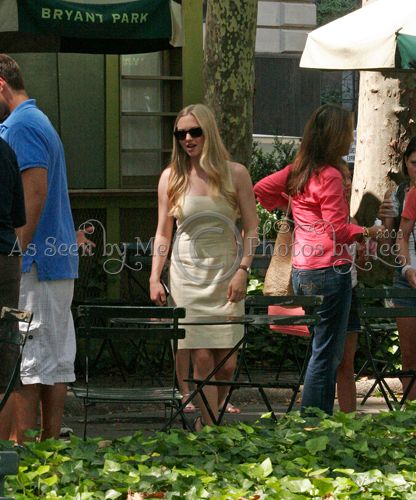 A quick dressing change and on to a new scene.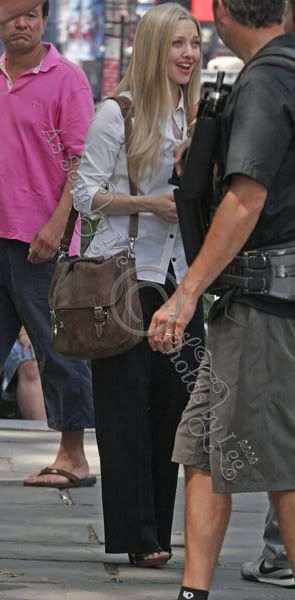 Of course all this equipment was more interesting to me then the actual movie itself. Lol! :D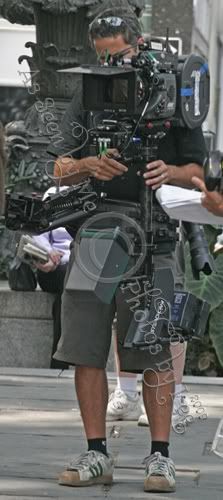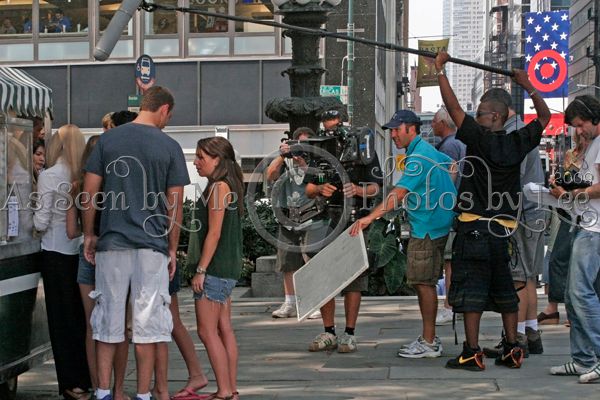 "Action and extras!"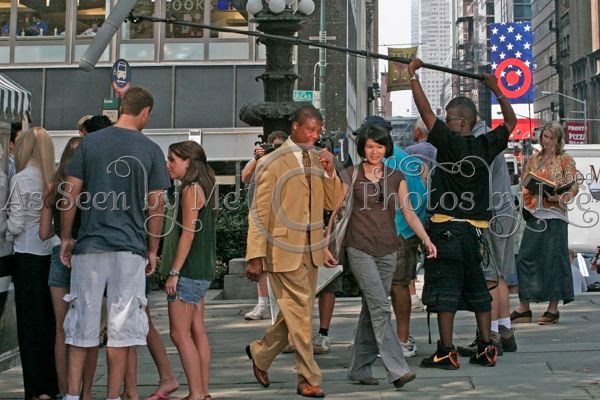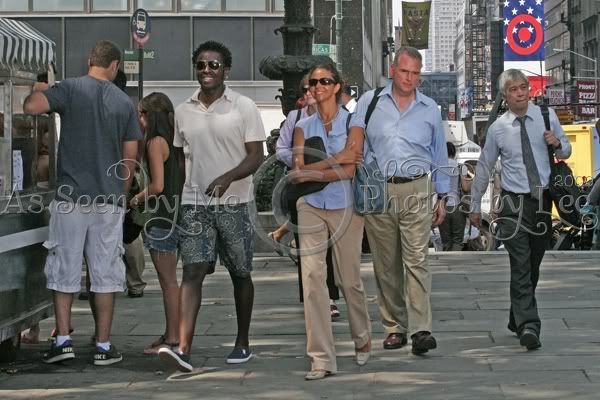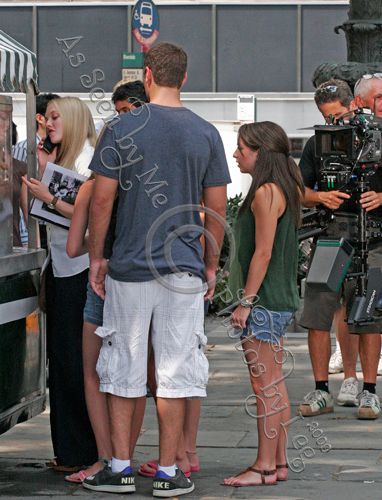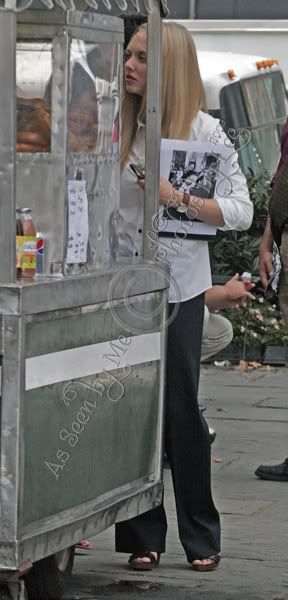 Now I have No Idea if these two are up and coming stars or are extras. If you know who they are, please leave me a comment telling me who they are. TIA. :)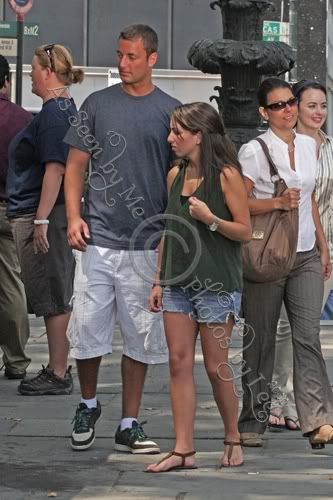 Now are these professional actors who are extras or are they real business men out for their lunch? I'll let you guess. ;) :D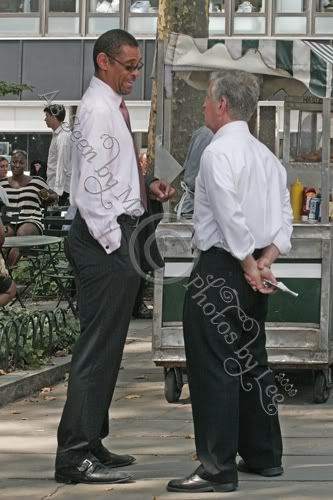 ______________________________________

Now on to the real reason I went to Bryant Park. I am so "mad" that I only found out in August about this program that started in May. You better believe I will try my hardest to make all the rest of the dates. From May through to the end of September, Bryant Park has been hosting weekly Meet The Birds lunchtime sessions. (Click on the link for the schedule.) The sessions are run by New Jersey's Arcadia Bird Sanctuary and Educational Center's very friendly and helpful director Terri Jones. Here is a little bit about the Sanctuary from its site.


Welcome to The Arcadia Bird Sanctuary.
A 501(c)3 non-profit avian rescue.

OUR MISSION
Arcadia Bird Sanctuary and Educational Center is a shelter and we house all our birds on premises. We do not foster out our birds, but we are a sanctuary, offering a permanent home for companion birds that are no longer suitable to be pets. Many of our residents have been abused or neglected. Some are elderly and deserve a 'forever' home. Some will be adopted to the perfect family. We never make a determination on any bird until we know that bird well.

All our parrots are vet checked every six months and are also micro-chipped. Some birds will be with us for many months and many for years.

Knowledge is power and the more people know about parrots, the better off birds will be. People need information in order to make intelligent choices: about what kind of bird to choose, about how to keep the bird and how to treat the bird.

Arcadia Bird Sanctuary and Educational Center conducts presentations and seminars to teach people about parrots. We believe there never can be too much information or too small an audience.

CREDENTIALS
Understanding that aviculture is much more than just pet birds, and education is not just something necessary for new and prospective bird owners, Terri Jones has a dedication to learning more about the animals she cares for.

Terri is a Certified Avian Specialist, having completed the avian course provided by the Pet Industry Joint Advisory Council. Terri has also successfully completed the Fundamentals of Aviculture course given by the American Federation of Aviculture. This is the first step in the AFA's multi-course program toward a Master Aviculturalist.

Arcadia Bird Sanctuary and Educational Center is affiliated with the American Federation of Aviculture as a member, and is also a member of the Avicultural Society of America. Both these organizations are national associations of avicultural professionals and great sources of information, networking and knowledge.

On a personal level, Terri is a member and the NJ State Coordinator for the American Federation of Aviculture. She is also a personal member of the North Jersey Exotic Bird Club, The Long Island Parrot Society and the Staten Island Bird Club.

OUR HISTORY
The seeds of Arcadia Bird Sanctuary and Educational Center were sewn in the rubble of the World Trade Center. Along with the human misery, a call was extended for animal rescue in general and bird rescue in particular. An animal rescue shelter in New York City called us because they were overwhelmed with birds and asked if we could help. A trip to the shelter resulted in our receiving over a dozen parakeets and the influx began. Word soon spread that we performed bird rescue for small birds and it wasn't long before we had over 35 parakeets and lovebirds. A bird rescue brought in over a dozen more lovebirds and Arcadia Bird Sanctuary was born!

-- http://www.arcadiabirdsanctuary.org/

If you are any type of bird or animal lover, then please check out the Sanctuary's website for ways you can help to support its needed mission. It Really does do good work. Drop by one of the upcoming sessions and see for yourself how much Ms. Jones (and her granddaughter :D) care for their birds. :D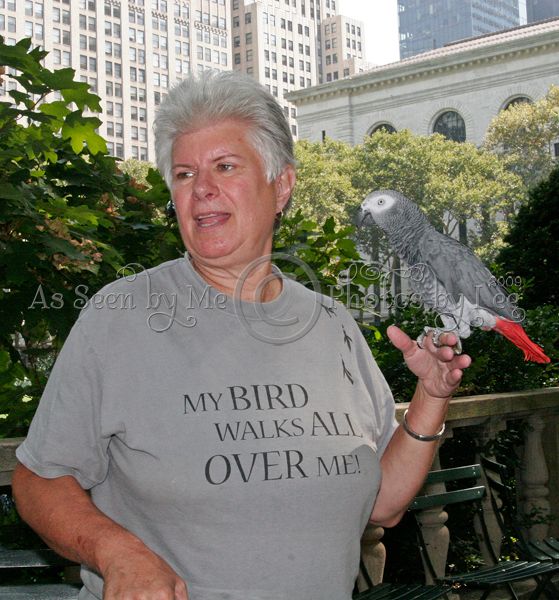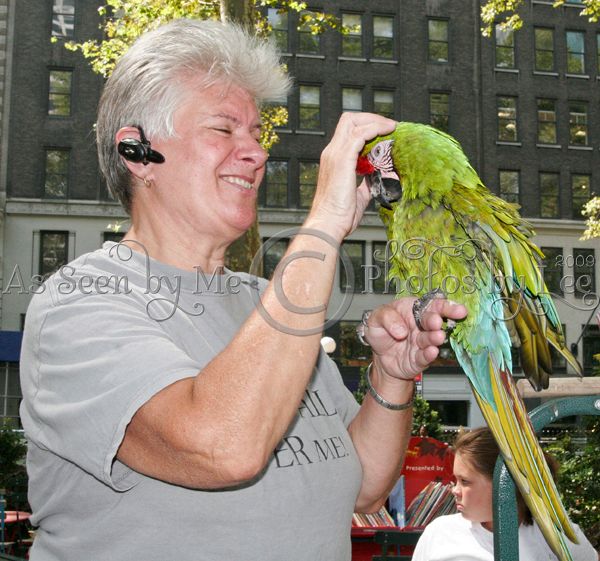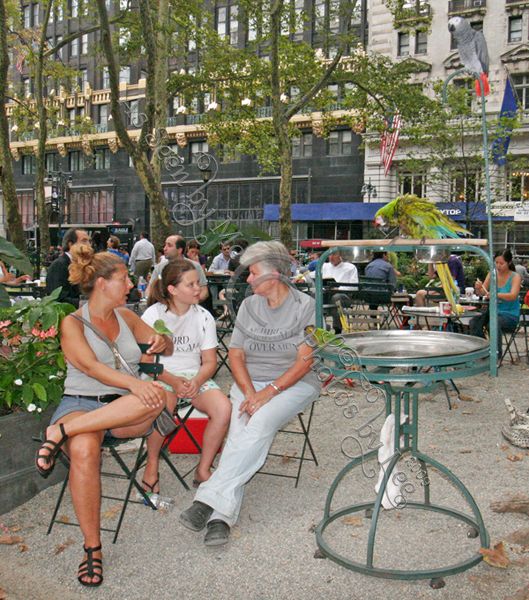 Here are some of the wonderful birds they brought with them that day. The first two birds are weekly regulars so you should be able to see them if you drop by for any upcoming sessions. It is only the other one or two birds who rotate.

Bird #1 - Pacific Parrotlet - named Isabella


The Pacific Parrotlet (Forpus coelestis), also known as Lesson's Parrotlet and Celestial Parrotlet, is a species of small parrot in the Psittacidae family, native to Ecuador and Peru. Its natural habitats are subtropical or tropical dry forests, subtropical or tropical moist lowland forests, subtropical or tropical dry shrubland, and heavily degraded former forest.

Parrotlets are the second smallest of all parrots. Pacific Parrotlets are between 4 1/2 to 5 1/2 inches in length. They come from South America in the area of Peru and Ecuador. There are seven species of Parrotlets. Only three of these species are kept as pets. Of these, the Pacific Parrotlet is the most common. It is sometimes called the Celestial Parrotlet.
The Pacific Parrotlet is green. The males have blue on their wings, backs and streaking back from their eyes. This is true of the male color mutation parrotlets also.

Aviculture

This species is very common in pet stores and is valued by breeders. Its normal price range is 150-200 USD. This price is much lower than other species because since 1930 the US has had an established breeding population in captivity, before the CITES laws preventing importing wildlife from foreign countries. They have a cost of $2 (two) in Peruvian markets. Some of the color mutations in aviculture include blue, American yellow, American White, European yellow and white, fallow, dark factor green and lutino.

-- http://en.wikipedia.org/wiki/Pacific_Parrotlet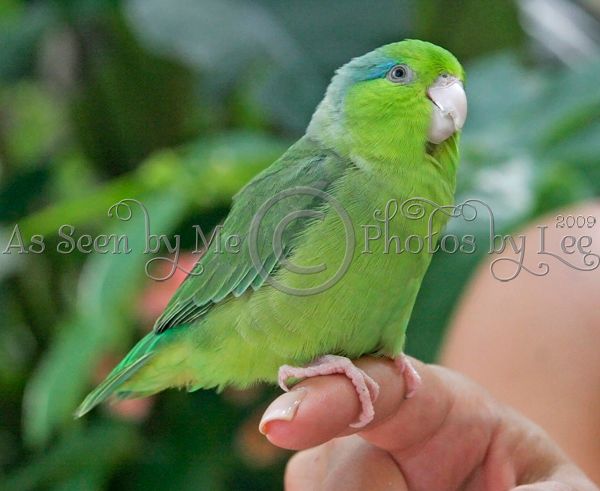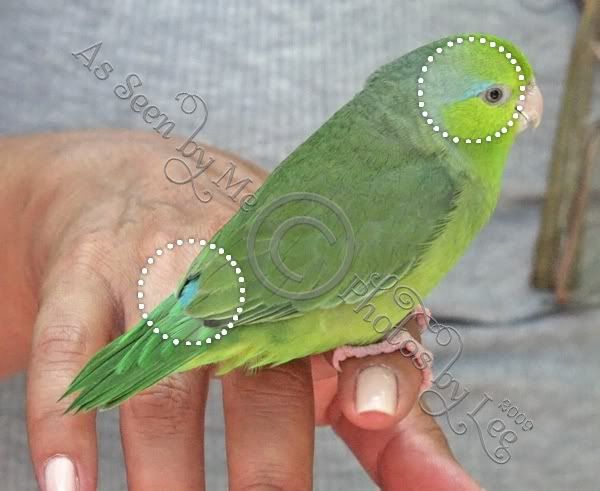 Bird #2 - Black-capped Conure - named Flip
The Black-capped Parakeet or Rock Parakeet (Pyrrhura rupicola), also known as the Black-capped Conure or Rock Conure in aviculture, is a parrot native to the south-western Amazon Basin and adjacent east Andean slopes in Peru, Bolivia and Brazil. It has a total length of approximately 25 cm, is mostly green with a dark brown-black cap, whitish scaly neck and breast, red wing coverts (upper, not lower - along leading edge) and a black beak. The breast feathers are dark with light tips, rather than the opposite.

It lives in humid forests, ranging from the Amazonian lowlands up to an altitude of 2000 m. on the East Andean slopes. While its habitat is being disturbed, parts of its range are within protected areas (e.g., in Manú National Park), and it remains widespread and locally fairly common. Flock size 20-30, smaller in breeding season.

There may be two subspecies. If so, they would be:

P. r. rupicola: Central Peru.

P. r. sandiae: South-eastern Peru, northern Bolivia and south-western Brazil. Narrower pale edges on breast and neck feathers, absent on hind neck. Often called the Sandia Conure in aviculture.

In the past, some speculated that it might be conspecific with the Green-cheeked Conure. This was based on an apparent Black-capped–Green-cheeked hybrid found in Puno, Peru, though the identification of this individual (or at least its provenance) must be considered questionable, as beyond the range of the Green-cheeked Conure, which has never been recorded in Peru.

-- http://en.wikipedia.org/wiki/Black-capped_Conure


"So are you saying I am spoiled?!" :D :D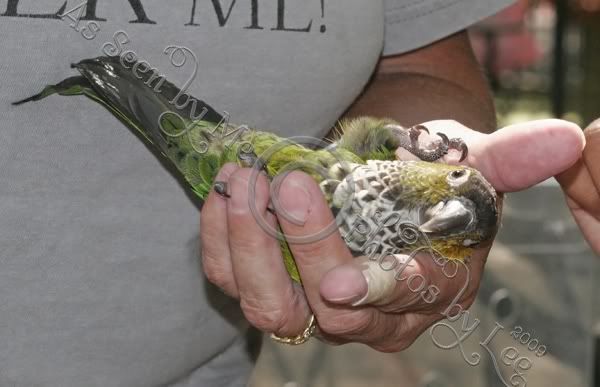 "I eat healthy snacks like grapes. Didn't you know?"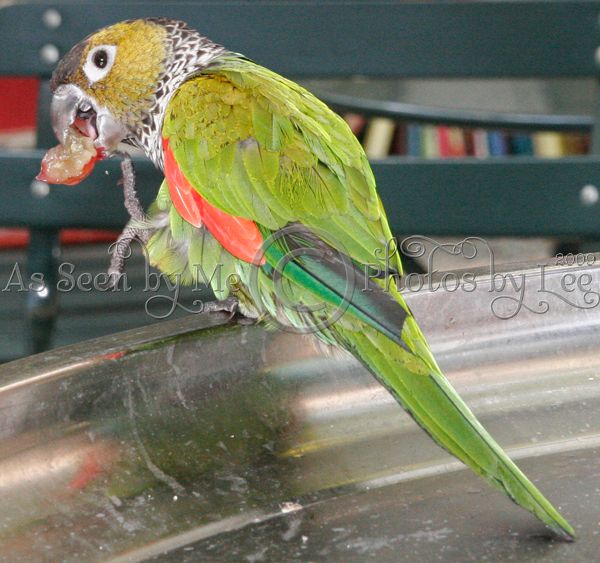 Ms. Jones pointed out how well camouflaged the BCC are. Just imagine how well hidden Flip would be if he was in a true jungle and not just among a few city trees that allow a good amount of sunlight through.





Bird #3 - Congo African Grey Parrot - named Buzzy

There is way too much information on African Greys to repost here so please check out the link above to learn more. This is just a brief snippet of what is written about them on Wiki.


The African Grey Parrot (Psittacus erithacus) is a medium-sized parrot endemic to primary and secondary rainforest of West and Central Africa. Experts regard it as one of the most intelligent birds. They feed primarily on palm nuts, seeds, fruits, leafy matter, and have even been observed eating snails. Their overall gentle nature and their inclination and ability to mimic speech have made them popular pets. This has led many to be captured from the wild and sold into the pet trade. The African Grey Parrot is listed on CITES appendix II, which restricts trade of wild caught species, because wild populations can not sustain trapping for the pet trade.

There are two subspecies universally accepted:[1]

Congo African Grey Parrot (Psittacus erithacus erithacus):



This is the nominate subspecies, larger than the Timneh at about 33 cm (13 in) long, with light grey feathers, cherry red tails, and an all black beak.[1] Immature birds of this subspecies have tails with a darker, duller red towards the tip (Juniper and Parr 1999) until their first moult which occurs within 18 months of age. These birds also initially have grey irises which change to a pale yellow colour by the time the bird is a year old. The Congo grey parrot is found on the islands of Príncipe and Bioko and is distributed from south-eastern Ivory Coast to Western Kenya, Northwest Tanzania, Southern Democratic Republic of the Congo (DRC) and Northern Angola. In aviculture, it is often called a "CAG".

Timneh African Grey Parrot (Psittacus erithacus timneh):



These are smaller in size, have a darker charcoal grey coloring, a darker maroon tail, and a light, horn-colored area to part of the upper mandible. The timneh grey parrot is endemic to the western parts of the moist Upper Guinea forests and bordering savannas of West Africa from Guinea-Bissau, Sierra Leone and Southern Mali east to at least 70 km (43 mi) east of the Bandama River in Ivory Coast. It is often called a "TAG". As pets Timnehs begin learning to speak earlier than Congos, and are often said to be less nervous around strangers and novel situations.

Some aviculturalists recognize a third and even a fourth subspecies, but these are not distinguishable in scientific studies.[2]

The "Ghana African Grey," formerly recognized as subspecies Psittacus erithacus princeps, is described as similar to the Congo African Greys, but darker and slightly smaller, and originates from Fernando Po and Principé Islands.

The "Cameroon African Grey," most often referred to as "the big silvers," is supposedly a larger and lighter form which actually has its origin in birds not from Cameroon but from today's Democratic Republic of the Congo.

-- http://en.wikipedia.org/wiki/African_Grey_Parrot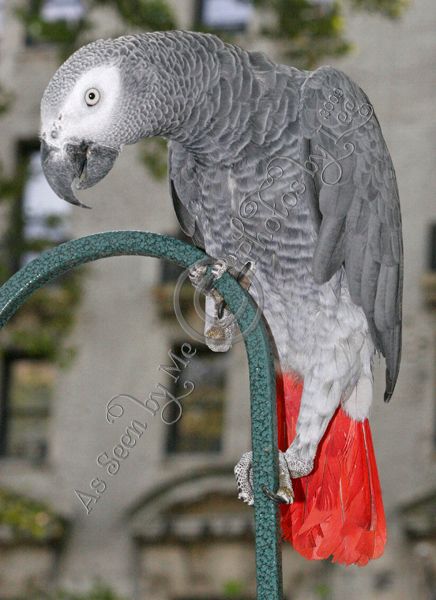 If you have seen my pictures before and this bird looks familiar to you that is because I have taken photos of a special CAG and his or her owner before. The special CAG is owned by a Very Colorful NYC gentleman that I have taken pictures of at various NYC events over years. I haven't seen them (the owner, the CAG and the owner's little poodle) in a while and I truly hope they are okay. If anyone knows who this gentleman is and how he is doing can you please let me know. I start to worry about people if I don't see them. Maybe the gentleman has relocated to a warmer climate. :) This is just but one of the many things I LOVE about my hometown. People can just be themselves in whatever legal fashion is pleasing to them. Individuality and diversity are so celebrated.

From the 2008 Central Park Halloween Dance Skaters Party:




From the 2008 Easter Parade: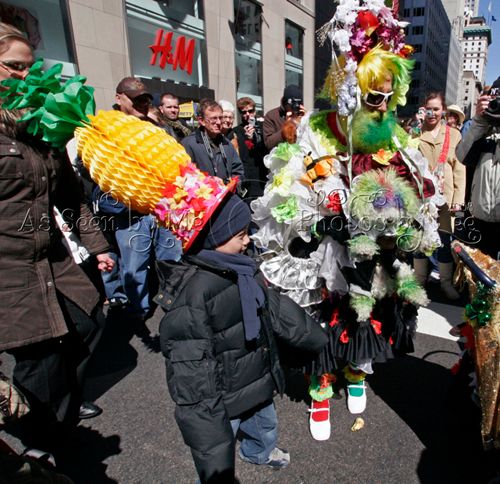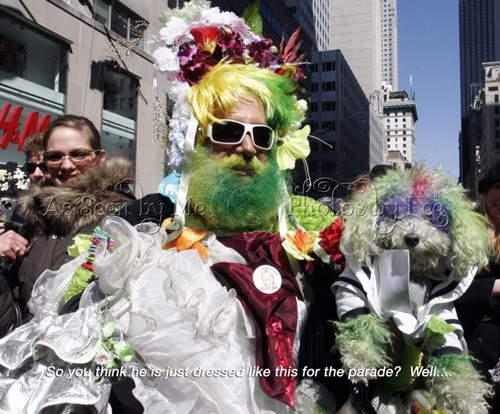 From an ordinary day in November 2006: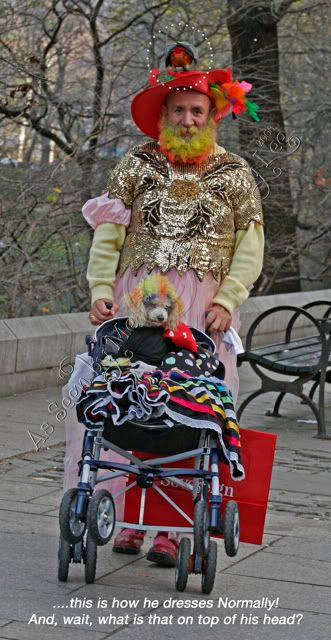 Bird #4 - Military Macaw - named Pickles

Again, this is another bird that has a fairly lengthy Wiki description so please check out the link above for complete information on it. Here is just a snippet of the info.


The

Military Macaw

(Ara militaris) is a medium sized member of the macaw family. Though considered vulnerable as a wild species, it is still commonly found in the pet trade industry. A predominantly green bird, it is found in the forests of Mexico and South America.

The Military Macaw inhabits arid woodlands and subtropical forests. They will nest in the tops of trees and more often in cliff-faces over 600 ft. (200 m) above the ground. The three subspecies of the Military Macaw are distinguished geographically. The Ara m. militaris are often found in areas of Peru, Ecuador, Colombia and Venezuela. The Ara m. mexicana occupy areas in Mexico and the Ara m. boliviana live in Bolivia and Argentina.



Conservation status



The population and distribution of the Military Macaw has been decreasing over the past fifty years. The abundance of the Military Macaw has now decreased to less than 10,000 globally. This decrease is mostly due to deforestation and the capturing of wild birds for the pet trade industry. Military Macaws are now listed as Vulnerable on the 2006 IUCN Red List Category. They are also listed as CITES (Convention on International Trade in Endangered Species of Wild Fauna and Flora) Appendix I, which protects the birds from being captured for trade.

-- http://en.wikipedia.org/wiki/Military_Macaw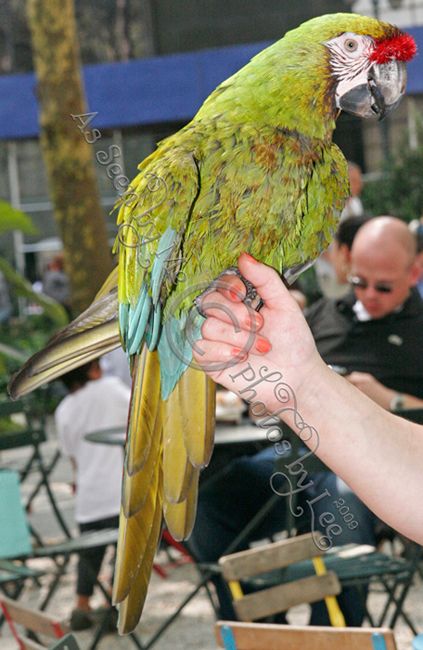 "It is SO HOT out today! Man, I can sure use...... YEAH! This feels SO GOOD!" :D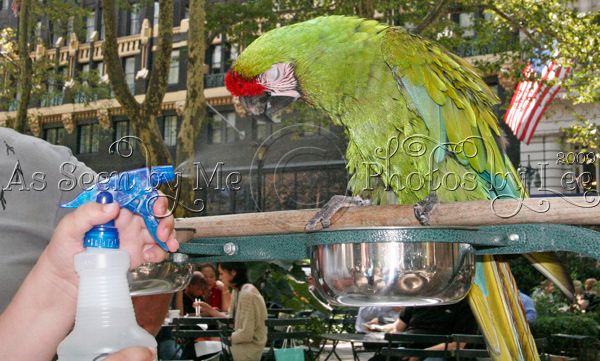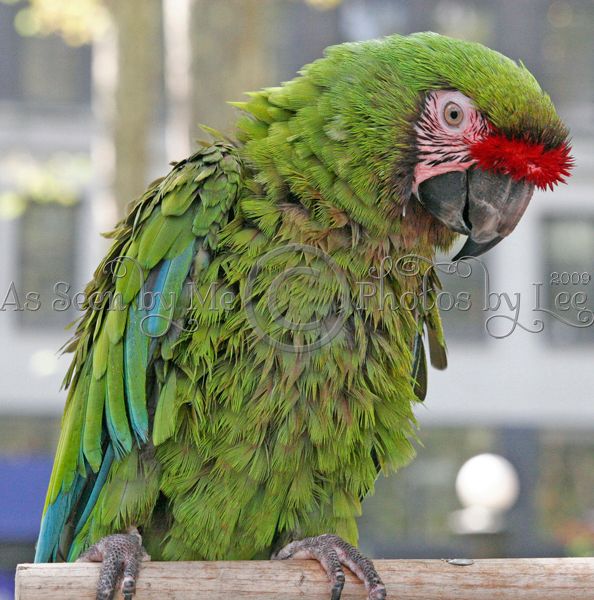 "Yeah! A juicy, healthy grape!" :D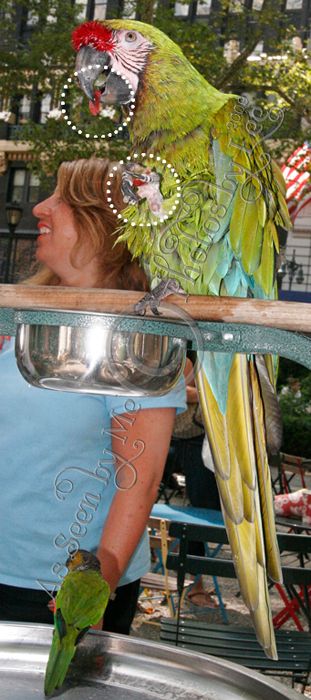 "All I need to do now is spread out my wings a little bit. Ahhh! That feels so good!" :D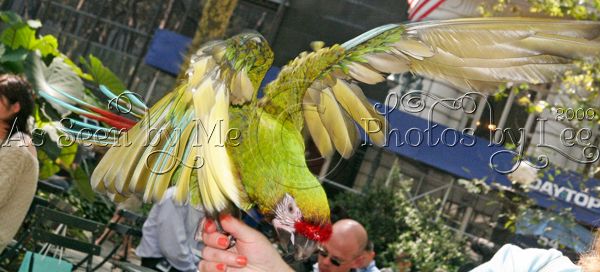 One of the best reasons to come to the sessions is to see how pleasantly the birds affect passerbys. The birds made "children" of ALL ages slow down a bit during their busy day, relax, and SMILE! :D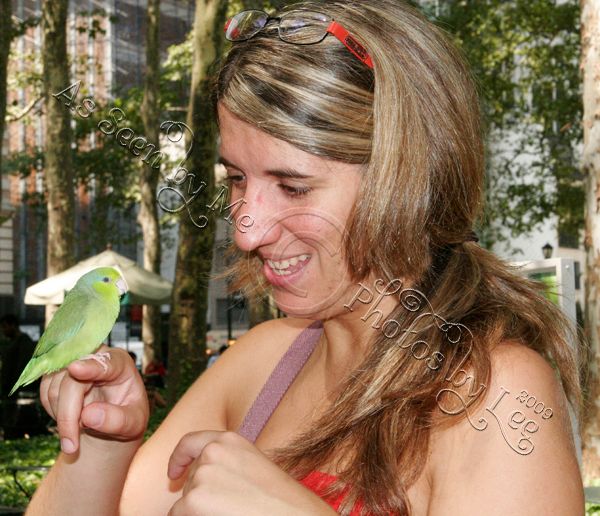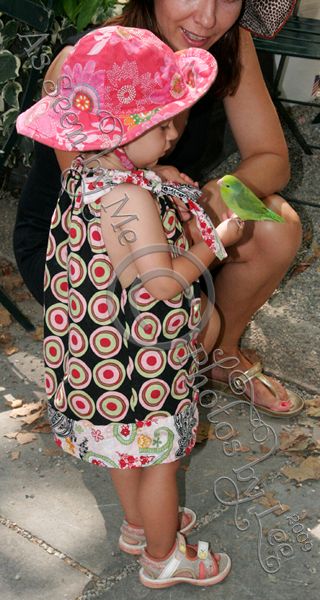 "Heh! This looks like it will taste Good!" ;)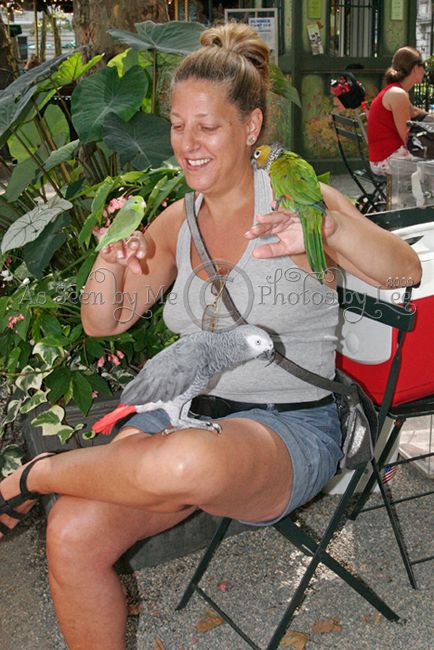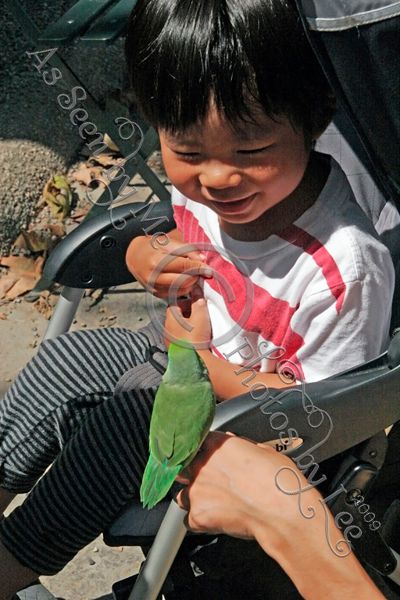 Isabella can even make a doll's day! :D This is Peer K. Explorer and here is some more information on him. He and his "co-workers" were walking by and got a complete thrill out of seeing and playing with Isabella.

Peer K. Explorer was created for the national Jewish Community Center's (JCC) "An Ethical Start" program to develop a series of children's games based on the teachings of Pirkei Avot, a Jewish text. The objective was to help children engage with the lessons of Pirkei Avot first-hand.

-- http://www.hitpointstudios.com/jcc.html
You can find out more information about Peer K. Explorer and the "An Ethical Start" program here: http://www.anethicalstart.org/about/faq/index.htm


- graphic from Columbusjcc.org



What a GREAT way to spend a lunch hour! I Sincerely thank Ms. Jones for taking the time to share her Wonderful birds with us! Can't wait to see what type of birds she brings next week! Oh wait, these are post dated posts.........I know what she brings........well that is for me to know and for you to be surprised about! ;)