SAT. June 5th
FIRST, I want to THANK ALL THE PEOPLE WHO TOOK THE TIME TO LEAVE COMMENTS about my previous pics. I REALLY DO APPRECIATE you all taking the time to do that. I spend a good amount of time on both taking the pics and posting them up and it really does me good to know that the effort is appreciated. Thank you!



On May 2nd

The Riverside Park Fund

together with

The Irish Arts Center

put on their

9th annual celebration of traditional Irish dance and music, featuring performances by stars of the Irish dance world and NY area dance schools. Join in on the fun with live music, workshops in traditional Irish dance for all skill levels, a singer's circle, Irish language classes, face-painting, children's craft table and more! This program is supported, in part, by public funds from the New York City Department of Cultural Affairs, and by the New York State Council on the Arts, a public agency.
--Riverside Park Fund


The event was So Much Fun and the dancing was

INCREDIBLE!!!

:D What a GREAT free event! If you are in NYC this time next year you really should try to attend it! :)

The event was held at

Riverside Park South's Pier 1

at 70th Street. In an upcoming post I am going to post pictures of Riverside Park along the

Hudson River

. The entire stretch hasn't always been pretty, but in recent years they really have been building up the Manhattan Waterfront Greenway. I will speak more about that in that post. For now, this is an aerial view of Pier 1. The picture is not mine. I WISH I had such access to be able to take pics like this of Manhattan! It is from Nycgovparks.org.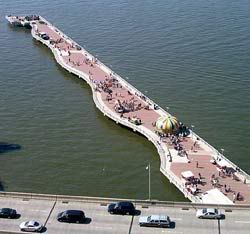 Pier 1 is right in front of a row of Donald Trump buildings known as Trump Place and the highway that runs in between the two is the West Side Highway, or at least that is how it is known to us old-time NYers. The current official name is Joe DiMaggio Highway, but hardly anybody calls it that.




Like mentioned above the event consisted of not only dancers and dancing, but also crafts and vendors ....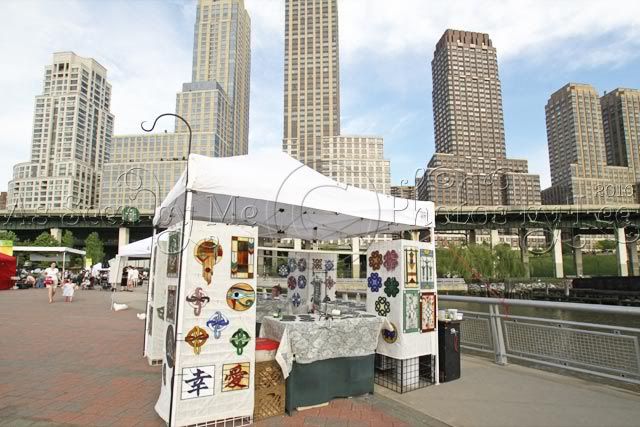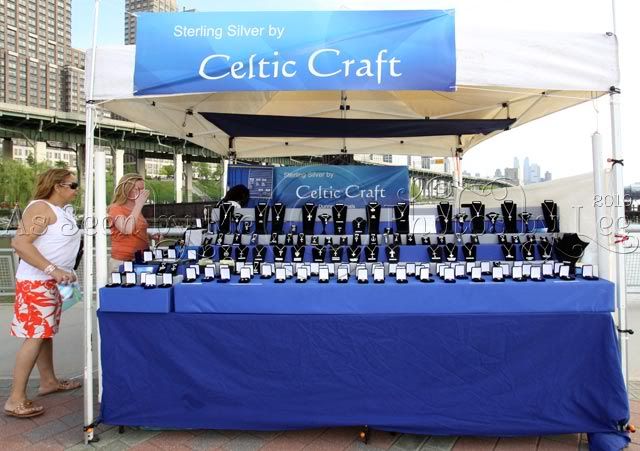 .... and traditional Irish Music Sessions.




I got to the event late so I missed the official performance of

The Keltic Dream from Public School 59 in the Bronx

. However, I got pictures of them unofficially dancing later on and they are

GREAT!

This is their Dublin-raised music teacher who started the dance troupe,

Ms. Caroline Duggan

.




Here is a little bit about them:

The Keltic Dreams Irish Dancers, are a group of 33 children ages 7-12 from Public School 59, PS 59 in the Bronx, NY. The school is situated in a low Socio Economic area in the Bronx and has a 95% poverty rate. The students are all African American and Hispanic and have no background in Irish culture. Hired by the Department of Education, I, Caroline Duggan, moved to New York over 4 years ago and began teaching music in the school. I had no intention of staying more than one year in the school but fell in love with the children's drive to become professional. After being constantly asked by the children why I spoke funny I told them that I was from Ireland. The fascination began with questions about the Irish lifestyle, leprechauns and Irish dance. They questioned me about a huge photo of Riverdance I had hanging in the classroom . I showed the children a few steps and was truly amazed by how quick they grasped even the most complicated steps. They were fascinated with the Riverdance video from Radio City, which I still show them on a regular basis. Especially how the show incorporated different cultures into Irish dancing. With this idea in mind and with the amazing support of the principal and school, I began an Irish dancing program after school twice a week. The group The Keltic Dreams was born ....

.... It shows the Universality of cultures, binding cultures together in our multi-cultural world which is the making of our New York society today and most of the USA.

It provides a platform of excellence for all other parts of the children's lives. It increases confidence, tolerance of other cultures, team work, perfection and most importantly belief in oneself. The most important lesson I try to teach the children is that nothing is impossible. Believe in your dream. Work as hard as you possibly can to make it happen!!!!! Have no regrets!!!

These children are making History. Never before have African American and Hispanic students from a Public school anywhere in the USA had an Irish dance program which has highlighted the idea of fusing cultures together through Irish dancing to this extreme! The students can be seen performing Irish dancing to Spanish rhythms, African rhythms and even pop music and vice versa.

This project showcases diversity at its finest, showcasing Public School children who now know and believe from experience and support nationwide that
"No matter where you come from, nothing is impossible!!!!"

-- The Keltic Dreams, About Us

Check out these two youtube clips. The first is them performing in Dublin and the second is a mini-interview with

Ms. Duggan

and some of the dancers.

They also are the subject of a documentary called

A Bronx Dream

, which will air again on the Showtime Family Zone channel on 06/11/10 at 7:00 PM and 06/14/10 at 4:50 PM.





The first event I saw was

The Niall O'Leary Fun Dance

, which was a session for all ages, from professionals to absolute beginners, to learn some Irish Dance moves. I will speak more about Niall O'Leary later on. In this session initially a good amount of

The Keltic Dreams

dancers participated and then non-professionals joined.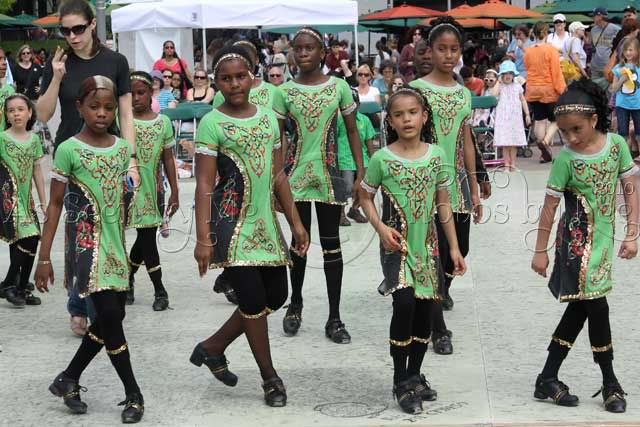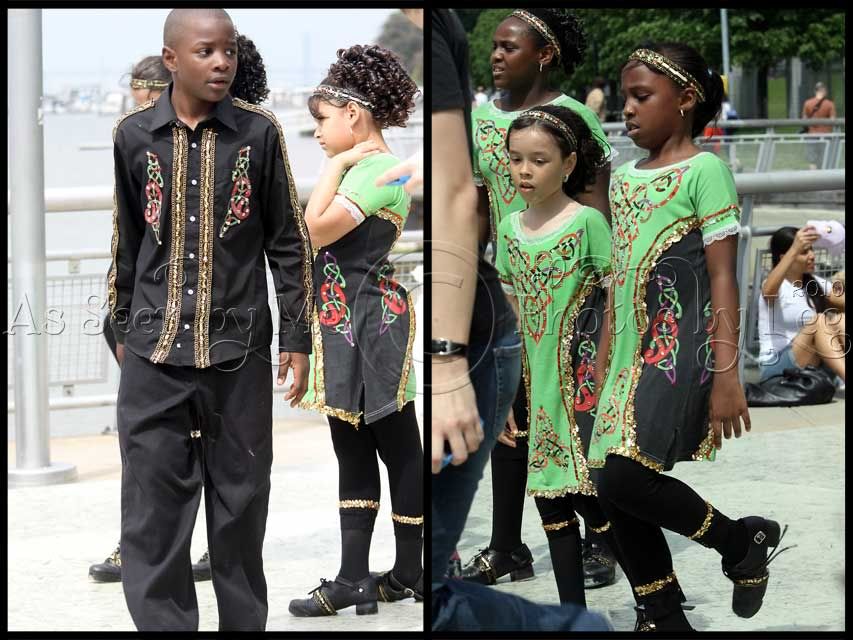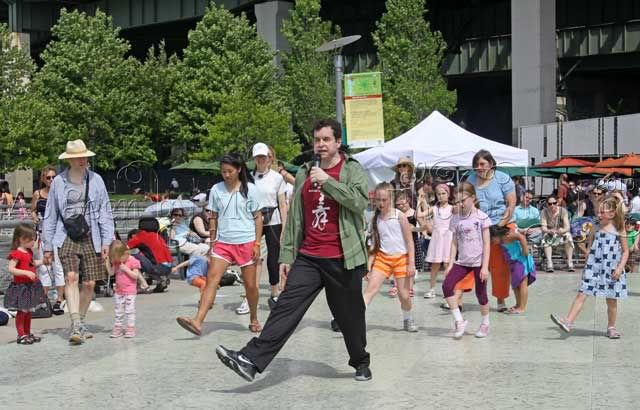 They were dancing to the music provided by

Kevin McHugh

. What he is playing is called

Uilleann pipes.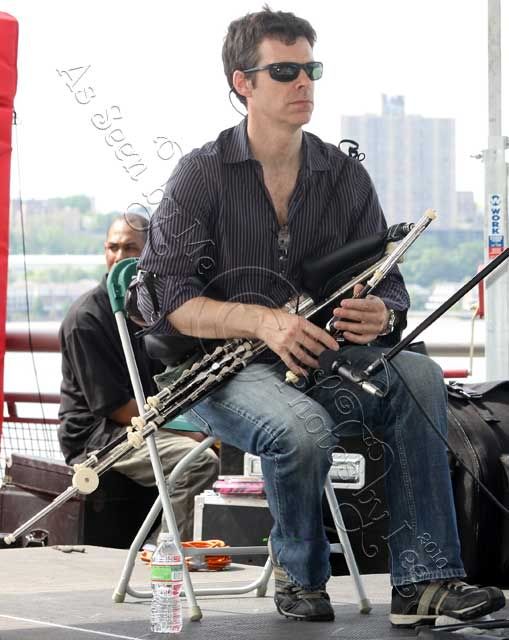 The

uilleann pipes

(pronounced /ˈɪlən/), originally known as the Union pipes, are the characteristic national bagpipe of Ireland. The uilleann pipes bag is inflated by means of a small set of bellows strapped around the waist and the right arm. The bellows not only relieves the player from the effort needed to blow into a bag to maintain pressure, they also allow relatively dry air to power the reeds, reducing the adverse effects of moisture on tuning and longevity. Some pipers can converse or sing while playing as well.

The uilleann pipes are distinguished from many other forms of bagpipes by their sweet tone and wide range of notes — the chanter has a range of two full octaves, including sharps and flats — together with the unique blend of chanter, drones, and "regulators." The regulators are equipped with closed keys which can be opened by the piper's wrist action enabling the piper to play simple chords, giving a rhythmic and harmonic accompaniment as needed. There are also many ornaments based on multiple or single grace notes. The chanter can also be played staccato by resting the bottom of the chanter on the piper's thigh to close off the bottom hole and then open and close only the tone holes required. If one tone hole is closed before the next one is opened, a staccato effect can be created because the sound stops completely when no air can escape at all.

The uilleann pipes have a different harmonic structure, sounding sweeter and quieter than many other bagpipes, such as the Great Irish Warpipes, Great Highland Bagpipes or the Italian Zampognas. The uilleann pipes are often played indoors, and are almost always played sitting down.




Picture courtesy of Marc van Daal.



-- Wikipedia

I was able to find a youtube video of

Mr. McHugh

playing the pipes. He really does sound

GREAT!

:)

Then

The Petri School of Irish Dance

, featuring World Champion dancers, performed. They were

TRULY AMAZING!

I honestly don't know which I liked more, their

WONDERFUL

dancing or their

EXQUISITE

costumes. I usually only post pics of the front of a dancer, but here I have also included pictures of some of their backs in order for you to see just how pretty the costumes were, even the backs of them. And let me not forget about how

Great

those curly wigs are. Someone I know said that in the past they didn't use to use wigs and that instead they would have to curl their hair for hours before their performances. Can you imagine sleeping on the number of curlers that would be needed to create such curls?! :D One of the dancers, in fact one of the ones that is a World Champion spoke about leaving her house in such a rush that she forgot her wig. If you click above on the link to the school you will see a picture of her with her wig on. :)

Where I have been able to get the names of the dancers I have included them. If I find out any other names later on I will amend the post and add them.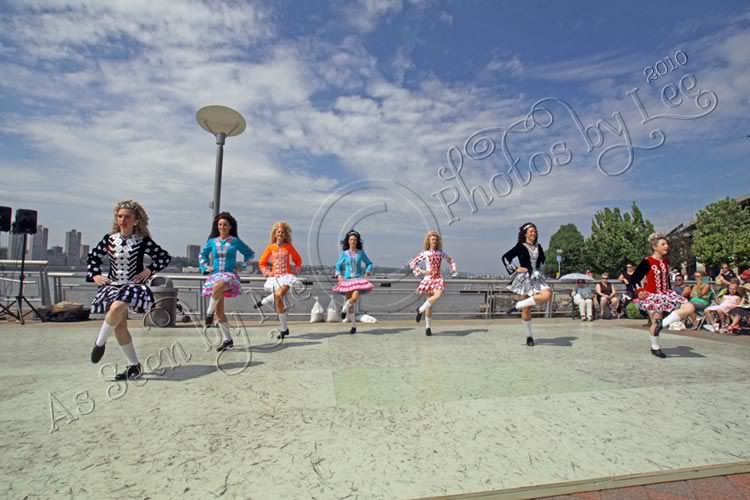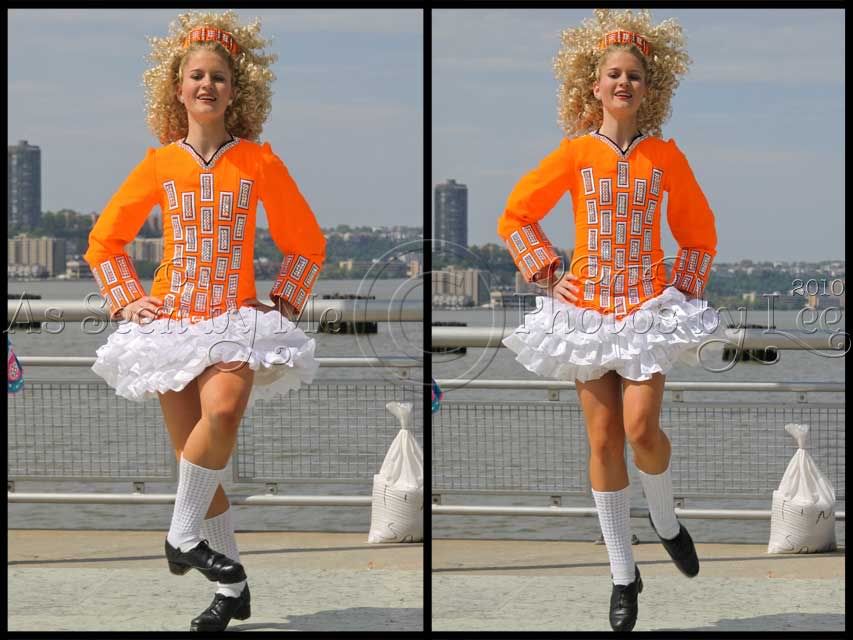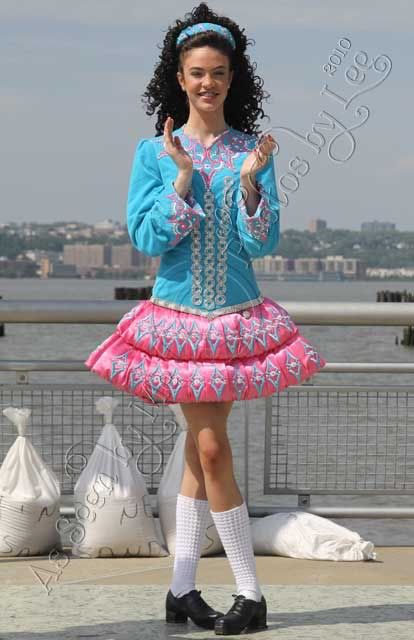 Taylor Kerrane



Click on her name to see her extensive list of placements and her featured magazine article.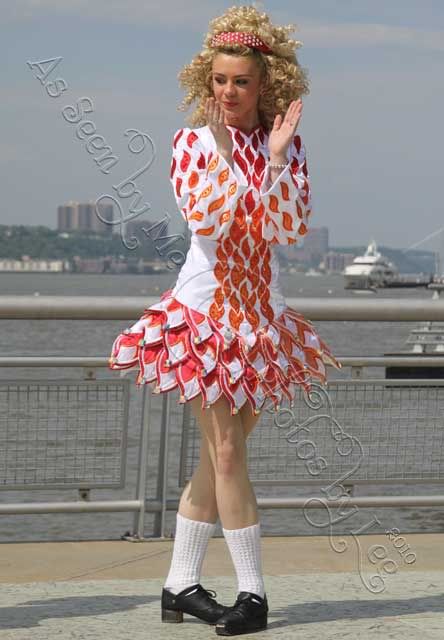 Leanne McGrath



Click on her name to see her great list of placements.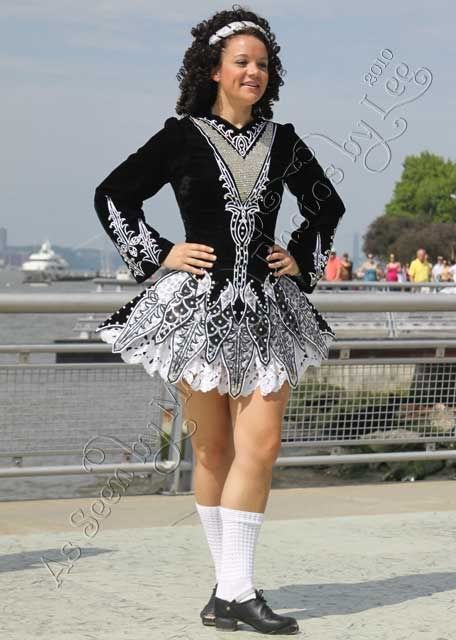 Twice World Champion Gabriella Wood



As in the others, you can click on her name to see her full list of accomplishments. She was

TRULY AMAZING

to watch!

SO PRECISE!

My pictures really do her, and all the young women and girls, no justice.




The younger girls then came on.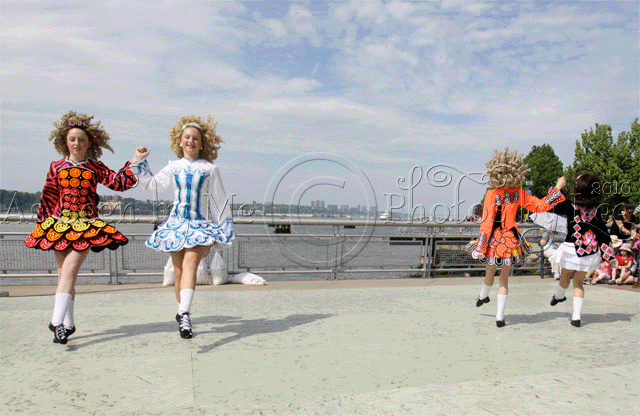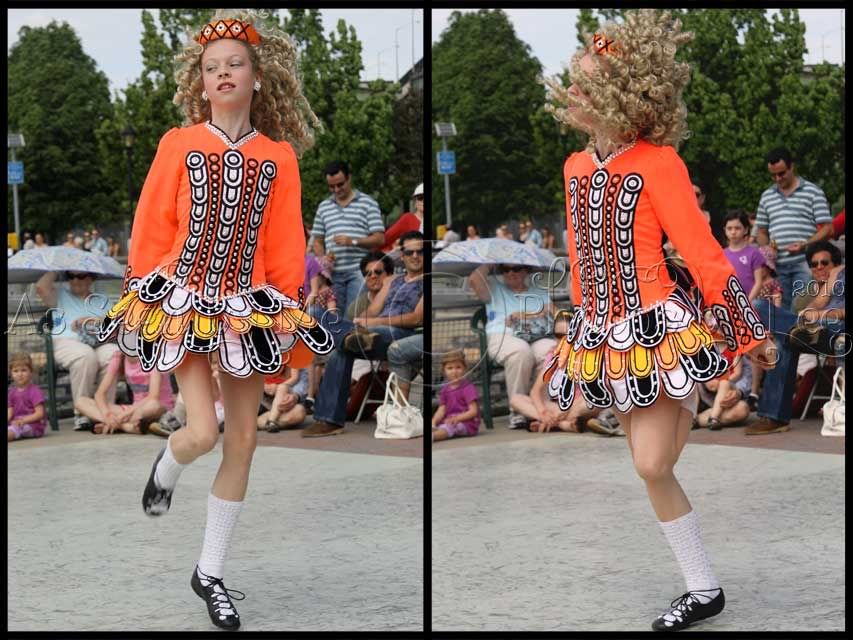 World Champion Julia O'Rourke



When you see her dance in person you understand why she is a World Champion. Click on her name to see her other multitude of placements and also click on this link HERE to read more articles about her and about the fact that she is going to be included in a documentary about Irish Dancing. The World Championship was held in Scotland and she beat out over 200 other dancers, in three rounds of competition, to become the first Long Islander to win the title in her age group. What an Amazing child and she is only 10! One can only imagine what else she is going to accomplish as she gets older. :)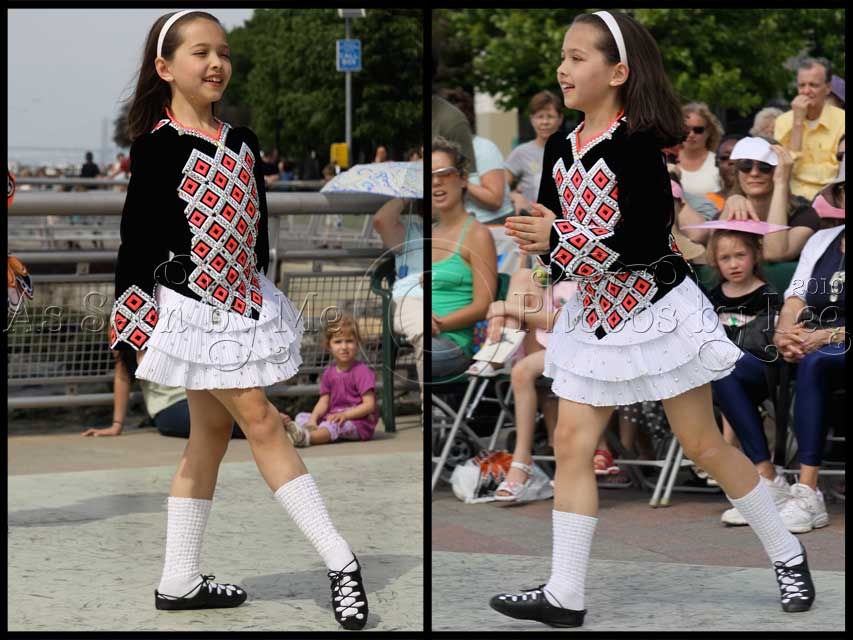 These two girls were

SO CUTE!

They came out all smiles, ready to dance ....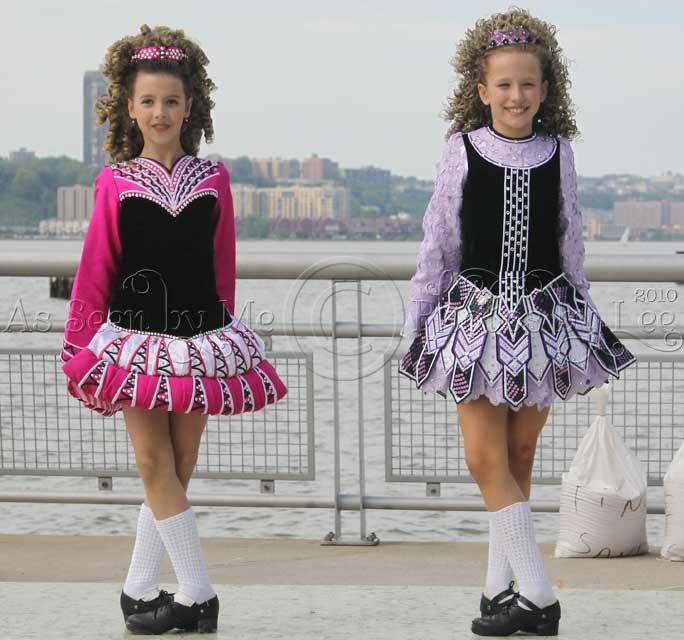 .... and then the music would not come on, so they waited and waited all smiles. Finally the music came on and they both had this incredibly cute look of bewilderment on their faces when the music that came on was apparently not the right music. They both turned their heads at the same time, as if to say, "What?", ....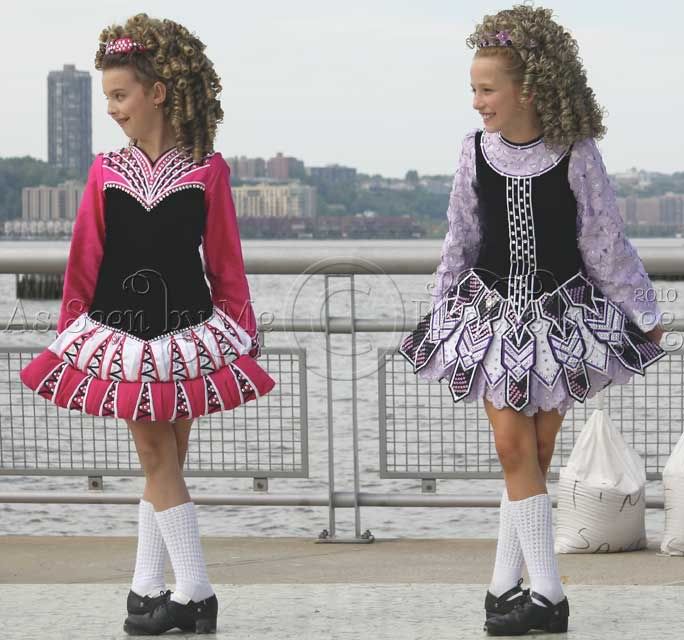 .... but they didn't say a word and waited patiently and professionally until the proper song finally came on. :)




Then just 2 of the older dancers performed.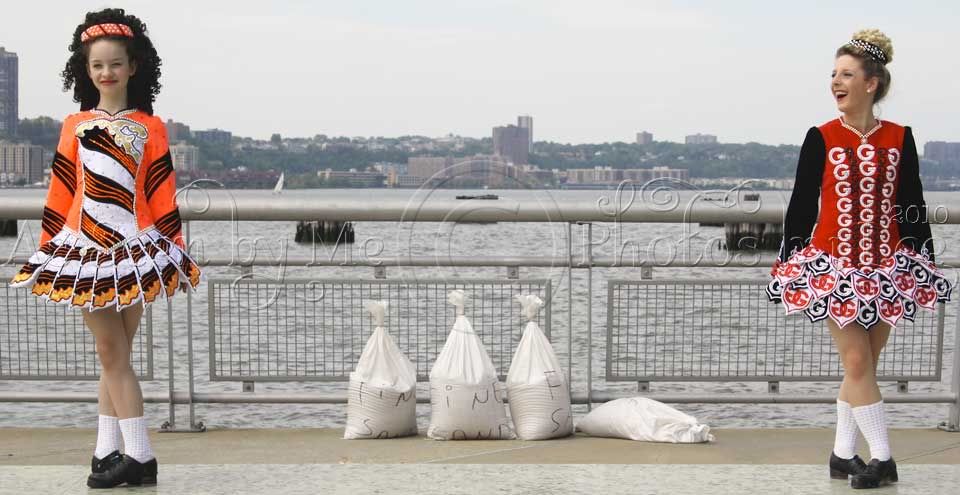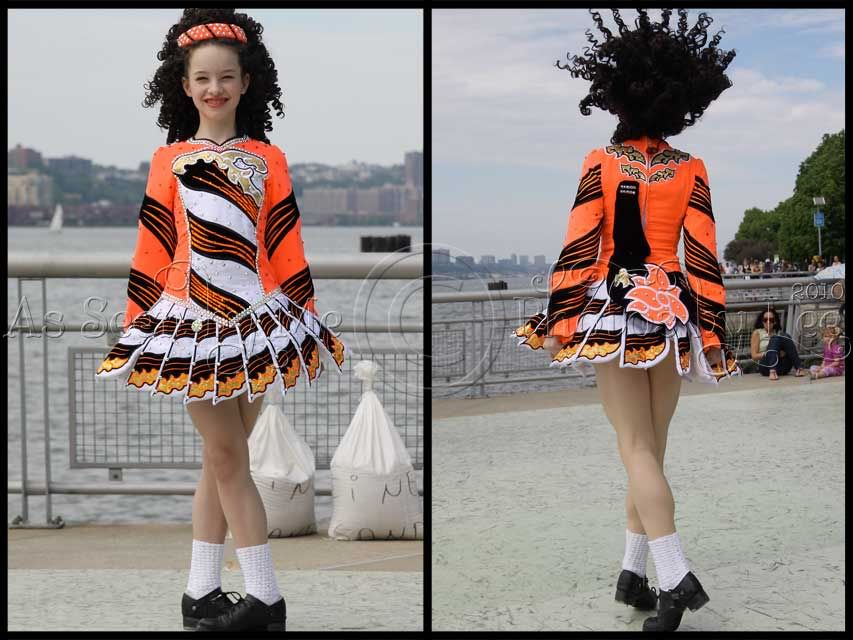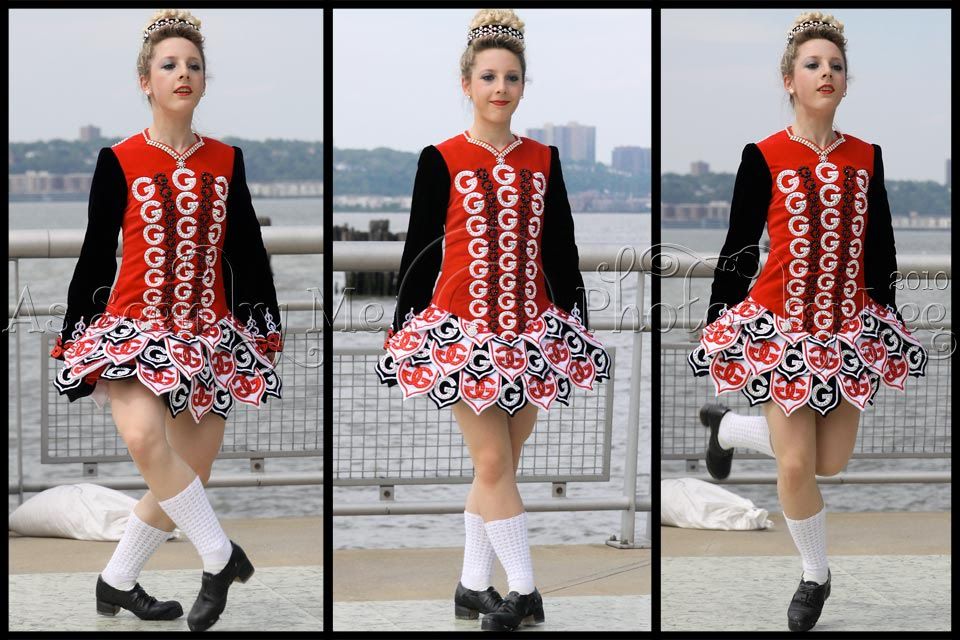 And then all the dancers came out to give a Grand Finale performance.






Niall O'Leary

then interviewed

Julia O'Rourke

about her experience of winning The World Championship and about being a part Philippino-American Irish dancer.


Part Two of this post is HERE. Click for pictures of The Donny Golden Dancers and The Niall O'Leary Irish Dance Troupe.