Sun. July 18th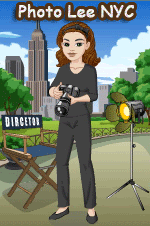 Earlier this week the tv show

Gossip Girl

came uptown to film.

(The first photo is from Wikipedia and the second is a downloadable wallpaper from Gossip Girl's site.)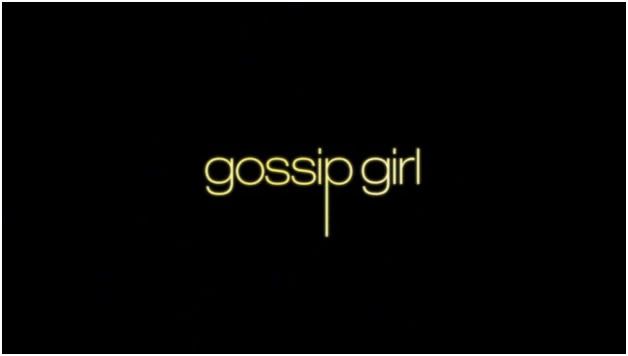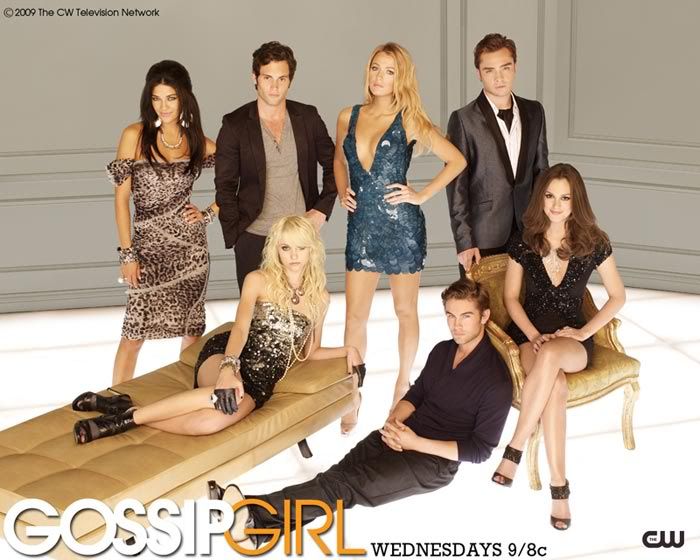 They were here for two days. The first day they filmed at Union Theological Seminary and Barnard College, but I was unable to go to those shoots. The day afterwards they filmed on the corner of

106th Street and Riverside Drive

. This area of

Manhattan

is called so many different names that it can be confusing:

Upper West Side, Morningside Heights, West Harlem

and

Bloomingdale

. The two descriptives that hold the most weight are

Morningside Heights

and

Bloomingdale

, with

Bloomingdale

being the most accurate. I have read

Bloomingdale

described as semi-ghetto and whoever described it that way must have been smoking weed because there is nothing ghetto about this area. There are such

BEAUTIFUL

historic buildings and mansions here that a stroll down this part of Riverside Drive is a visual and serene treat. This is one of the neighborhoods I plan to post about when I do my series of architectural photo posts. I also read a paparazzi pic description from a photo taken on this day and it said the shot was taken on the

Upper East Side

, but this is definitely not the

Upper East Side

, though the buildings can look similar. Lol! :)

The Beaux Arts red brick and limestone building in front of which they were filming is called

River Mansion.






It was built in 1900-1902 by the architects Stewart and Smith. It was the one time home of Jazz Great,

Duke Ellington

,

(AP Photo)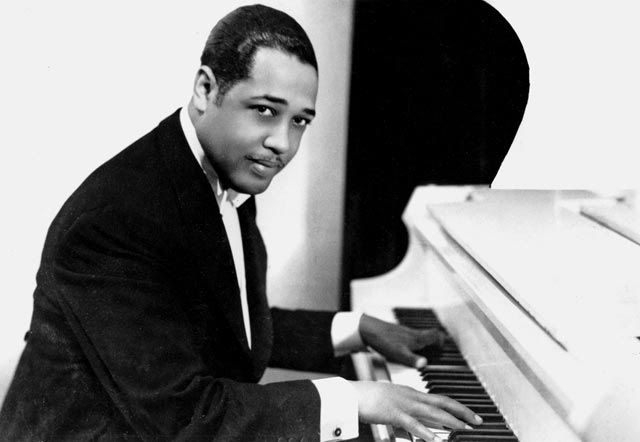 and as such this part of 106th St, from Central Park West to Riverside Drive, is also called

Duke Ellington Boulevard

.

The trailers were parked along

West End Avenue

and ...




... I thought it was cute that the bathrooms were called

Lucy

and

Desi

, which just in case you don't know refers to TV's comedic royalty,

I Love Lucy's

Lucille Ball

and

Desi Arnaz

. :)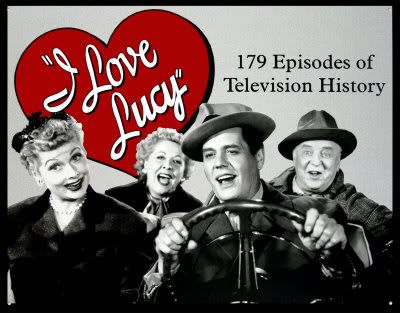 (Picture from Allposters.com)



Now, I don't watch

Gossip Girl

and as such didn't know who the stars of the show were. I had printed out a pic of the main cast members and took it with me, but it wasn't a great pic and I really wasn't certain of whom I was supposed to be taking pictures.

I am trying to keep a picture catalog of all the filming that goes on in the neighborhood, but it is actually becoming hard to continue to do so because one, there is just way too much filming going on for me to be able to attend every shoot and two, it really is not that much fun to take pics of shows I don't watch or stars I don't know. I mean it is fun to watch how others get excited when they get to see and meet stars that they like, but overall I like it better when it is a show that I watch and actors that I know. (Well, technically speaking, know of, not know, since I don't really know them. Lol! :D I always say that I am Very Corny!)

When I got down there I started to take pics of the filming that was going on and ...




... a nice crew member came up to me and asked me if I was a paparazzo and I said no. He said he didn't think so because he couldn't figure out why I was taking pictures of the stand-ins. I busted out laughing because I didn't know that they were the stand-ins. I thought they were some of the stars of the show. Lol! :D I asked him if he wouldn't mind telling me when the regular cast got there and he said that he didn't mind, but that he wouldn't have to tell me because I would definitely know on my own. Soon afterwards a grey van pulled up ....




and out of nowhere a bunch of paparazzi showed up.




I then noticed two people get out of the van and when I saw a set of girls go crazy, in addition to all the picture taking paparazzi then I knew these had to be some of the stars of the show. The crew member was right. He didn't have to tell me. :) It turned out that the two people were Blake Lively (Serena van der Woodsen) and Chase Crawford (Nate Archibald.)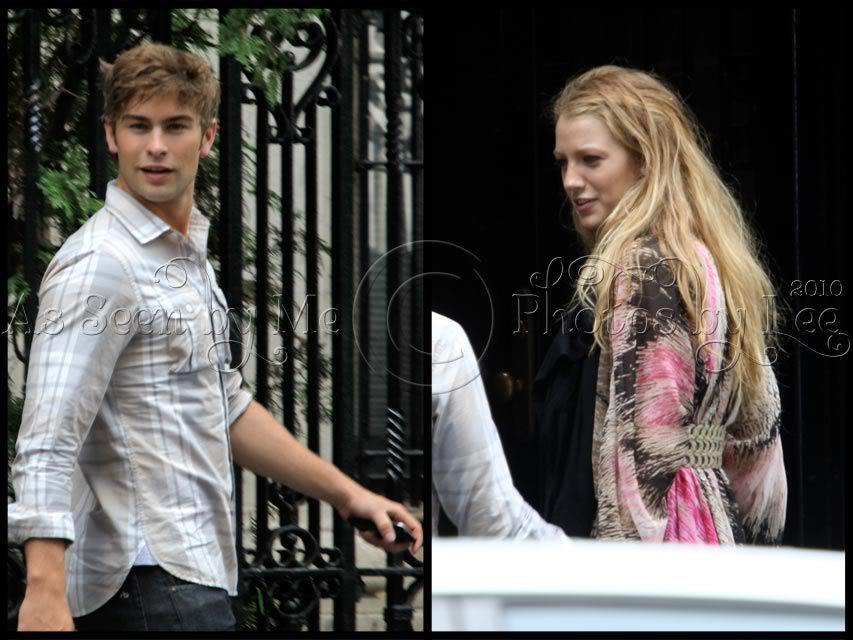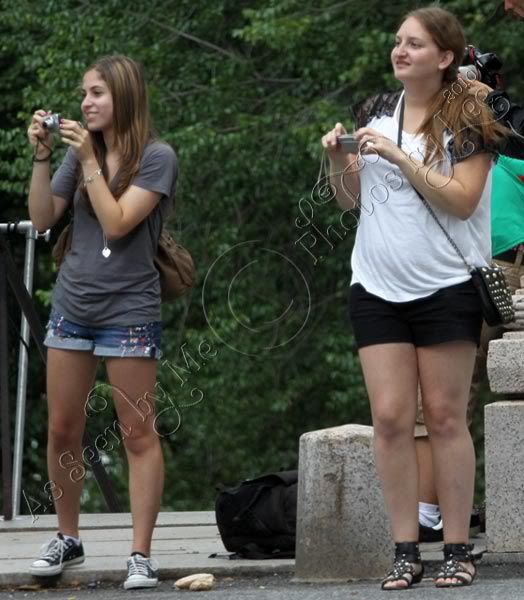 At that time a cop car came down the block and the cops got out and stood by their car so that they were right next to me. Because they were so close I overheard their conversation and it turned out that they were speaking about the stars' bodyguard. He is the guy in black in this bad photo.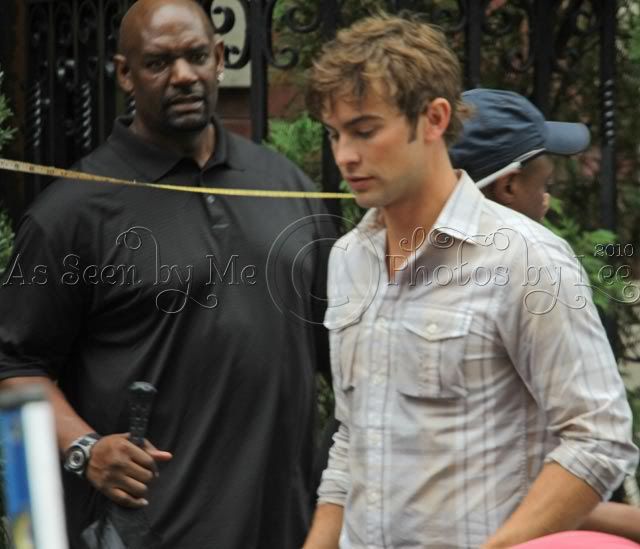 It turns out that at some point earlier in the day the bodyguard had pushed someone who was attempting to get close to the actors. I have no idea what happened during the incident because I obviously didn't witness it, but I did hear the cop say that he told the bodyguard that he would have no problem arresting him because he was not allowed to put his hands on anyone. I guess if you are a fan of the show and you plan on going to one of their film shoots, you should exercise caution around this gentleman.

The two days that they were filming uptown were very rainy days and when the actors got out of the van it again started to rain. The actors were given these big rainbow umbrellas, but instead of holding them for themselves, a crew member held the umbrellas for them.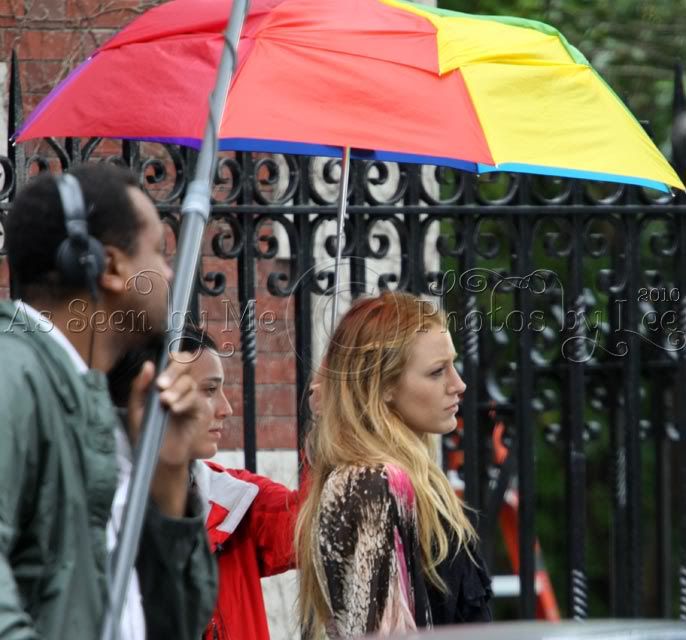 I am only including these photos here because when I got home and looked at them up close I busted out laughing at the EXTREMELY BORED look on the crew member's face. It looks like she would have rather been doing anything else than what she was doing! Lol! :D I feel for her because it really must be boring to just stand there holding an umbrella over another person's head.




Before they started shooting the scene, hair and make up came over and touched

Chase

up.




They then started to shoot their scene and the big multi-colored umbrellas were replaced with clear, cute ones. The take didn't last too long though because it looked like

Blake

accidentally dropped something during it.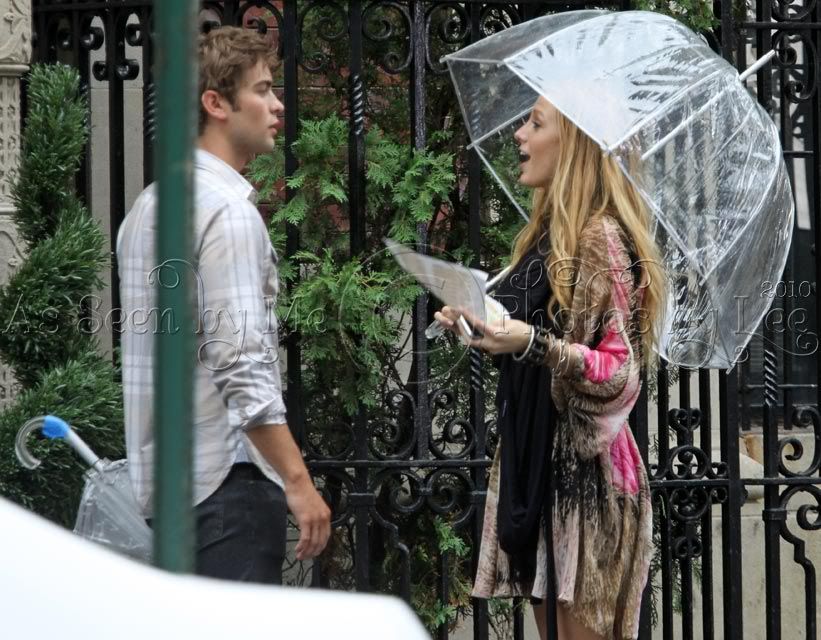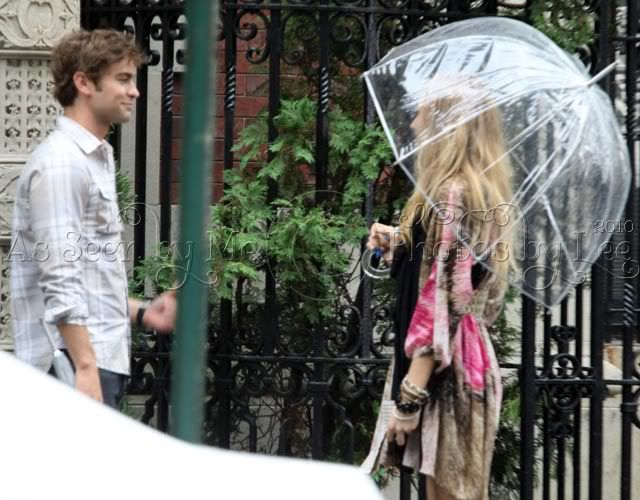 They then took a break ...




... and Leighton Meester (Blair Waldorf) came on set.




While they were waiting for the filming to begin

Leighton

and

Blake

decided to do some juggling tricks with their umbrellas. :D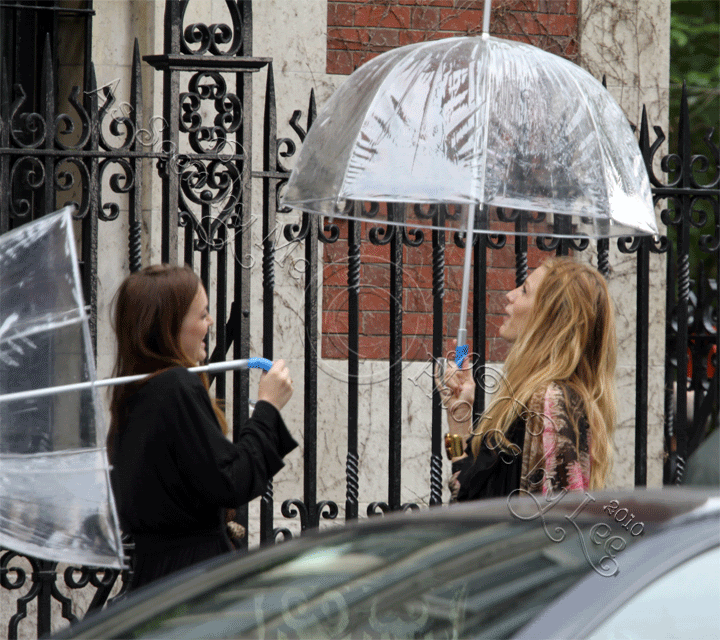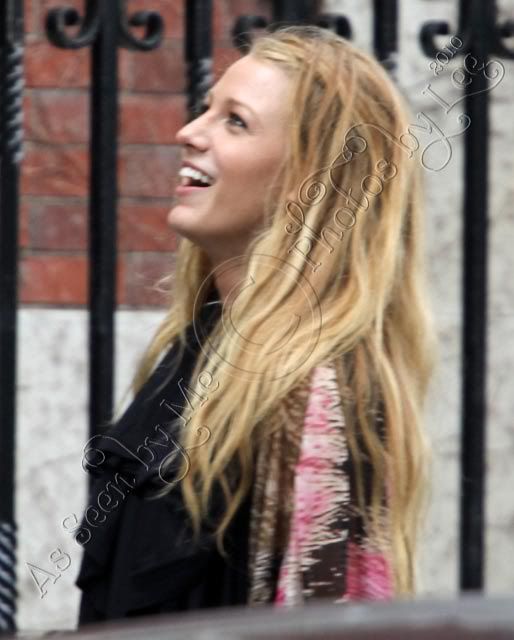 They then started to film and right above their heads this woman decided to come out and do some gardening.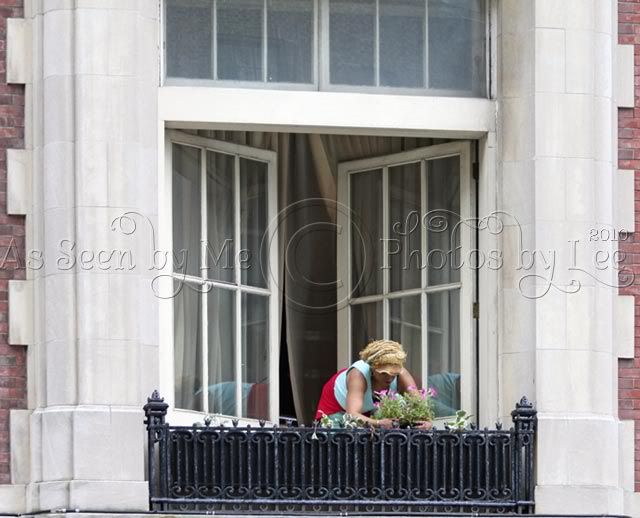 I thought that was the funniest (in an odd way) thing because who would decide to garden on a rainy day in the middle of filming going on beneath her or him? I asked the crew guy if she was part of the crew and he said no and that she might just be doing that in order to get into the shot, but that she would be disappointed because they were not filming that high up. Eventually she finished what she was doing and went back inside and all the while filming continued.

The scene started out with

Serena

getting a phone call and then

Blair

walked up to her and then they chatted for awhile.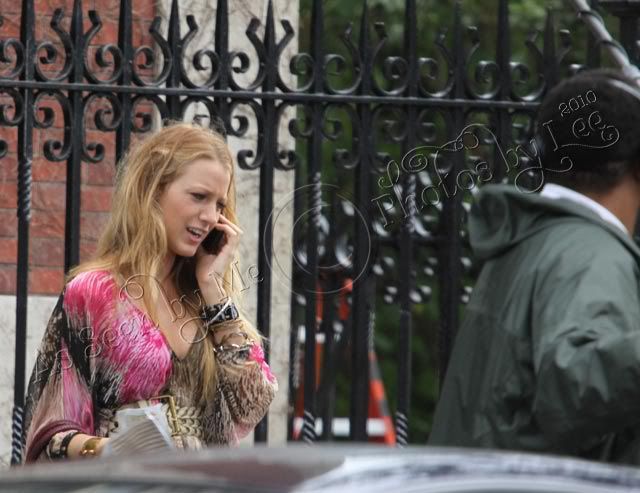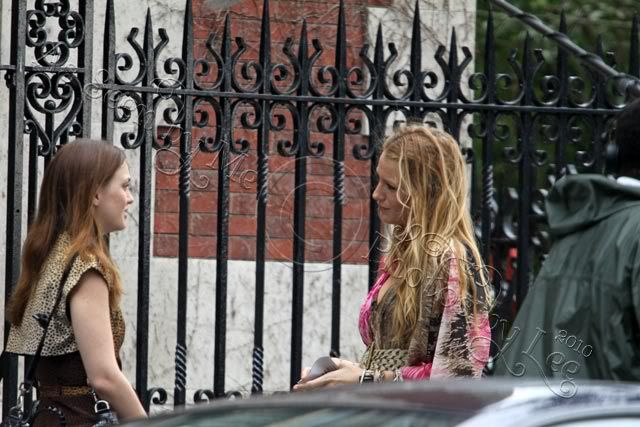 The wind and rain made it a bad hair day for

Blake/Serena

.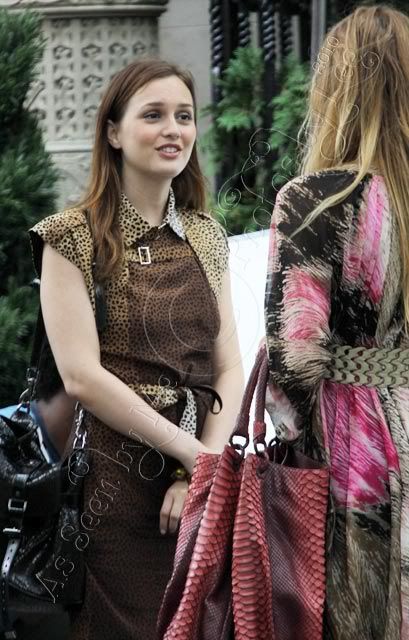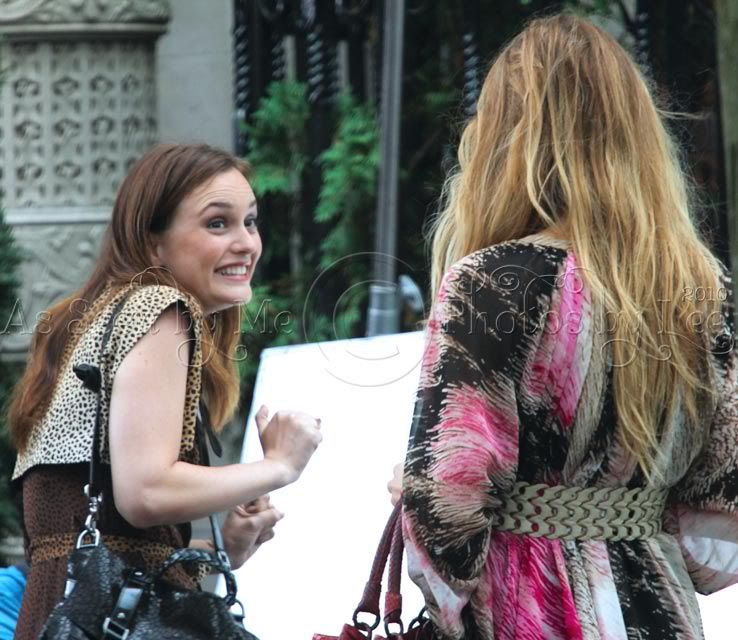 What was also interesting to see, at least to me, was that immediately around the corner, just out of view of the camera, was a crew member (in the black t-shirt) that was telling extras when to cross the street. If one pays close attention to the extras whenever this scene airs, one might be able to tell that the same extras just kept going back and forth across the street, rather then new, different people crossing the street.




When they started to get ready to film the second part of the scene, guess who came out again? You're right! The gardening woman. This time she went to the window that was closest to the film equipment.





In the second part of the scene,

Chase

waited up the block out of view while

Serena

and

Blair

were conversing. At his cue, he then walked down the block to within the camera's background view and started talking to some of the background extras while

Serena

continued to speak to

Blair

.




When

Blair

and

Serena

finished speaking

Nate

came over and then he and

Serena

started to converse. The topic of conversation seemed to be the about the paper that

Serena

was holding. The paper seemed to be a floor plan.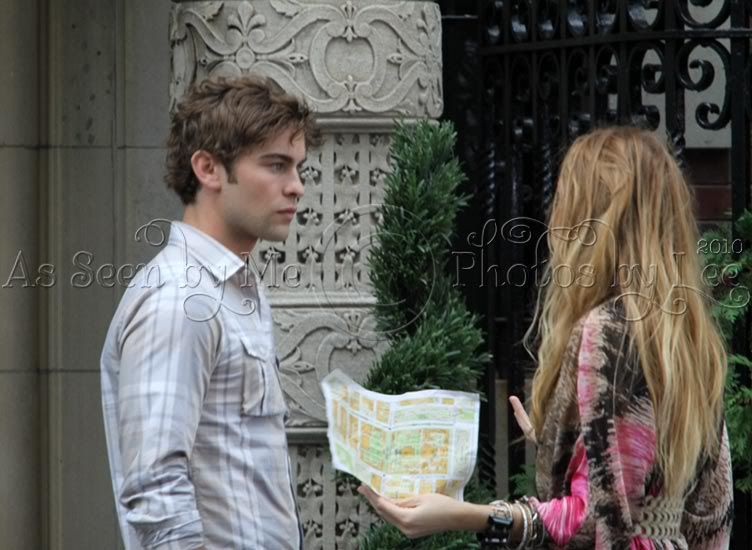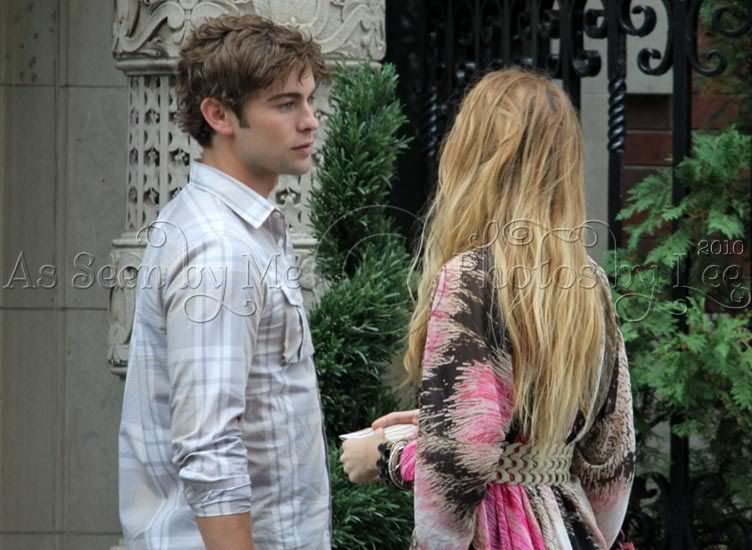 I should mention that the guy whose head you see in the bottom of the pic below was holding a light reflector underneath them so that they would be properly lit for the camera. He wasn't just some random guy crouching down there. ;)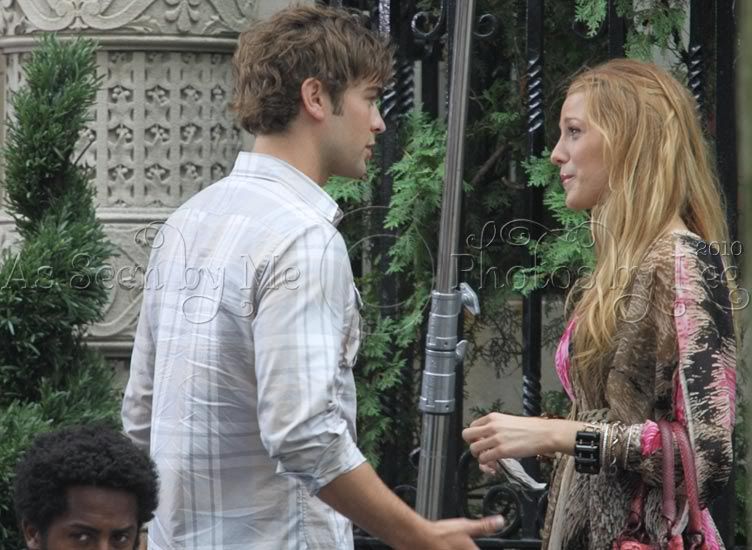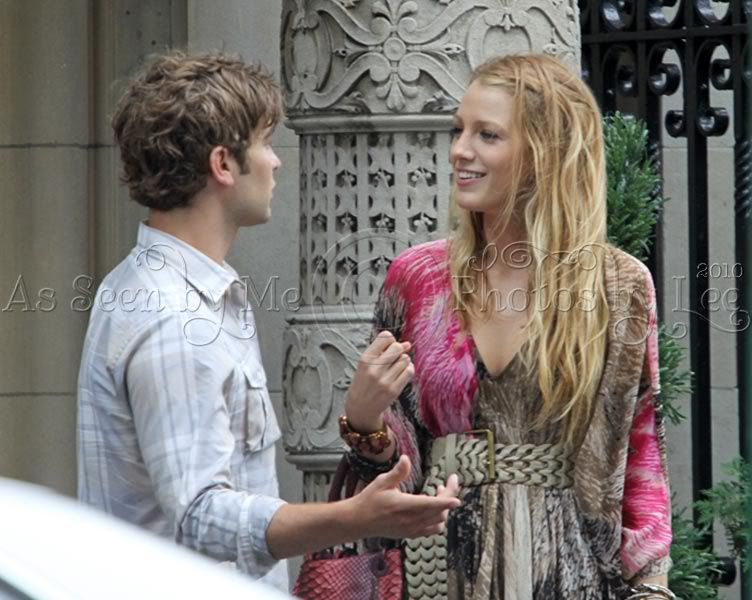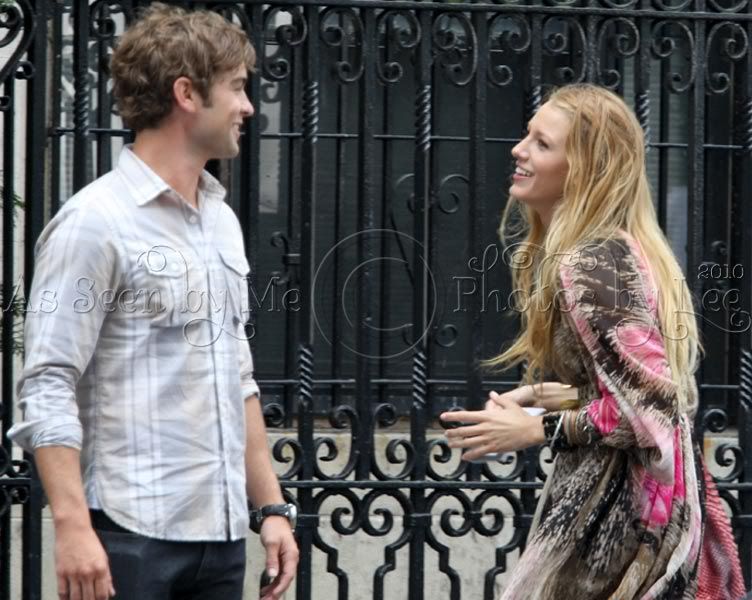 Speaking about the shots in between takes.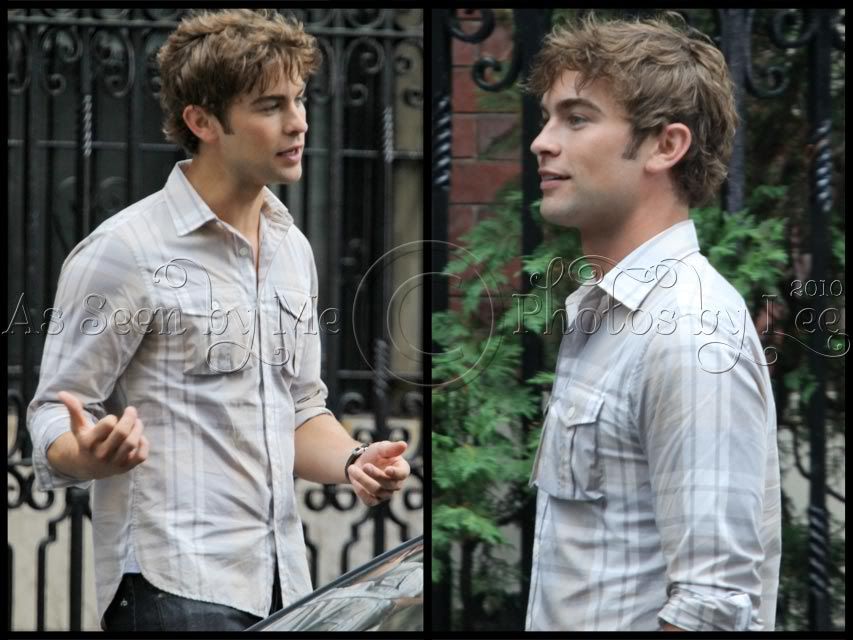 I was actually starting to think that

Chase Crawford

didn't believe in smiling because he was so serious most of the time.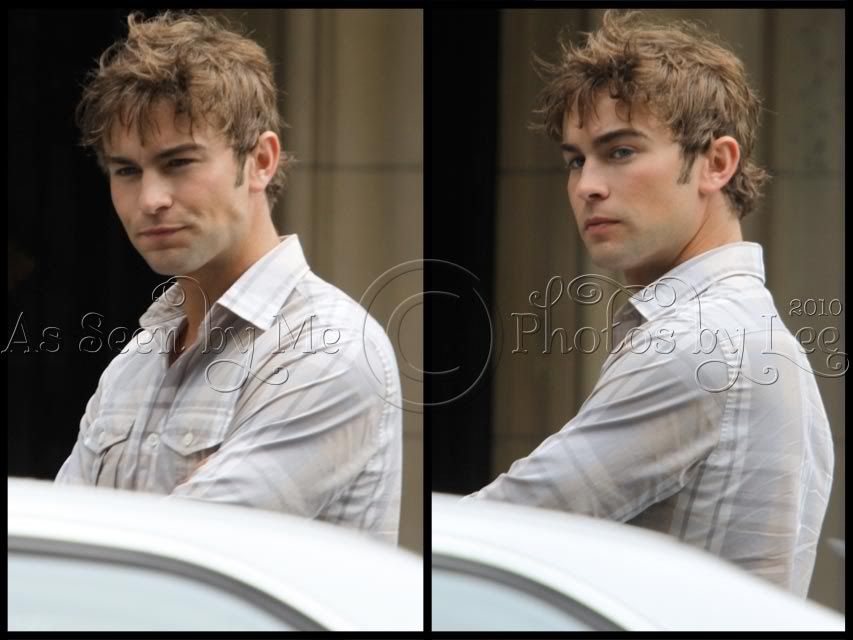 But then apparently someone said something funny and he laughed.




By the way, is it just me or doesn't he resemble Vampire Diaries' Ian Somerhalder? (Photo from WPIX.)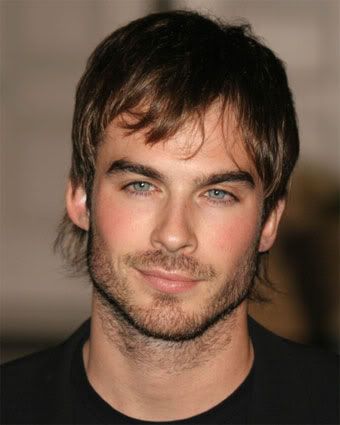 I wish I knew what

Blake

had said here because I think she looks cute (funny cute - like when one is having a good time laughing at a funny joke) with her nose all crinkled up like that. :)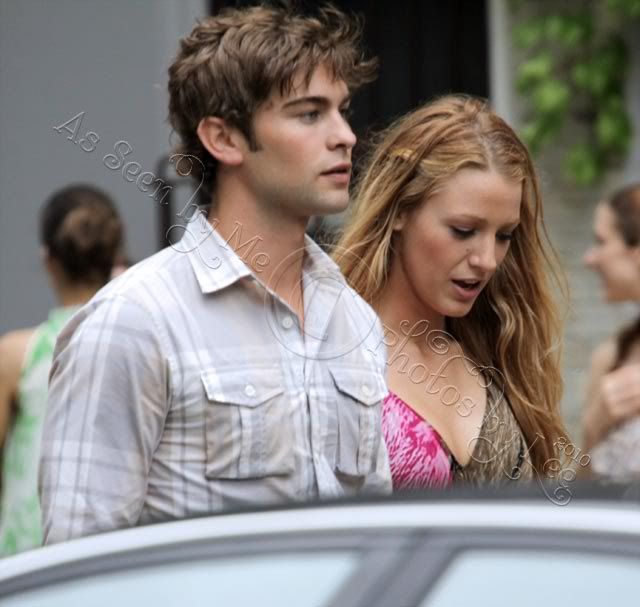 And then she looked so peaceful here.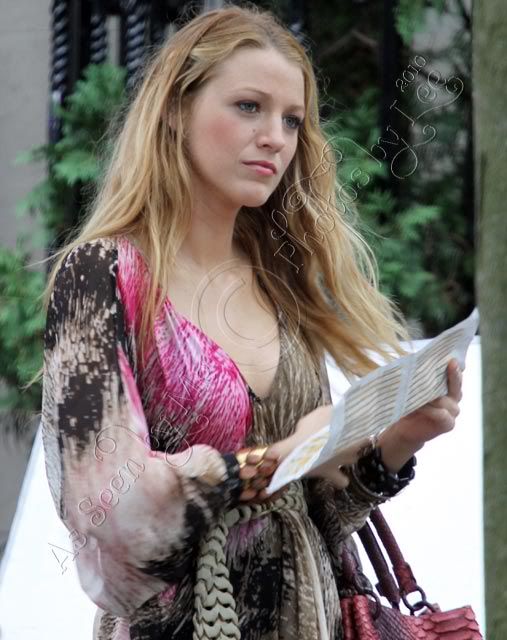 They then did the scene a couple of more times and then

Blake

and

Chase

were whisked away in the grey van.

After they left, the crew moved across the street to the stairs by the

Major General Franz Sigel Monument

.

Franz Sigel (November 18, 1824 – August 21, 1902) was a German military officer and immigrant to the United States who was a teacher, newspaperman, politician, and served as a Union major general in the American Civil War.

--Wiki
The first two pictures are from the excellent site

Museum Planet

and the third picture is from Wikipedia.


For this scene

Leighton

remained and was joined by the woman in black. I have no idea who the actress was, but she seemed to be an important part of the crew because she had her own trailer and was one of the people who had her umbrella carried for her. If anyone knows who she is, please leave me her name in a comment and I will add it to the post. Thanks in advance for your help.

ETA: Thanks go to Lei for providing me with the actress' name. She is

Katie Cassidy.






Initially I thought the woman in the blue top was a major cast member, but then I decided against it because of how she was dressed and because she remained on the sidelines.






Leighton

and

Katie

seemed to get along really well and were having a good time together on set.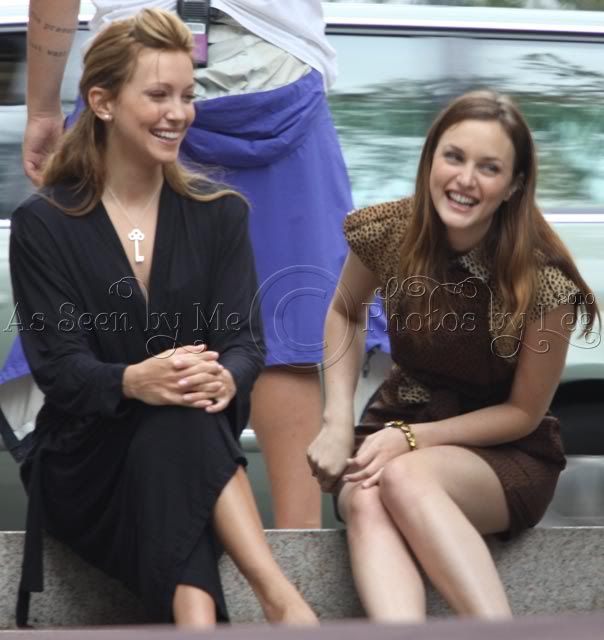 Most of the time the extras seemed so bored while the main actors got directions.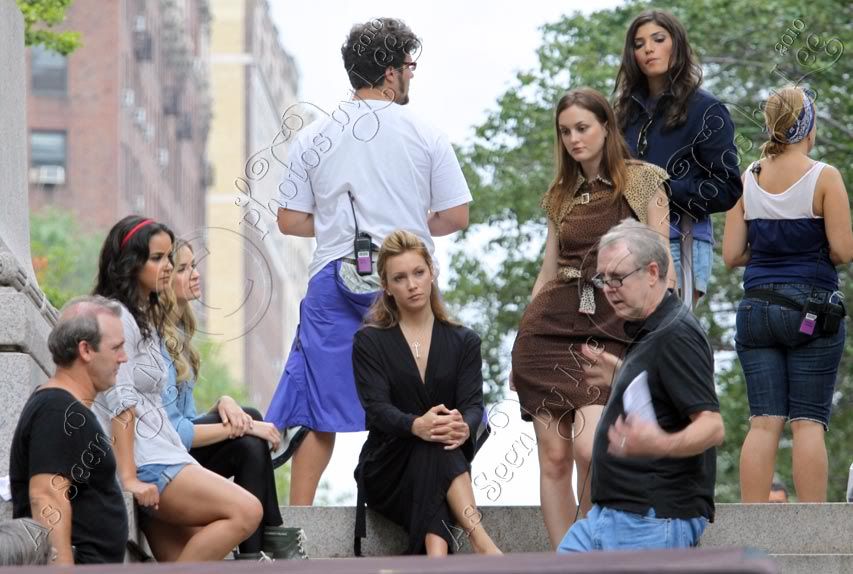 After they received their directions,

Leighton

and the woman were taken to their trailers.

I started to leave at that point and as I was walking away I came across a bunch of girls in front of one of the trailers.




I wasn't certain who was in the trailer. I wondered if he or she was one of the cast members who was previously on set or if she or he was a new cast member. I didn't have to wait long for the answer though, because soon the door opened and Leighton came out. The crew member hurried her along so she didn't have time to stop and talk to the girls who were waiting, but she did say hi and wave to them.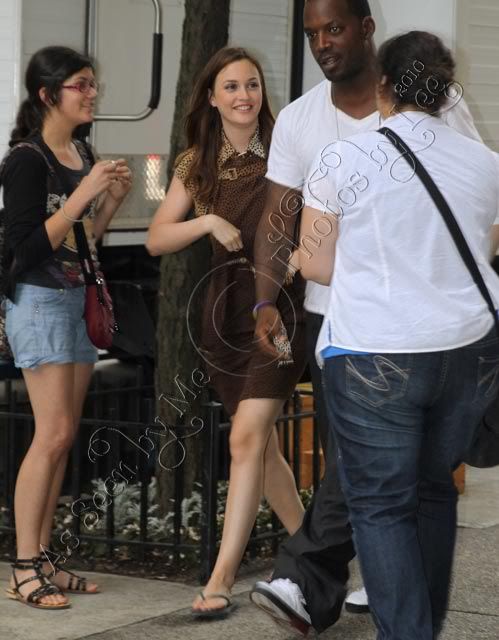 At that time I went on my way.

HOPE YOU ENJOYED THE PICS! :D