EDITED TO ADD: Hello. Wow! What a bump in people viewing the site. Since most of you all are here to see SVU pics you can click on this link to see all of my SVU pics posts. ALL SVU POSTS However, it would be nice if you all would also check out my other picture posts and sister blog because honestly they are the reason I started this blog, to post pics of the culture and wild life of New York. :) It would also be great if people could leave some comments about the pics. I am trying to improve my photography and input is greatly appreciated. :) :)


FRI NOV 6th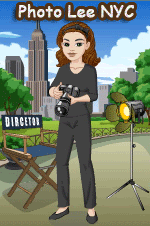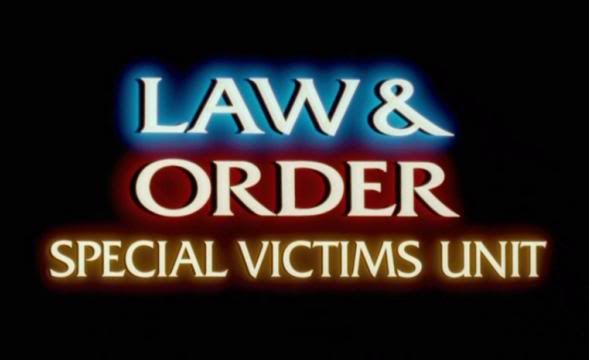 On Wed. the 4th, SVU was filming Uptown yet again! The neighborhood is always used in movies and TV shows, but I don't ever remember any show being up here so frequently in such a short period of time. But heh, what is not to like about this neighborhood! :D

This time around they were filming on the grounds of The Cathedral of St. John the Divine.


..... officially the Cathedral Church of Saint John the Divine in the City and Diocese of New York, is the Cathedral of the Episcopal Diocese of New York. Located at 1047 Amsterdam Avenue New York, NY 10024 (between West 110th Street, which is also known as "Cathedral Parkway", and 113 Street) in Manhattan's Morningside Heights, the cathedral is claimed to be the largest Cathedral and Anglican church and fourth largest[1] Christian church in the world (although the title is disputed with Liverpool Anglican Cathedral).[2] The inside covers more than half a city block, with 121,000 sq ft (11,200 m2), spanning a length of 183.2 meters (601 ft) and height 70.7 meters (232 ft).

The cathedral is nicknamed St. John the Unfinished,[3][4][5][6][7][8] and The White Elephant Of The Upper West Side.

The cathedral, designed in 1888 and begun in 1892, has, in its history, undergone radical stylistic changes and the interruption of the two World Wars. Originally designed as Byzantine-Romanesque, the plan was changed after 1909 to a Gothic design.[1][9] After a large fire on December 18, 2001, it was closed for repairs and reopened in November 2008.[1] It remains unfinished, with construction and restoration a continuing process.[1][9]

On the grounds of the Cathedral, toward the south, are several buildings (including a Synod Hall and the Cathedral school), and a Biblical garden, as well as a large bronze work of public art by the Cathedral's sculptor-in-residence, Greg Wyatt, known as the Peace Fountain, which has been both strongly praised and strongly criticized.

--Wiki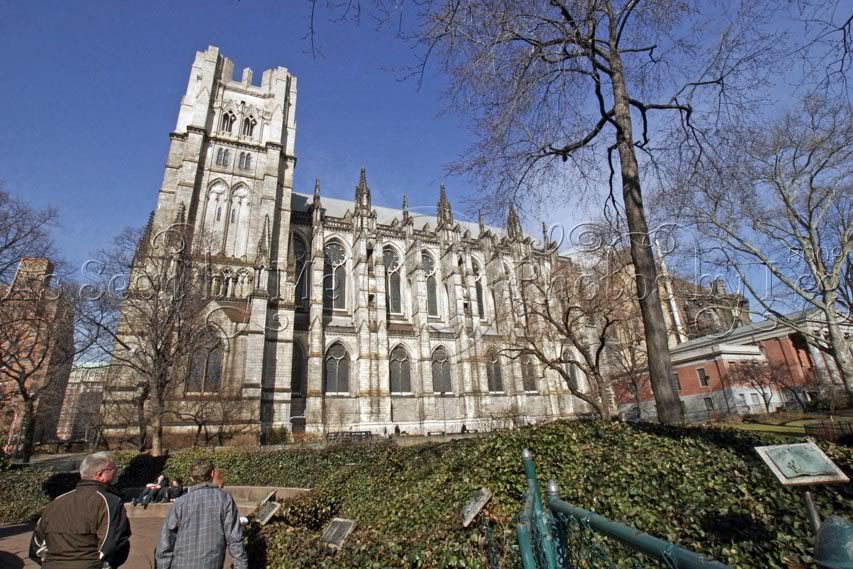 The Peace Fountain is a 1985 sculpture and fountain located next to the Cathedral of Saint John the Divine in the Morningside Heights section of New York City by Greg Wyatt, sculptor-in-residence at the Cathedral Evan Cohen, Ray Lawrence - assistants (Lawrence misspelled on Plaque at site as "Laurence")

The sculpture depicts the struggle of good and evil, as well as a battle between the Archangel Michael and Satan. The sculpture also contains the Sun, the Moon, and several animals. Although it is called a fountain, there is currently no water on the site. A plaque at the base contains the following inscription:

Peace Fountain celebrates the triumph of Good over Evil, and sets before us the world's opposing forces—violence and harmony, light and darkness, life and death—which God reconciles in his peace.

When the fountain operates, four courses of water cascade down the freedom pedestal into a maelstrom evoking the primordial chaos of Earth. Foursquare around the base, flames of freedom rise in witness to the future. Ascending from the pool, the freedom pedestal is shaped like the double helix of DNA, the key molecule of life. Atop the pedestal a giant crab reminds us of life's origins in sea and struggle. Facing West, a somnolent Moon reflects tranquility from a joyous Sun smiling to the East. The swirls encircling the heavenly bodies bespeak the larger movements of the cosmos with which earthly life is continuous.

Nine giraffes—among the most peaceable of animals—nestle and prance about the center. One rests its head on the bosom of the winged Archangel Michael, described in the bible as the leader of the heavenly host against the forces of Evil. St. Michael's sword is vanquishing his chief opponent, Satan, whose decapitated figure plunges into the depths, his head dangling beneath the crab's claw. Tucked away next to the Sun, a lion and lamb relax together in the peace of God's kingdom, as foretold by the prophet Isaiah.

Surrounding the periphery of the sunken plaza in which the fountain sits are plaques, rendered in a style artistically similar to the of the fountain itself, depicting various philosophers, thinkers and artists, most accompanied by a quote by the individual depicted. Despite the Peace Fountain's associating with a Christian (Episcopalian) cathedral, many of the luminaries thus depicted are non-Christian icons, such as Gandhi, Socrates, Einstein and John Lennon, whose image is accompanied by a quote from the lyrics of his song "Imagine".

-- Wiki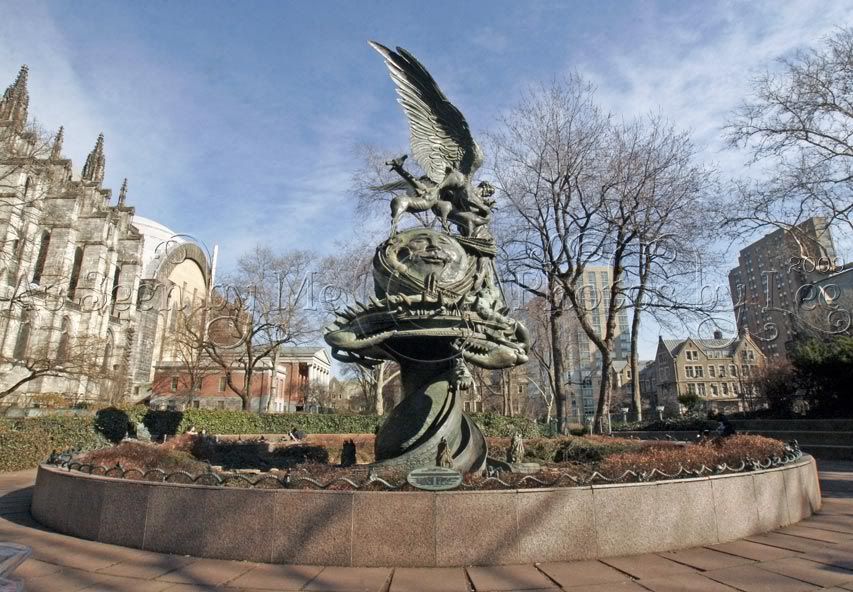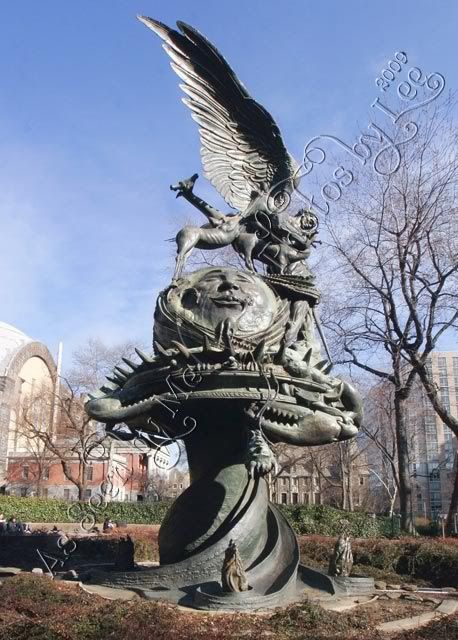 I was only able to get there in the late afternoon so I have no idea where Set 1 was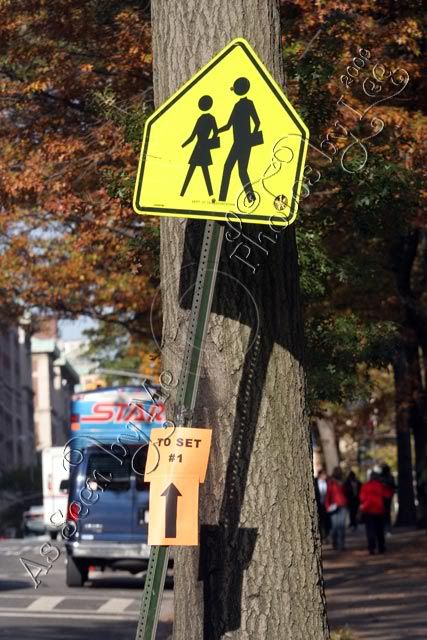 but Set 2 was in one of the ancillary Church buildings and not the Church itself.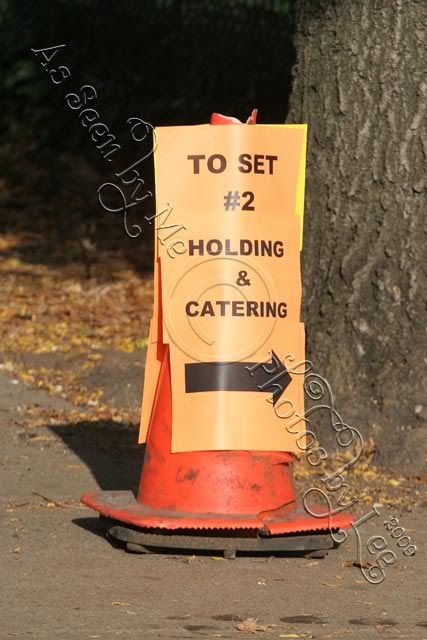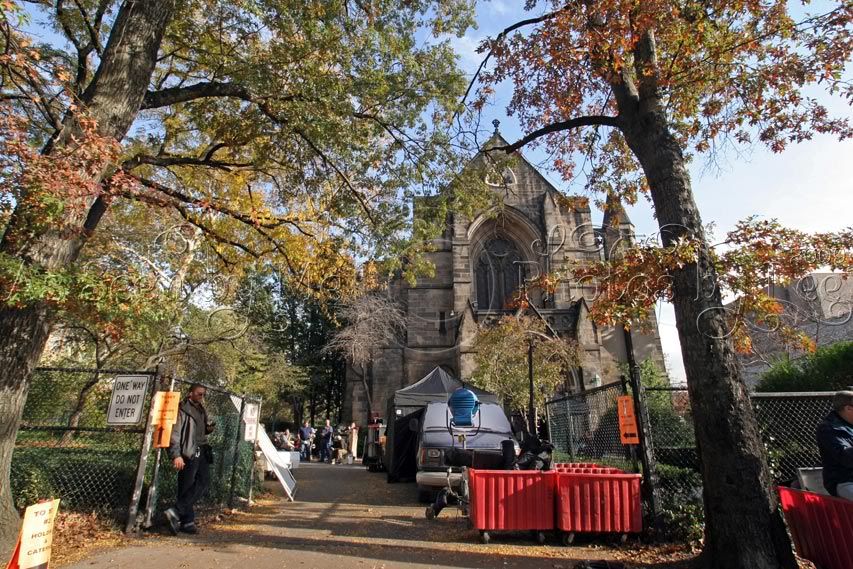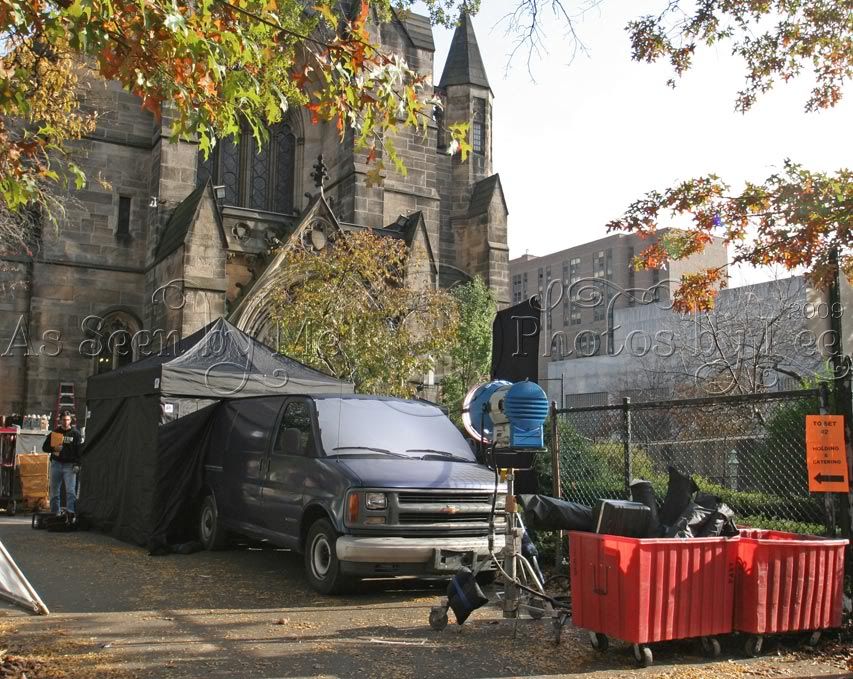 Filming occurred in both the black house like tent and also inside the building, which, as you can tell in the pictures, were both inside the gated section that bystanders weren't allowed to enter so I thought I would only be able to get these type of heavily blocked, bad shots.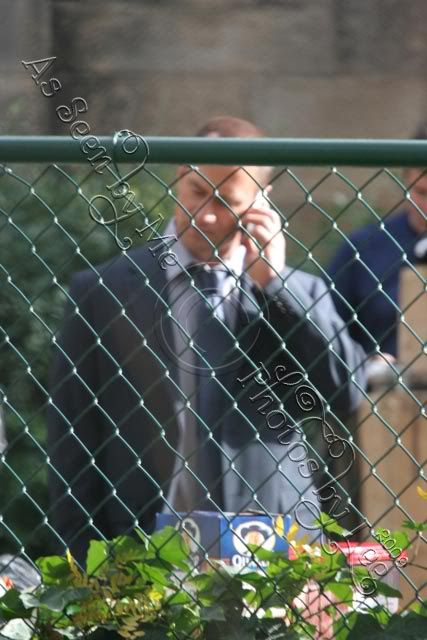 However, I was able to get some shots of the actors when they stepped out for what seemed to be a Very Late lunch break. Some of the shots are really blurry. Sorry for that. My pics were definitely off that day. :)

I don't know if Mariska Hargitay was around earlier in the day but I didn't see her. Two Really Nice and Friendly SVU fans, Cass and Chelsea who have Really Great SVU Youtube Channels here eosvuaddictx and here zuzu1614, said that they also didn't see her, but that Tamara Tunie was there earlier in the day, but she must have left before I got there because I didn't see her. I saw and was able to get pics of Dann Florek, Christopher Meloni and Ice-T (Tracy Marrow) and his wife Coco (Nicole Austin).

The mood on the set seemed a bit tense. I didn't see much joking around as I have seen in the past. The stars were gracious enough with the fans and did take some pics and gave autographs, but again they didn't seem as "smiley" as I have seen them in past. One of the fan sites, SVUfans.net mentioned that the day before this filming the show filmed down at John Jay College of Criminal Justice, in the middle of the day with students coming and going and with polling stations open and the stars were mobbed, so maybe they were just a little weary of fans after that, which is Completely Understandable.

Dann Florek is taller in real life than he appears on the show.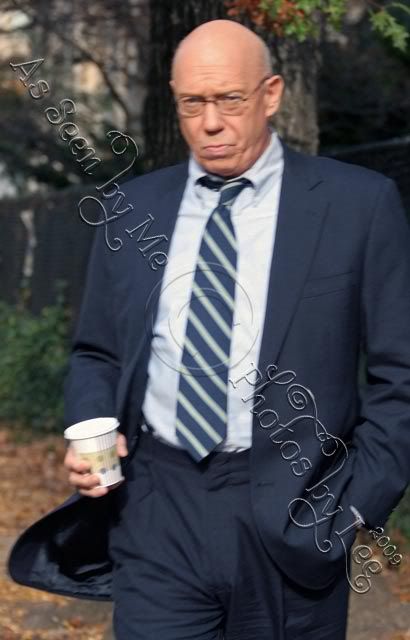 While I was there I ran into the Cutest tourist from Oregon whose name is Dixie. I will mention more about her below. She was fantastic! :D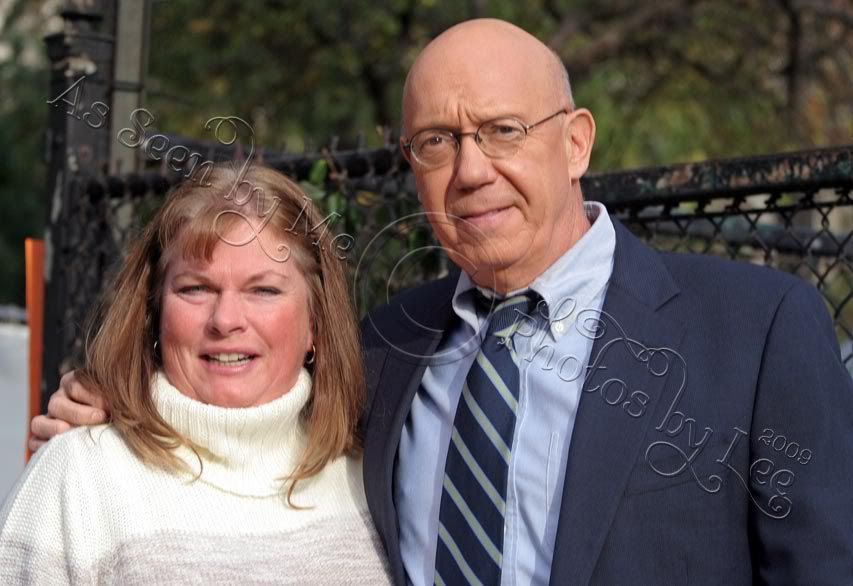 I can't believe that Ice-T is 51. He definitely does NOT look like it!




Christopher looked very pensive while discussing something and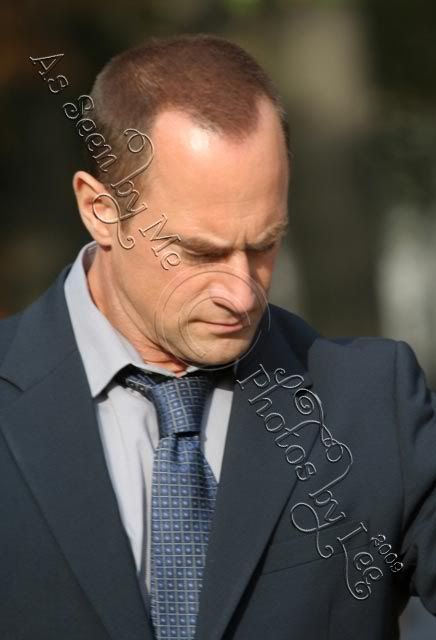 definitely is a Very Manly man. :) I would love to just run into him on the streets and see him in something other than a blue suit. ;)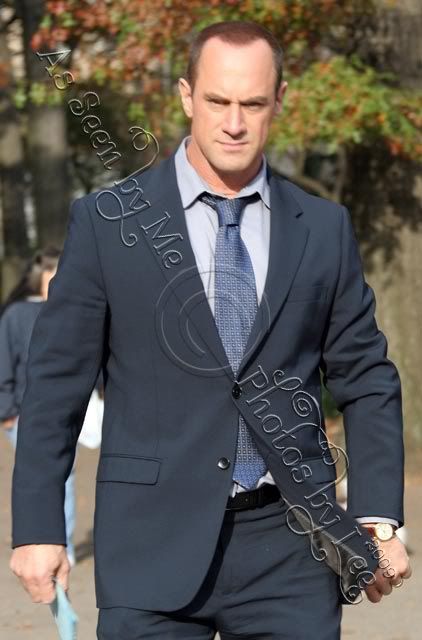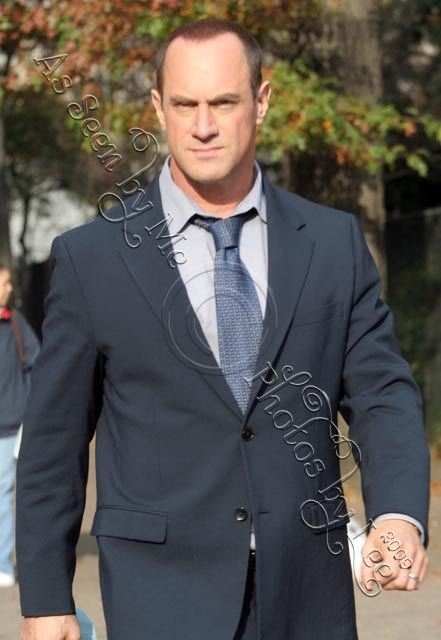 After Ice-T walked to his trailer, I was standing on the corner speaking to another photographer who was male and his female friend. We were waiting for Ice-T to come back out of this trailer. We didn't know that Coco was with Ice-T. When they came out of the trailer together the photographer got a big smile on his face.




The friend took a picture with Ice-T and I asked him for his autograph, after embarrassingly mentioning that I remembered him from when I saw him in Breakin' back in 1984! Lol! I can't believe that he still gave me an autograph after that! Lol! :D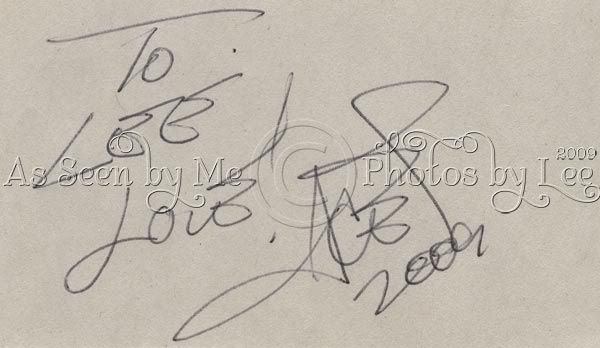 The male photographer on the other hand took a series of photos of Coco in profile and of her behind. After Coco and Ice-T went into a local restaurant the photographer and I were comparing pictures and I could NOT stop laughing when I saw his pictures! :D :D Let's just say those pictures didn't look at all like the pictures his friend and I had taken! Lol!

Christopher then left for lunch and then returned to his trailer.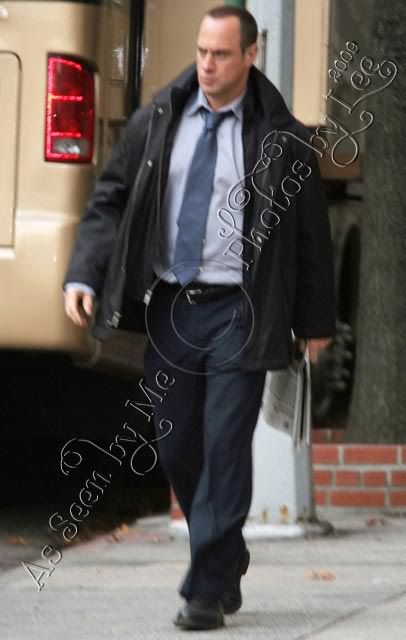 Cass and Chelsea said that while Christopher ate lunch (at a different restaurant from Ice-T) people kept going into the restaurant and sitting at the tables near him, pretending that they were going to order food, but then would just try and speak to him. That must get very annoying when all you want to do is just eat in peace.

Ice-T and Coco then returned back to their trailer.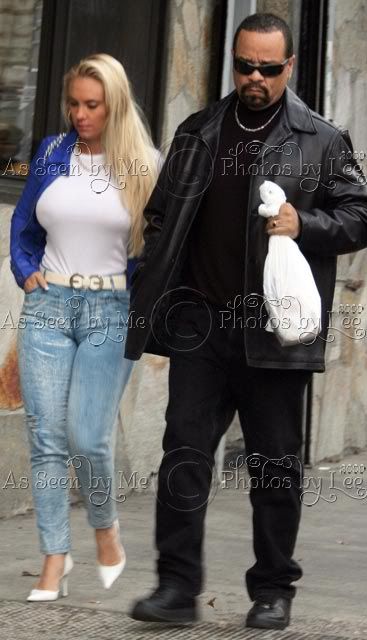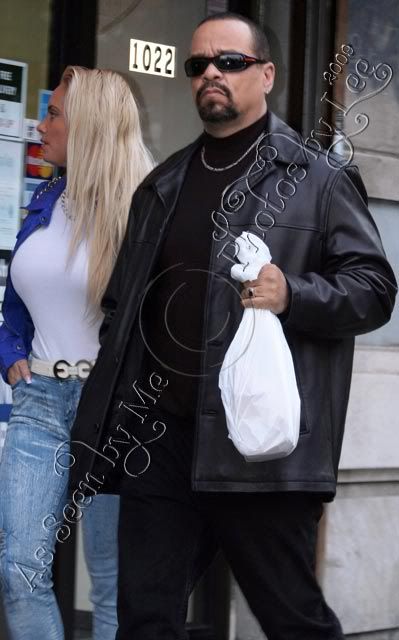 I only took these two photos because after seeing the photos the male photographer took I realized that these would most likely be the view of Coco that my dear partner would most like to see. :) I can't believe that I actually took them! Lol! Very unlike me! :D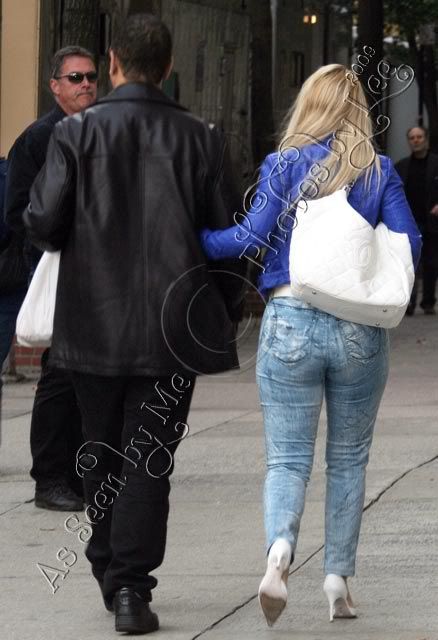 Remember that Adorable tourist, Dixie, I mentioned earlier? Well she made my day when Christopher walked right past her as he walked back to the set. She was

COMPLETELY AWESTRUCK

and could barely stammer out, "Hello" (to which Christopher did say, "Hello" back to her.) The look on her face was

PRICELESS!

She was the nicest person and I think I can safely say that this was one of the high points of her trip to NYC. :D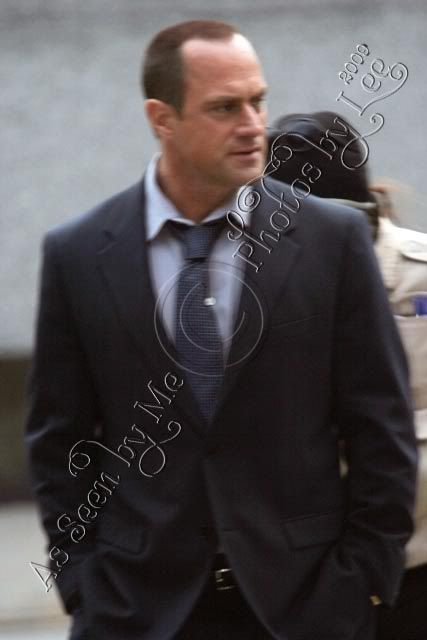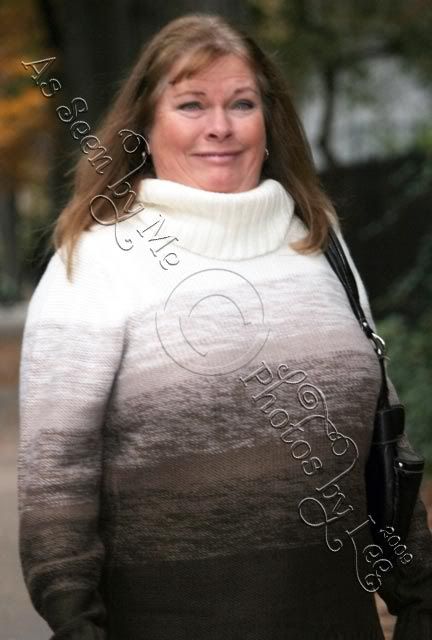 I keep catching the cutest reactions to Christopher! First it was the young girl who was clutching her chest and beaming as he walked by and this time it was Dixie. I Love it! :D

Ice-T then returned back to the set and I left after that.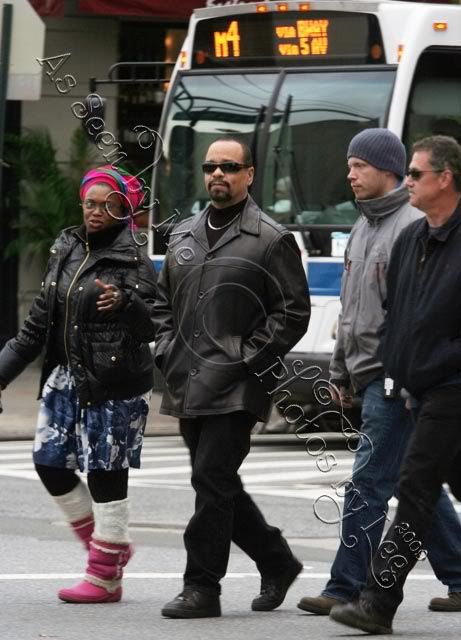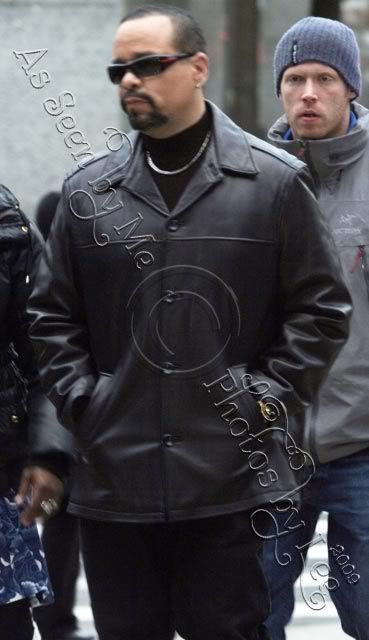 Hope you enjoyed the pics and sorry again for the blurry ones. I will leave you all with the following. I was searching for pics of the Village Halloween Parade and came across these

NY Daily News'

Halloween pics of Ice-T and Coco. All I will say is that I hope for both of their sakes that they really love each other and that Coco is not just a "trophy wife."